12 Drops You Don't Want to Miss This Week
High-demand Supreme, Aimé Leon Dore, ALYX and more.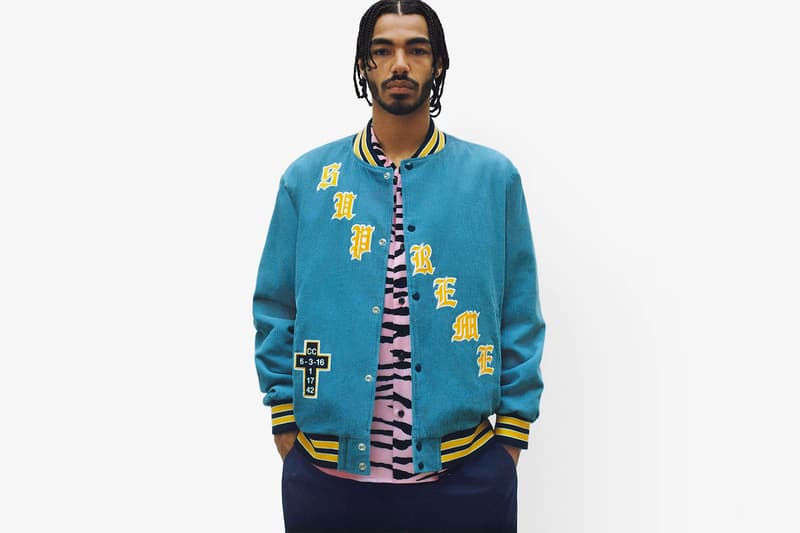 If you missed out — or simply didn't want to line up for — the first in-store releases of Supreme's Spring/Summer 2018 collection, here's your chance to pick up your gear online. Now that Supreme's Drop 1 full product range has been revealed, you'll know exactly what's up for grabs and what's already high-value. Some of the top trending pieces include the faux fur logo coat, the glow-in-the-dark Pile Skull pieces, the "Illegal Business Controls America" hoodie as well as the Bogo lighter and stackable cups
But it's not just about Supreme this week. Aimé Leon Dore is back with its Spring/Summer 2018 collection, arguably outclassing the rest with signature ultra clean fits, premium constructions and a focus on tie-dye — which has already proven to be a trending motif for this upcoming season. If you're looking for something similarly simple and cozy but more eccentric, Alltimers offers essential skate gear coming in muted hues and retro graphics. In the same laid-back vein albeit with a more European edge, Très Bien offers modern riffs of menswear classics, featuring louche tailoring, unique textiles and quality materials.
The technical wear enthusiast will want to pay attention to ALYX's Spring/Summer 2018 collection, which includes collaborations with Mackintosh and George Cox as well as a variety of garments featuring the LVMH prize nominee's signature military influences, straps and buckles. Arbitrage NYC and Grailed's Dolce & Gabbana archive release will offer even more strapped up treasure: 40 pieces ranging from Fall/Winter 1999 to Spring/Summer 2008, with a particular focus on D&G's futuristic military, techno and punk designs of the past.
Alltimers Spring 2018 Collection
Skate pundits Alltimers take on the Spring 2018 season with another full collection of essential gear featuring both playful motifs and low key designs. The collection lookbook, shot by Michael Fox, previews a selection of hoodies, pullovers, graphic T-shirts, sweats, shorts, hats and a bevy of accessories and quirky skate decks — one featuring an oyster print and another a teethy smile. The "VIP Lounge" martini logo appears in various iterations while retro text designs stay true to the easy, old school look.
When: Available Now
Where: Alltimers web store
ALYX Spring/Summer 2018 Collection Featuring Mackintosh & George Coxd Collaborations
LVMH prize nominee, ALYX, proves its design prowess with an extensive Spring/Summer 2018 collection that features a signature assortment of strapped and buckled garments as well as collaborations with Mackintosh and footwear designer George Cox. ALYX's distinct military-inspired gear includes leather jackets, chest rigs, mesh vests, trousers and shorts, while its collab pieces with Mackintosh include rubberized fabric overcoats, bucket bags, belts, and its partnership with George Cox sees selection of leather boots and loafers. The collaboration pieces are available to purchase now and some of the SS18 garments are ready for pre-order.
When: Available now
Where: ALYX web store and Mackinstosh web store
Craig Green x Moncler Spring/Summer 2018 Collection
Cold winter wear specialist Moncler has teamed up with British designer Craig Green on a collaborative Moncler C Spring/Summer 2018 range. The capsule fuses the two labels' shared interest in outerwear, offering premium takes on classic jacket styles. Notable pieces include the Gauss hooded windbreakers — which come in monochrome and multicolor options — and the padded jackets. Detailing such as reflective 3M accents, convertible hoods and adaptive elasticated cuffs offer technical flair, while a negative space rework of Moncler's iconic logo presents a more modern look.
When: Available now
Where: END. Clothing
Très Bien Spring/Summer 2018 Collection
Scandinavian retailer Très Bien has offered more of its clean, curated style via a full Spring/Summer 2018 collection from its in-house label. The range sees contemporary spins on classic menswear silhouettes from different style categories ranging from formal to hiking wear. Highlight pieces include the fluorescent yellow leopard print swear vest, the double-breasted wool suits, the printed short-sleeve button downs, while core menswear shirts and essentials come in louche tailoring and premium materials for a casual, modern twist.
When: Available now
Where: Très Bien
Supreme Spring/Summer 2018 Collection Drop 1 (Online Release)
Here's your second chance at copping some gear from the Drop 1 of Supreme's Spring/Summer 2018 collection. The full product drop list has been revealed (and updated above), and it boasts more heavy '90s styling and essential basics. Highlight garments mostly fall in the outerwear category, with statement pieces like the gradient dye puffers, the Old English varsity corduroy jackets and the popular Skull Pile print pieces, which glow-in-the-dark. A classic range of tees, sweatshirts and hoodies with collegiate graphics channel the old school look, while the Bogo lighter, stackable cup set and gloves are sure to be popular collectibles.
When: February 22, 11:00 a.m. GMT (for London) and 11:00 a.m. EST (for NYC)
Where: Supreme online store
STAMPD Spring 2018 "Bleached Dreams" Collection
STAMPD's Spring 2018 "Bleached Dreams" collection offers a diverse range of '90s sportswear silhouettes and staple streetwear garments. The collection sports a predominantly black and white color palette with hits of red, orange and beige as well as high contrast graphics and text. Standout pieces include the oversized stadium coat with embroidered detailing, the racing anorack track jacket and the dark maroon flannel shirt.
When: February 22, 11 a.m. PST
Where: STAMPD web store and flagship LA location
Pharrell Williams x adidas Originals "Blank Canvas" Capsule
The Pharrell Williams x adidas Originals "Blank Canvas" Hu NMD Trail debuted last year with great reception, and now, an accompanying garment in the same all-white colorway has been revealed, offering a full uniform that's intended to act as a canvas for the Hindu Holi festival's colorful powders. The "Blank Canvas" pack features three footwear models — the Hu NMD Trail (on-feet look here), Tennis Hu PK and Stan Smith Primeknit — while the apparel offering is a knitted track top with embroidered "HU MAN BEING" detailing.
When: February 23
Where: adidas Originals web store
Aimé Leon Dore Spring/Summer 2018 Collection
Aimé Leon Dore never fails to impress. The New York label's latest Spring/Summer 2018 collection offers more ultra clean luxury with premium materials and rich hues. This season's recurring motif is a galaxy tie-dye pattern, which is seen on everything from bucket hats and short-sleeve shirts to varsity jackets and rugby shirts. Other luxury staple garments, such as hoodies, sweatshirts, knitwear and graphic tees, demonstrate the label's eye for balancing plush textures (e.g. velvets, suedes, corduroys) and pairing a soft color palette with more vibrant accents.
When: February 23
Where: Aimé Leon Dore web store and concept store
Patta Spring/Summer 2018 Collection