LeBron James Rocks Custom "More Than an Athlete" Air Force 1s
A subtle response to "shut up and dribble" comment.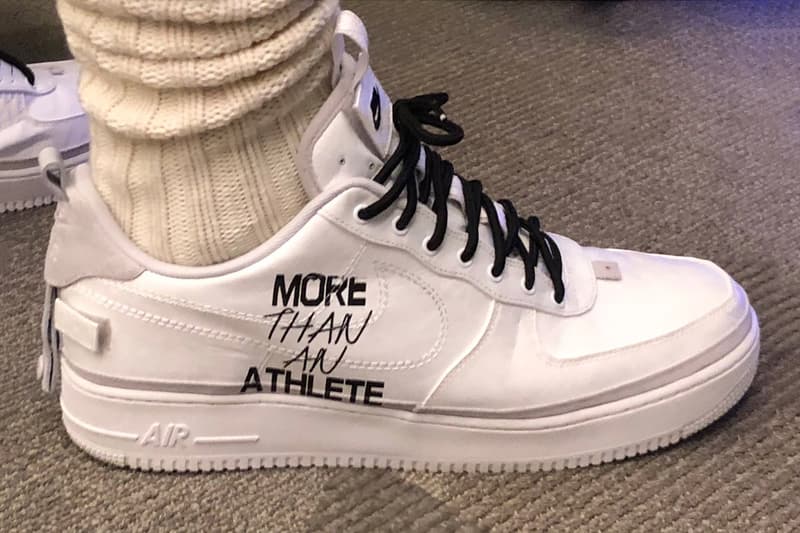 Just before taking the court for tonight's 2018 NBA All-Star Game being held in Los Angeles, LeBron James debuted a pair of custom Air Force 1s with the saying "More Than an Athlete" placed on its lateral sides.
The saying was a subtle jab at Fox News anchor Laura Ingraham, who made an ignorant comment that basketball players should just "shut up and dribble." Following the comment, James took to his personal Instagram account to stress "I AM MORE THAN AN ATHLETE" with the caption, #wewillnotshutupanddribble.
The comment was also aimed at fellow player Kevin Durant, because the two All-Stars were critical of Donald Trump and the job he's done since being elected in an episode of Rolling with the Champion on the UNINTERRUPTED platform, a multi-media platform James helped to co-found. "The number-one job in America, the appointed person is someone who doesn't understand the people," LeBron explained. "And really don't give a f*ck about the people."
As suggested by King James's custom "More Than an Athlete" Air Force 1 Lows, the NBA Champion will continue to use multiple mediums to speak up. Let us know your thoughts in the comments below.
LeBron's pregame kicks #TeamLeBron #NBAAllStar pic.twitter.com/ayWDRJkOU1

— 2018 NBA All-Star (@NBAAllStar) February 18, 2018
LeBron James breaks out the custom "More Than An Athlete" Air Force 1s #MakersOfTheGame #NBAAllStar pic.twitter.com/ZMCVzx1T9X

— Aaron Dodson (@aardodson) February 18, 2018