Watch the 2017 GRAMMY Performances Here
Featuring The Weeknd, Chance the Rapper, Daft Punk, Beyoncé, Adele and Lady Gaga.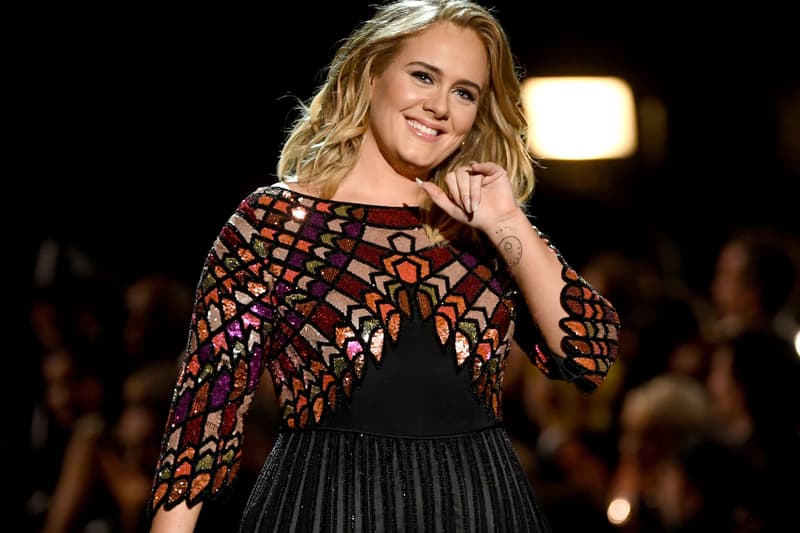 The 59th Annual Grammy Awards are held tonight (February 12), broadcasted by CBS. Taking place live from the Staples Center in Los Angeles, the ceremony will reward the best artists, songs and albums of the eligible year (October 1, 2015 to September 30, 2016.) Hosted by James Corden for the very first time, Beyoncé, Adele, Chance The Rapper, Lady Gaga and The Weeknd are performing at the awards show. Watch them below and check out the list of winners here.
Adele – "Hello"
The Weeknd featuring Daft Punk – "I Feel It Coming" and "Starboy"
Ed Sheeran – "Shape of You"
Keith Urban and Carrie Underwood – "The Fighter"
Holy cow! What a great song by @KeithUrban w/ @carrieunderwood #TheFighter #NASHgrammys #Grammys pic.twitter.com/Of1hTJHgRj

— Rick Daniels (@OnAirWithRick) February 13, 2017
Lukas Graham & Keslea Ballerini – "7 Years" and "Peter Pan"
Kelsea and @LukasGraham performing 7 Years and Peter Pan at the #GRAMMYs! pic.twitter.com/1z39n7e7qX

— KB Updates (@KelseaOnTour) February 13, 2017
Beyonce – "Love Drought" and "Sandcastles"
Bruno Mars – "That's What I Like"
Bruno. Nuff said. ???????? #GRAMMYs @BrunoMars pic.twitter.com/2gCW90k1qE

— Rick Daniels (@OnAirWithRick) February 13, 2017
Katy Perry – "Chained To The Rhythm"
Omg @katyperry ????????????#GRAMMYs pic.twitter.com/HpdrJ77YRB

— Rick Daniels (@OnAirWithRick) February 13, 2017
Maren Morris featuring Alicia Keys – "Once"
So many great performances at the #GRAMMYs tonight! #AliciaKeys & #MarenMorris did phenomenal!!!!!! pic.twitter.com/fzg3VTJBqi

— Mike Adam (@MikeAdamOnAir) February 13, 2017
Adele – "Fastlove (George Michael Tribute)"
Here's Adele's full performance of 'Hello' at the 59th #GRAMMYs. pic.twitter.com/5csTtc7pAL

— Adele Daily (@AdeleDailyInfo) February 13, 2017
Metallica and Lady Gaga – "Moth Into A Flame"
Who said @ladygaga can't do anything? Watch as she rocks out with @Metallica #GRAMMYs #music #TheGrammys pic.twitter.com/Yqjnje9gNI

— OneMicNite™ (@OneMicNite) February 13, 2017
Sturgill Simpson – "All Around You"
I'm now officially a @SturgillSimpson fan! #GRAMMYs pic.twitter.com/xlXH4tpmcQ

— Rick Daniels (@OnAirWithRick) February 13, 2017
Bee Gees Tribute
Demi Lovato apresentando "Stayin' Alive" (tributo ao Bee Gees). #GRAMMYs  pic.twitter.com/DtaLBDcOil

— Demi Lovato Web (@demilovatowebbr) February 13, 2017
A Tribe Called Quest medley featuring Anderson .Paak
Tribe called quest awesome performance"power 2 the people"! pic.twitter.com/TQMd9N3mTa

— KLA$$EN (@ruckus_4_life) February 13, 2017
Bruno Mars, Morris Day & The Time – Prince tribute
Yes!!! @BrunoMars w/ @prince Tribute! #LetsGoCrazy ! And he wore the suit too! #GRAMMYs pic.twitter.com/SB3PzzlxY7

— Rick Daniels (@OnAirWithRick) February 13, 2017
Chance the Rapper medley
CHANCE BROUGHT THAT GOSPEL TO THE #GRAMMYS pic.twitter.com/XGual2a8sE

— Genius (@Genius) February 13, 2017