Best New Tracks: Lil Wayne, Wifisfuneral, A$AP Ant, The Weeknd, Kendrick Lamar and More
Hot new records for your weekend playlists.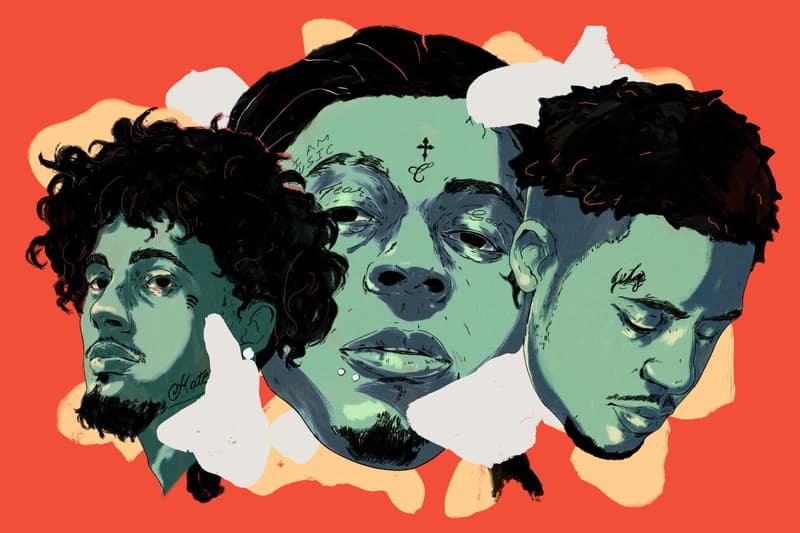 With the 2018 Grammy Awards behind us, we look forward to this week's best new music releases and the latest in our music roundup series. Starting off with full-length projects, we saw Justin Timberlake make his return with Man of The Woods following the release of Lil Wayne's 26th mixtape, Dedication 6: Reloaded. Meanwhile, enigmatic rapper Rich Brian debuted his first album featuring notable appearances from Offset and Joji. In addition, we saw music stars The Weeknd & Kendrick Lamar unveil their collaborative effort off the much anticipated Black Panther soundtrack.
The week we also saw a number of impressive independent releases from A$AP Ant, Benji Blue, Wifisfuneral, Cris Dinero, and Travis Scott's newest signee, Harlem spitter Sheck Wes. On the note of new artists, G.O.O.D. Music president Pusha T also announced the signing of Chicago up-and-comer Valee who we'll likely be hearing more of in 2018.
Check out the best new releases down below and let us know what you think.
A$AP Ant & Benji Blue – "Heat Drawn"
Flacko season is fully upon us. Other members of the A$AP Mob and their affiliates have also been positioning themselves for the coming year with a series of new releases and collaborations. This week, the Mob's own A$AP Ant links up with fellow Marino Gang members Benji Blue and AR for a new hard-hitting street anthem aptly titled "Heat Drawn." As the trend has been for most of 2017, A$AP Ant is continuing to introduce some of the game's hottest talents out of New York in terms of rappers and beatmakers such as AR, who produced their latest squad cut. Stream below.
Wifisfuneral & Cris Dinero – Last Time Doing Drugs EP
Wifisfuneral dropped an unexpected EP with fellow South Floridian rapper Cris Dinero this week and just as the project title suggests, quitting drugs has become a trend for rappers in 2018 following a number of unexpected deaths witnessed this year within the hip-hop community. Listen in below.
Lil Wayne – Dedication 6: Reloaded (Mixtape)
Lil Wayne dropped Dedication 6 back in December and this week, the famed rapper came through with yet another followup mixtape called, Dedication 6: Reloaded. The 19-track effort also features previously released cuts like "Family Feud" featuring Drake, "Big Bad Wolf," and "Bloody Mary" with Juelz Santana. Listen to the entire project below.
Sheck Wes – "Mo Bamba"
Harlem up-and-comer Sheck Wes dropped off new video/single this week titled "Mo Bamba." The song originally debuted back in late December and became an underground hit. For those not familiar, the track was inspired and dedicated to his close friend Mo Bamba – a highly recruited NBA prospect who's not only playing basketball for the University of Texas at Austin, but also projected to be a top-five pick for the 2018 NBA draft. Keep an eye on him as you'll likely be hearing a lot more of him in 2018.
Onra -"Let Me Fantasize"
French future-funk maestro Onra dropped another single from his forthcoming album, Nobody Has To Know this week and per usual, it's packed with infectious basslines with catchy samples. The song arrives after the album's lead single, "No Question," released last month. Listen to the track below and stay tuned for Nobody Has To Know, slated to arrive on February 16 via All City Records.
The Weeknd & Kendrick Lamar – "Pray For Me"
The Weeknd & Kendrick Lamar dropped off what may go down as one of the best singles off the upcoming Black Panther soundtrack. The anticipated Kendrick Lamar-executive produced soundtrack is hit stores on February 9 and will feature James Blake, 2 Chainz, ScHoolboy Q, SZA, Future, Travis Scott, Vince Staples, Khalid, Anderson. Paak, Swae Lee, Jay Rock, Ab-Soul and more. Listen to it below.
Ugly Mane, Wiki & Antwon Aka Secret Circle – "Ounce Of It"
Secret Circle is music trio consisting of Wiki, Antwon, and Lil Ugly Mane formed back in 2016. They went on a little hiatus in 2017 but made a surprise return this week with the release of a new track called, "Ounce Of It." Produced by Shawn Kemp, the song is raw, rugged and classic New York City rap. Listen in below.
Justin Timberlake – Man of the Woods (Album)
Justin Timberlake's much-anticipated Man of the Woods album finally arrived this week following weeks of heavy campaigning. The album is a follow-up to 2013's 20/20 Experience project and was said to be inspired and named after his son Silas, whose name means "man of the forest" in Latin. Stream below.
Rich Brian – Amen (Album)
Rich Brian officially dropped off his debut album this week and he's brought along Migos superstar Offset, fellow 88Rising affiliate Joji and more. The album is said to be a creator's journey from his home-schooled teenage years to his current status as one of modern rap's most-watched, polarizing figures. Listen in below.
Be sure to check out our previous music roundups for the best drops of weeks past.