Following Lil Peep's Tragic Death, Rappers Are Vowing to Quit Drugs in 2018
Lil Uzi Vert, Lil Pump and others are leaving drugs in 2017.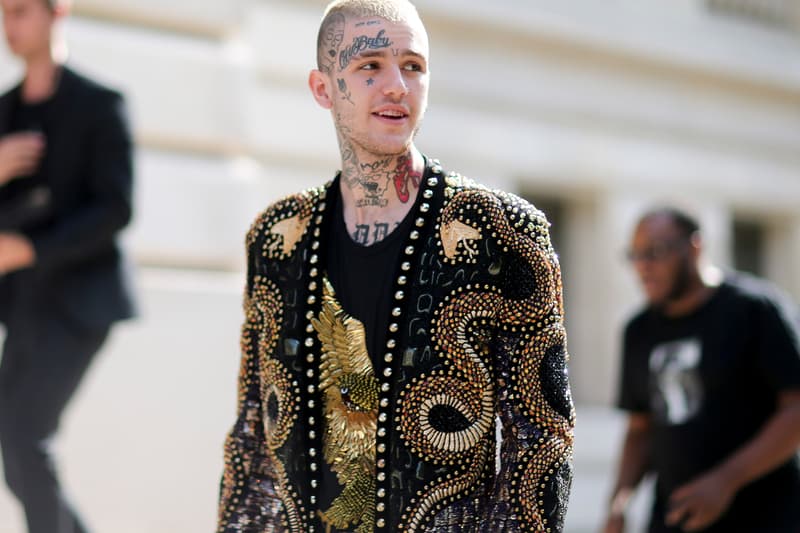 In 2017, the glorification of recreational drug use seemed to be at an all-time high in the music community. Many of the year's biggest hits — Lil Pump's "Gucci Gang," Lil Uzi Vert's "XO Tour Llif3," Playboi Carti's "Magnolia," Future's "Mask Off," Migos' "Bad and Boujee," Post Malone's "Rockstar" and Travis Scott's "Goosebumps" — all contain drug references in some way or form.
Adding to the conversation, Russ caused controversy back in September with his anti-drug shirt, which asked the question, "How much Xans and lean do you have to do before you realize you're a f*cking loser?" Many found his approach to be insensitive and short-sighted, coming from a place of hostility rather than compassion. Some Twitter users, including Fredo Santana, responded to Russ saying that many people do drugs due to depression, anxiety and other mental illnesses. "Until I can stop thinking bout my dead homies and the trauma that I been through in my life, that's when I'll stop," Fredo wrote.
Until I can stop thinking bout my dead homies an the trauma that I been thru in my life that's when I'll stop ? https://t.co/DEPi82FvNL

— FREDO SANTANA SSR (@FREDOSANTANA300) September 12, 2017
Indeed, the music and entertainment industries have long stood in solidarity to mourn the loss of great talents as a result of substance abuse. This year, the rap community in particular was shaken on November 15, 2017. Lil Peep, one of music's most promising up-and-comers, passed away from what examiners report as an accidental fentanyl overdose. The Xanax pills he took before his death was allegedly given to him by fans and contained fentanyl, an opioid used in anesthesia said to be 75 and up to 10,000 times stronger than morphine.
Since his passing, fellow rappers — many of whom were close to Peep in real life — seem to have a different outlook on drugs. By the time the new year began, a handful of notable rap stars have took to social media to denounce drug usage and reveal that they are striving to live healthier and drug-free. A few are also encouraging their fans and followers to do the same.
Here are a list of notible rappers avoiding drug use in 2018.
Lil Uzi Vert
Shortly after Lil Peep's passing, Lil Uzi Vert took to Twitter to reveal that he and Peep have been "on Xanax all f*cking year." The Philadelphia rapper later said that he has gone sober but is going through intense withdrawal symptoms such as cursing out his loved ones and having no thoughts in studio. Uzi, however, did not clarify if he is quitting drugs for good. Since the tweets, there has yet to be an update on his progress.
We Would love 2 stop …..
But Do You Really Care Cause We Been On Xanax All Fucking Year ..????.

Rip Buddy I 100% Understand and I Don't Fault U ? ;;;;;;;;;;;;;;;;;;;;;;;;;;;;;;;;;;;;® pic.twitter.com/AYBvQCDcJy

— Uzi London ?☄️?® (@LILUZIVERT) November 16, 2017
Sober 2 day I have been shaking.

I have been cursing my love ones out and fighting

In the studio with no thoughts in my head

Teeth biting down because I just wanna be angry at something ……

maybe I will just smoke weed tonight ;;;;?®

— Uzi London ?☄️?® (@LILUZIVERT) November 17, 2017
Lil Pump
Lil Pump, the 17-year-old rapper best known for his advocation of drugs and a so-called "ignorant" lifestyle, raps about doing drugs in nearly every single song he's released. He received a Xanax cake when he hit 1 million followers on Instagram and even dressed up as Dr. Pump with a bottle of lean on Halloween. However on January 1, Pump revealed in an Instagram caption that he doesn't "take xanz no more," and said, "f*ck Xanax 2018."
Smokepurpp
Shortly after Lil Pump announced that he was quitting Xanax, Smokepurpp announced that he was also "leaving Xanax in 2017." In response, Travis Scott grabbed a screen cap of the tweet and responded with, "This tweet made me happy!" For those who aren't aware of the connection, Smokepurpp has been signed to Scott's Cactus Jack records since fall of last year.
we leaving Xanax in 2017.

— smokepurpp (@smokepurpp) January 1, 2018
This tweet made me happy !!! pic.twitter.com/BcfWusgG3k

— TRAVIS SCOTT (@trvisXX) January 1, 2018
Famous Dex
Famous Dex was hospitalized in November after consuming too much promethazine and codeine cough syrup. After that, the Chicago rapper said that he has quit drinking lean. "If I'm your role model, then stop f*cking doing the lean," the emcee said over Instagram Live in November. "I just want to let my Live know, all my fans know, I quit codeine. I don't do the lean no more. That's on my kids. You'll never ever see me with a double cup. It f*cked me up. I'm in the hospital right now. But I feel so better. I feel so good. God is so good. That's why y'all haven't been seeing me do no music. I been f*cked up."
Mozzy
Sacremento rapper Mozzy, who was open about his drug usage in the past, took to social media to reveal that he is cutting lean out of his life. He demonstrated how serious he is about quitting by pouring out an entire bottle of lean on the ground.
Salute @MozzyThaMotive for vowing to kick lean!#kickthecupchallenge pic.twitter.com/LlPzWAnzVP

— Thizzler On The Roof (@TheThizzler) January 3, 2018
RiFF RAFF
RiFF RAFF, who has snorted cocaine on camera in the past, also reveals that he does not do the drug anymore. He says he quit because oftentimes, bags of cocaine are allegedly laced with fentanyl, the same drug that killed Lil Peep. He ends of his tweet by saying "let's enjoy the fresh air with Versace nostrils and a clear brain."
PSA: DONT DO COCAiNE ANYMORE, ALOT OF PEOPLE ARE BEiNG SOLD FENTANYL (A DEADLY DRUG) MiXED iN WiTH THERE BAGS OF COCAiNE … SO FOR THAT REASON iM OUT .. YOU SHOULDNT PLAY WiTH YOUR LiFE WE HAVE A BRiGHT FUTURE LETS ENJOY THE FRESH AiR WiTH VERSACE NOSTRiLS AND A CLEAR BRAiN ?

— RiFF RAFF (@JODYHiGHROLLER) January 3, 2018
DONT DO DRUGS KiDS STAY iN SCHOOL DOCTORS & TEACHERS ARE REALLY Cooo

Cartman Voice*

— RiFF RAFF (@JODYHiGHROLLER) January 4, 2018
Fredo Santana
After Mozzy announced that he was kicking his lean habit, Fredo Santana commented on his post, saying "I'm almost 60 days clean bro f*ck dat lean sh*t." In December, the Chicago rapper revealed that he has lost his "lean belly," showcasing a slimmer, healthier physique. Back in October, the rapper was hospitalized for liver and kidney failure.