Team LeBron Defeats Team Stephen at the 2018 NBA All-Star Game
With King James crowned MVP.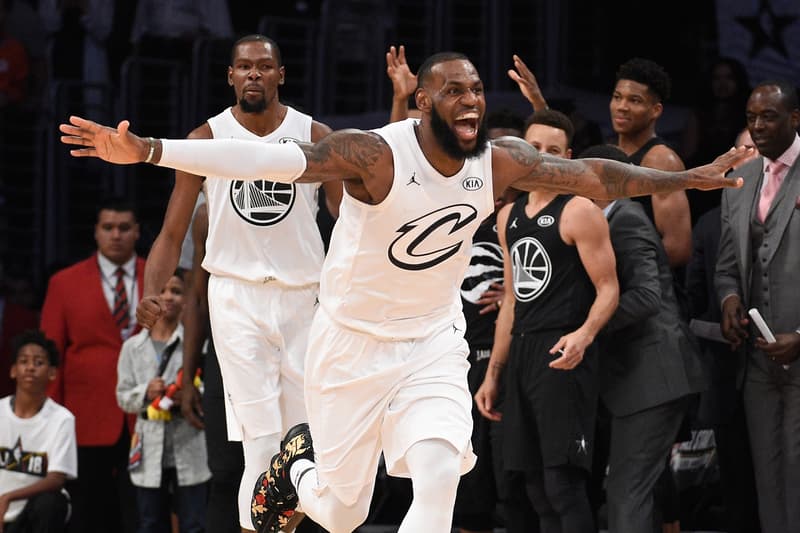 During tonight's NBA All-Star Game, LeBron James proved again that he is the biggest force in the game, leading his team to a 148-145 victory over rival Stephen Curry's team.
With this year's new format — a playground-pick-em-style — James hand-picked his team himself, placing not only a victory at stake, but his reputation. Despite being down most of the game, Team LeBron came back late in the fourth and pushed out a victory. James was a huge factor for the entire contest and finished with 29 points, 10 rebounds and eight assists, falling two assists shy of a triple-double. All this was also enough to secure James with the MVP title, his third for an All-Star Game.
It had been 10 years since James won the 2008 All-Star MVP when he had 27 points, nine rebounds and eight assists in a 134-128 win by the Eastern Conference in New Orleans. He also won the All-Star MVP in 2006 in Houston, dropping 29 points, six rebounds, two assists and two steals in a 122-120 win by the East.
James, 33, was the oldest player in the game, yet was involved in perhaps the most acrobatic move of the night: a two-handed reverse dunk caught off an alley-oop from Russell Westbrook, which can be seen below.
In case you've missed it, N.E.R.D brought out Migos for the 2018 NBA All-Star Game halftime show.
#LeBronJames lifts the #KiaAllStarMVP award! pic.twitter.com/xVuv9EJdDm

— NBA (@NBA) February 19, 2018