10 Japanese Rappers You Need to Know in 2017
A brief overview of what the country's hip-hop scene is like.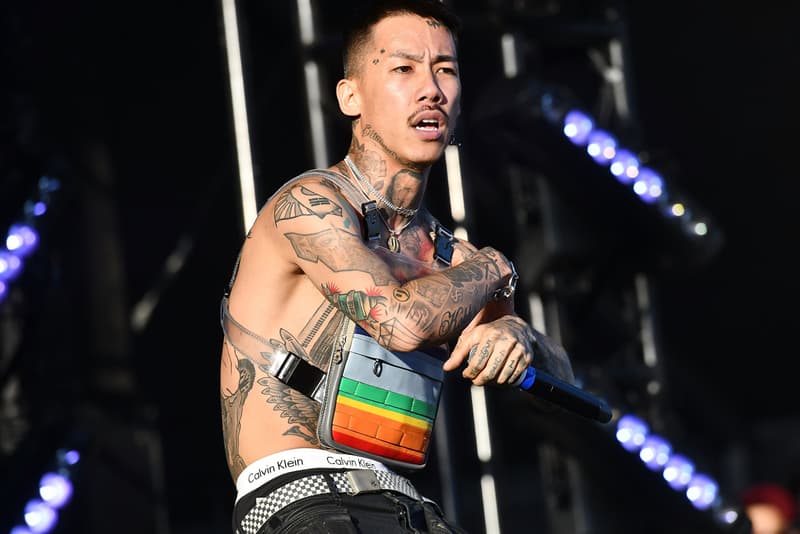 Hip-hop in Japan is an interesting topic, both in its origins and its subsequent growth. The genre is in a healthier state than ever before as a quick glance at the local street magazines would indicate, but in some respects it's still on the musical fringes at least in terms of domestic artists. Major media outlets and labels are still a little bit reluctant to associate themselves with Japanese hip-hop, driving artists to rely on grass roots support. This in turn has helped spawn a passionate new generation of fans. On the fashion side of things the genre's influence in Tokyo cannot be understated either, as a quick stroll through Harajuku reveals an abundance of vintage sports jackets, ball caps, basketball jerseys, baggy pants and various other remnants of '90s hip-hop culture. This nostalgic element also holds true for many of the artists today, whose sounds reflect a more laid-back demeanor rather than a quick turn up. The country's vibrant beat scene only reinforces this even more, making it a potent location for artists and producers to link up within Japan rather than looking overseas for ideas. Look no further than the influential Jazzy Sport label in case this is of any interest.
Before we can begin to talk about the new wave of exciting talent we should briefly examine the early beginnings of the genre and the subsequent growth of it throughout the mid '90s and early '00s. Very early hints of hip-hop lyricism could be heard in musical acts such as Yellow Magic Orchestra, The Drifters and Snakeman Show, but overall the experimentation of it was still quite limited at this time. The actual cultural breakthrough came about as an indirect outcome of the breakdancing wave rather than being transplanted directly by large record labels. Back in the '80s a film depicting early hip-hop innovators from the United States, Wild Style, hit theaters in Tokyo and proved to be a big hit, prompting some performers from the movie to fly over and show off their moves in person. A maverick of sorts, breakdancing's freedom of movement helped spark individualistic and liberal expression amongst the youth in Japan, which in turn, increased hip-hop music's popularity and along with DJing and freestyling. At this time the influx of records from the United States was beginning to increase too, with Hiroshi Fujiwara, aka the "Godfather of Streetwear" as we know him today, being one of the key individuals in this movement. 
The mid '90s was really when hip-hop began to gain commercial traction in Japan, both in music and fashion terms. Notable names such as DJ Krush, Scha Dara Parr, Ozawa Kenji, King Giddra, and Lamp Eye helped bring the genre to a bigger stage and break down some of the cultural boundaries that stood in the way. This was also about the time when the intertwining with fashion became more apparent, with many popular brands beginning to work with hip-hop artists. By the start of the '00s the country's scene really began to thrive and diversify on its own feet, as artists began to focus on Japanese matters rather than trying to emulate themes from the U.S. Given the vast differences in language structure, the lyrical development took some time but nevertheless marked the true arrival of hip-hop in Japan and its intention to stay for good.
Fast forward to today, we find a new generation of rappers who are known for their musical endeavors but also for their sense of fashion. The two scenes are more connected than ever, bringing forth more individualistic expression through their songs and clothing. Social media has only helped accelerate this development even more, marking a unique time when artists are only really limited by their own imagination, rather than cultural boundaries. For our latest Japan focused feature we have rounded up a list of 10 hip-hop artists who have impacted the scene in recent years. Some more established and others just on the come up, we hope these names will give you a sense of what the local hip-hop scene is like in 2017.
Anarchy
One of the most established names on this list, the 35-year-old has witnessed much of the come up of Japanese hip-hop first hand. Much like his name denotes the rapper has been very much anti-establishment throughout his life beginning with his rough adolescence when he was part of Bosozoku, a motor cycle gang. After catching wave of King Giddra member Zeebra, he decided to try his hand at rapping instead. The Osaka native has since flourished to become one of the ever-present figures in Japanese hip-hop, having released six studio albums to date under influential label R-RATED RECORDS. If you can't catch him live on stage, perhaps you'll find him modelling in some of Japan's street magazines.
C.O.S.A.
C.O.S.A.'s journey to hip-hop is more unlikely when you consider he was born in Chiryu, Aichi, not exactly one of the country's cultural melting pots. He discovered hip-hop through his interest in low-rider culture, and by age 12 he was already beginning to put lyrics to paper. Soon thereafter C.O.S.A. added his own production ability to his repertoire, leading him to release a collaborative album with CAMPANELLA, which attained commercial success despite being released on an independent label. Only in 2013 however did C.O.S.A. shift his focus back to rapping, and since then he has been steadily making waves in Japan, often collaborating with the likes of Kid Fresino and jjj.
ISSUGI
A co-founder of DOGEAR RECORDS, ISSUGI is one of the most respected figures in underground Japanese hip-hop. His extensive discography extends back more than a decade when he contributed to SEEDA and DJ ISSO's CONCRETE GREEN as part of the MONJU alongside Senninshou, Mr. Pug and 16FLIP, before releasing his first project 103LAB.EP in 2006. ISSUGI's real breakthrough came from the release of his first solo album Thursday in 2009, eventually linking him to more influential beatsmiths such as Budamunk and MASS-HOLE for his second release in 2010. Fast forward to today, the Tokyo native has stepped a little more into a behind-the-scenes role, lending a hand to establish some of the younger talents on his label's roster. With that being said, whatever project he's part of is likely to gain a lot of attention. ISSUGI also forms part of a duo act with BUDAMUNK; a lethal combo that brings the very best of soothing production and lyrical prowess under one outlet.
KANDYTOWN
Rather than embracing the recent wave of trap music KANDYTOWN has consistently turned to a much more nostalgic '90s sound, but with a youthful twist. Consisting of 15 members (16 prior to the tragic passing of their founder YUSHI), the unit covers all spectrums of what a hip-hop act would ever need, starting from MCs, DJs, producers, engineers to even film direction. They're also ever-present in Japan's cultural publications and have even gone onto collaborate with Reebok Classics. Now signed to Warner Music Japan, the group is primed to make 2017 its biggest year yet.
Kid

Fresino
One of the country's most promising young guns in the scene. Still at the tender age of 23, Kid Fresino is making a name for himself with his energetic and carefree demeanor, something that was already visible in his early contributions to the group Fla$hbackS alongside jjj and Febb. Since then he's been cosigned by veterans ISSUGI, S.L.A.C.K. and Senninshou via their label DOGEAR RECORDS. Fresino also worked with Diaspora Skateboards, providing soundtracks to some of their videos.
kiLLa
Another crew that's garnered a lot of attention in recent times. kiLLa is perhaps best representative of the new Tokyo hip-hop age, blending heavy trap influences and Japanese wordplay to hard-hitting, devastating effect. They're also pretty much self-sustaining, having production, engineering and video direction capabilities in-house. With a unique sense of flair and a 'Don't Give a F*ck' attitude, it seems as through the kiLLa takeover is just beginning.
KOHH
KOHH's rise to the upper echelon of Japanese hip-hop has been pretty spectacular. Equally eclectic in both fashion and music terms, the 26-year-old is one of the first Japanese rappers to really make a name for himself overseas. Though he was already garnering much attention domestically for his string of YELLOW TAPE releases and a couple albums, his closing verse in Keith Ape's "It G Ma" is really what put him on the map internationally. This was then followed by more frequent appearances on Worldstar and even an interview on HOT 97. Adding to his status as a cultural icon, KOHH also hit the runway for Hiromichi Ochiai's FACETASM label during Paris Fashion Week. He most recently debuted a brash, rock-inspired sound on his latest album DIRT II, showing once again why he is one of the most intriguing artists in Japan right now.
PUNPEE
PUNPEE's roots as an emcee stretch far back as 2002, but he only gained wider recognition when he was crowned the winner of the 2006 ULTIMATE MC BATTLE, an annual contest held by Libra Records. Solidifying himself as an artist with deft lyrical ability, PUNPEE teamed up with GAPPER to form the duo P&G in 2007, before his brother S.L.A.C.K. (see below) joined in to make it PSG shortly thereafter. Aside from his own rapping career, PUNPEE has gone onto reach acclaim in producing as well, lending his hand to well-known artists such as Rhymester, TOWA TEI and tofubeats. He's also tried his hand at advertisement jingles and even won a championship sampler battle "MPC Gold Fingaz Kitchen" organized by Akai in 2009. Safe to say, he's done just about everything.
S.L.A.C.K.
Both a very capable MC and beatmaker, S.L.A.C.K. is often credited with spurning a wave of more chilled-out tracks with a greater emphasis on lyricism. The Tokyo native, along with his brother PUNPEE and GAPPER formed the trio PSG early on in their careers, which helped all three of them to establish themselves as upcoming artists. S.L.A.C.K.'s major breakthrough however came in 2009, when he released his first two official albums My Space and Whalabout in the span of nine months under his own label DOGEAR RECORDS. Since then he's established himself as one of the foremost authorities in Japanese underground hip-hop releasing four more full albums along the way, in addition to numerous collaborations.
THE

OTOGIBANASHI'S
It's really hard to define THE OTOGIBANASHI'S sound. The crew's vibe is unlike anything that Japan has heard before, which is probably why it really sticks to mind. Their obscure, playful style can also be seen in the group's music videos, which range from dizzying DIY style clips to humorous parodies. Close followers of the Japanese streetwear scene may even be familiar with the group's CREATIVE DRUG STORE imprint, one that has already garnered quite a large following, gaining even the attention of retail stalwart BEAMS for a pop-up shop. The group also made its debut on the international airwaves last year by taking over a set for KNOW WAVE.