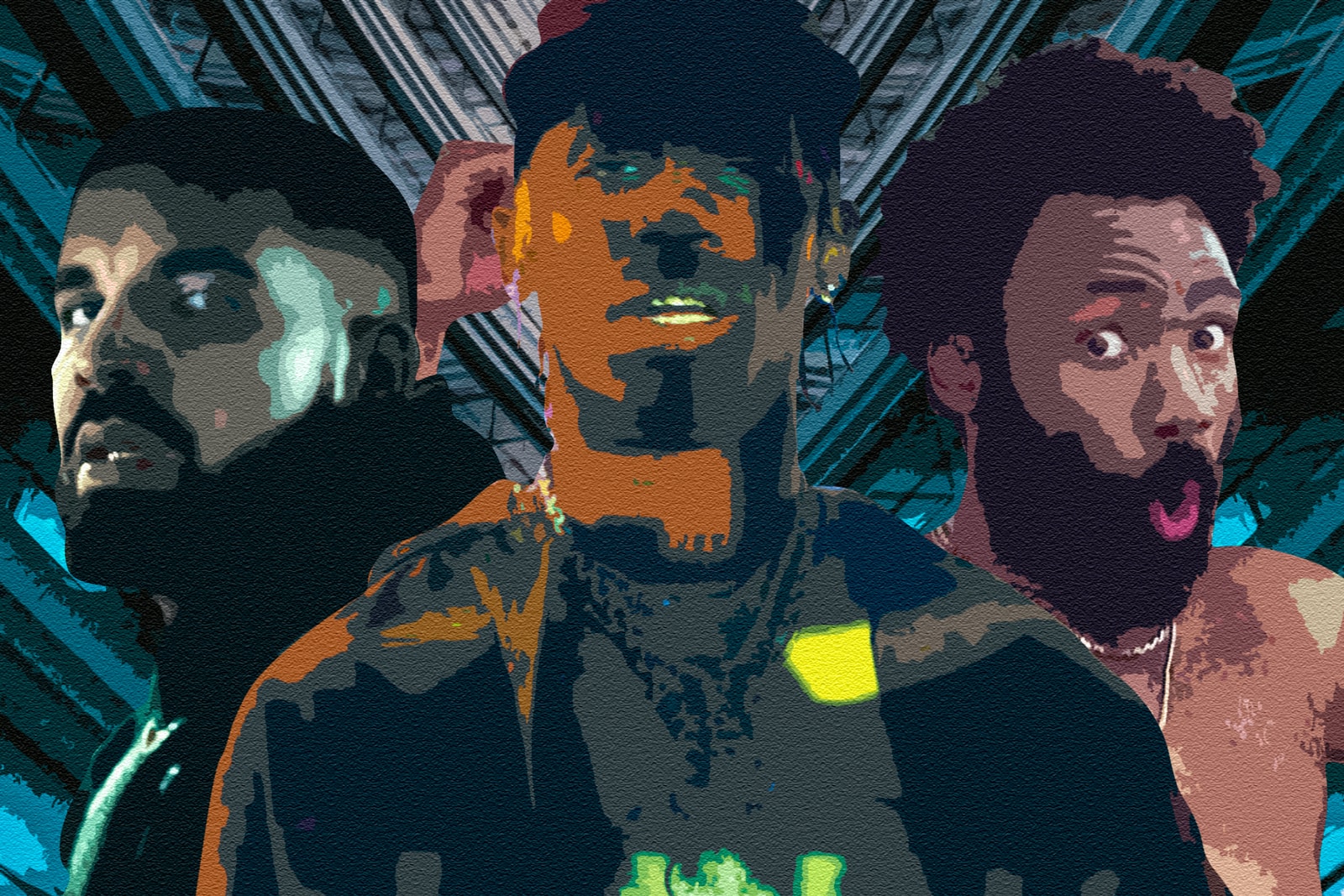 Top 10 Songs of 2018
Hip-hop has been in the driver's seat of the music industry for the last couple of years and this year was again another strong showing. Artists like Travis Scott and Childish Gambino cemented themselves as superstars, while younger musicians established their sound, including upstarts Valee, 03 Greedo, Drakeo The Ruler and Sheck Wes. Many artists saw success with songs that had a deep meaning, however, the music industry suffered deep heartache with the loss of Mac Miller, who put out one of the strongest projects of 2018. This list wasn't easy to make but we stepped up to the task.
Without further ado, here are our 10 favorite songs of the year, in no particular order.
Travis Scott Ft. Drake "Sicko Mode"
"Sicko Mode" is perfect. From start to finish, it feels like you're listening to three different songs as each beat switch-up seemingly brings you to different stages of your life. If the Riddle of the Sphinx was turned into a song, it would be "Sicko Mode" and by the end of the record, you're reflecting on your past life. Whether
you're at a concert
, in your bedroom, at the laundromat, in the bodega or doing whatever mundane task you planned on doing, "Sicko Mode" makes everything exciting, every time.
Sheck Wes "Mo Bamba"
The story of Sheck Wes' ascension can be represented with the rise of "Mo Bamba." At first, it was a very slow buzz, something you heard about probably from someone younger who has their phone glued to their hands. Weeks later, you heard the record out in public or stumbled on the video and you can't get it out of your head. Months later, it's
everywhere and its inescapable
. "Mo Bamba" is
electric
and it's like a shot of adrenaline every time you press play. The most insane part about the record is that the part where fans go crazy the most, at the beat switch, was an accident.
Drake "God's Plan"
Drake
usually has one song every year that becomes unavoidable, however, this year he had a few. "God's Plan" nudges "
In My Feelings
" because it didn't
need a viral dance
to boost its popularity and it set the tone for the year. Months after dropping
Views
and
More Life
, Drizzy took a vacation from the industry. Then, when video of the song playing at a New York City New Year's Eve party broke out, the anticipation for the record was insane. When it came out officially in January, the song debut at No. 1 and was in every club, bar or institution that played music. The video made the song even more legendary, with Drake donating nearly one million US dollars to people and institutions in Florida.
Mac Miller "Self Care"
The
untimely death
of
Mac Miller
was one of the most tragic news of the year. Fresh off releasing his stellar, Grammy-nominated album
Swimming
, news broke that Miller died from a
drug overdose
. A record that stood out from the LP and became a song that fans gravitated to was "Self-Care." The two-part record was one part Mac coping with life's many hardships and serves as a reminder to move forward, thinking of his wellbeing. However, the second part turns into an atmospheric concept of self-medication.
Valee "Womp Womp"
Valee's "Womp Womp" may not be the biggest song of the year but it's one of the most important. Every few years, an artist comes out and popularizes a distinct flow that other rappers try to adapt into their own style. A few years ago it was Migos, then Young Thug and now its Valee. His
distinct flow
has been copied by some of the biggest stars in hip-hop and it's
been well-documented
. Either way, Valee is proving to the industry that he's here to stay and "Womp Womp" is the song that stamps him as an important new face in music.
Summer Walker "Girls Need Love"
Summer Walker
went from local buzzworthy artist to 2019's artist to watch across all genres within an
incredible six-month period
. The record that launched her fast rise is "Girls Need Love," a beautiful R&B song that fights for women being confident and vocal about their sexual needs. Sex shouldn't be a taboo subject to openly discuss if you're a women.
Drakeo & 03 Greedo "Ion Rap Beef"
While fans and other observers hope for the best, Drakeo the Ruler and
03 Greedo
went above and beyond this year by coming together, and despite all the strife and struggles, "Ion Rap Beef" is a song that seamlessly portrays what makes both of them so extraordinary. Drakeo the Ruler's codeine-coated, woozy menace is delivered through an ecosystem of effortlessly-imaginative slang and swiftly-slurred flows that sleepwalk over JoogFTR's shaky, moody beat, while his charismatic villainy is at its most brazen and venomous. It's rare to find arrogance this easy to love. For his part, 03 Greedo's vocal presence on the track feels pained and paranoid, as if he recorded it towards the tail-end of a tense post-party binge, and every struggle he's ever faced appears to weigh on his mind so heavily that it shows in his voice. "We out the slums, fresh out the slums," were the words Greedo chose for his verse's finale; judging by the anxious, erratic gun-talk, he couldn't have picked a better line to finish the song.
ALLBLACK Ft. DaBoii "07 Lynch"
A March collaboration with
SOB X RBE
's strongest lyricist
DaBoii
,
ALLBLACK
's "07 Lynch" is an immaculately-structured representation of his skills, as an intense, clever, detail-oriented, expressive and thoughtful orator who knows how to swiftly and assertively command attention, delivering each bar with a sense of purpose and passion. For his "07 Lynch" salvo, the Oakland-representative energetically presents every single side of his artistic persona. It's a balanced insight into the money-motivated mind and life of a by-any-means, savvy hustler. He brashly takes all the risks and understands their repercussions, which allows for a conclusion that explains the emotional, mental and spiritual tolls that are taken as payment for the Devil's deals made on online classifieds, the busiest streets in the grittiest neighborhoods, roach-ridden motel rooms and casinos.
Sada Baby & FMB DZ "Rock With Us"
Sada Baby
and
FMB DZ
's heavily-anticipated
Double Dragon
album has the potential to be a gem in street-rap's current resurgence and the joint-album trend. The best gift that the current whirlwind surrounding it has given us is "Rock With Us," a nearly-four-minute back-and-forth from two rappers with natural chemistry — they also bear a significant share of the responsibility for Detroit's modern renaissance, which is already heavily influencing an entire style of rap. As Sada Baby and FMB DZ move quickly toward their prime, songs like this become the type of records we look at not just as pivotal moments in their solo careers, but as examples of why the collective approach to making great rap music is a winning formula and one of the genre's best attributes.
Childish Gambino "This Is America"
It can be argued that Childish Gambino made the most important record of the year with "This Is America." The song and video put a critical eye on being Black in America, and American culture as a whole. Though the record and moments of the video feel like one big party, comb deeper and you see tragedy, heartache, cultural appropriation and trouble with social media.