Ron English Plans to Whitewash $730k USD Banksy Artwork
Purchasing the work with plans to paint over it as an act of protest.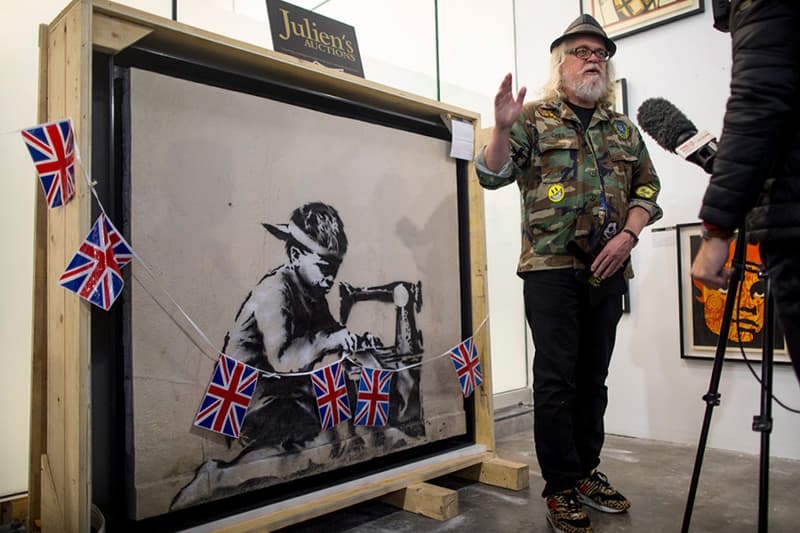 Ron English is the proud owner of a $730,000 USD Banksy artwork. The self-proclaimed "Godfather of Street Art" recently purchased the elusive artist's Slave Labour piece at a recent auction and plans to paint over it as an act of protest against those who steal artworks from the street with the intent to resell. The artwork, which was removed from the streets of London in 2013, portrays a visor-clad child kneeling and using a sewing machine with Union Jack flags embellished across the frame.
"My idea for this painting is to whitewash it for my good pal Banksy, I only wish I could've spent more money for it," said English to Sky News. "I'm going to paint over it and just include it in one of the walls in my house," English continued. "We're tired of people stealing our stuff off the streets and re-selling it so I'm just going to buy everything I can get my hands on and whitewash it."
The catch is: after painting over the piece, he intends to "sell the whitewash painting for a million dollars," English told the publication. "I'm crazy but I'm not stupid."
Let us know your thoughts in the comments below. Elsewhere in art, Invader recently launched a solo exhibition called "Into the White Cube" in LA.