This is How Post Malone's "rockstar" Was Made
Louis Bell, the song's co-producer, takes us through the entire process.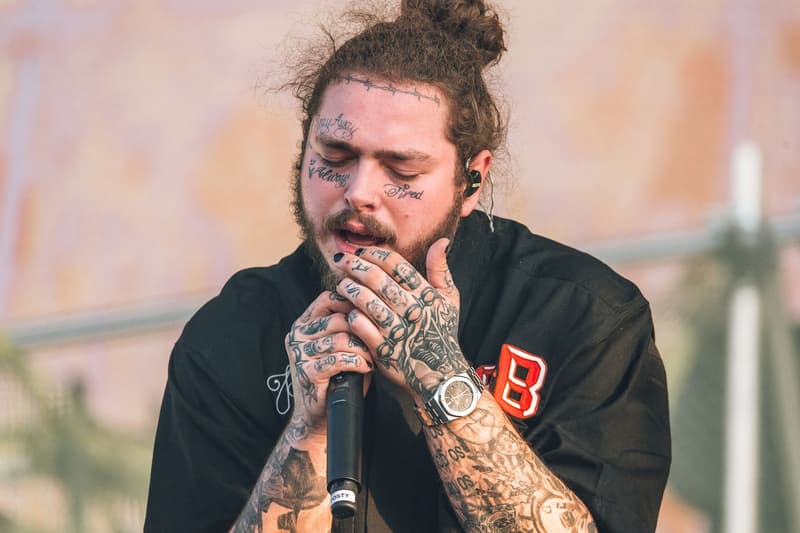 On September 15, Post Malone dropped his first single from his upcoming project Beerbongs & Bentleys, "rockstar." At first, the song made headlines because it marked the first time the Texan singer-songwriter and 21 Savage got on a track together. The song later debuted at No. 2 on the Billboard Hot 100, behind Cardi B's "Bodak Yellow." On the 16th of October, the song climbed to the top spot, becoming the fifth No. 1 rap song of 2017 after "Bodak Yellow," Kendrick Lamar's "HUMBLE.," DJ Khaled and gang's "I'm the One," Migos and Lil Uzi Vert's "Bad and Boujee."
"rockstar" became Post Malone and 21 Savage's first-ever No. 1 single, not just in the US but also in countries like UK, Canada, Australia, New Zealand, Ireland, Portugal, Sweden, Austria, Denmark, Finland, Norway and many more. It broke the single week streaming record on Apple Music with over 25 million streams, currently has nearly a third of a billion Spotify streams, and still sits atop Spotify's global charts with nearly 6 million daily streams today.
In celebration of the song's success, we linked up with "rockstar" co-producer and industry veteran Louis Bell to talk about how the track was conceived and the creative process leading up to its completion and release. In addition to "rockstar," Louis also helped write a few other Post Malone songs including "Congratulations." He is also one of the songwriters behind Camila Cabello's Young Thug assisted song "Havana" — which is in second place behind "rockstar" on Spotify's global charts and No. 7 on the Hot 100.
Congrats on your recent success. Take us through the journey of how "rockstar" came to be.
I was introduced to Post's manager Dre London through my manager Austin Rosen back in November of 2015. I was working with another one of Dre's artists and after a few sessions, he decided to play me an unfinished Post song with 50 Cent.
Before Post's verse came on he stopped the song and said, "It's not ready yet." I said, "Don't worry, I can hear through anything rough" — so he played me the verse. I assured him I could help him finalize it, so he got me the session. Shortly after I had it finished. He then played it for Post the next day, which in turn led to him to want me to work on the vocals for his whole album.
We met a few weeks later and began working on some ideas from scratch with Frank Dukes and a few other producers. It was during that process we realized quickly we had a great chemistry and the same vision musically. So we've been working closely since.
There's no way to guarantee a song will have that "magic."
How long did it take for you to make "rockstar?"
Three days, over the span of several months. The first night was in New York with Post and Tank God laying the rough sketches. The second night was Post and I finishing the song vocally and getting the beat finalized. The third and final night was adding 21 Savage's verse and adding some final vocal adlibs to the last chorus.
The song has been sitting at No. 1 since mid-October. Is there a formula you follow to churn out a hit or was it unintentional?
I don't think so. There's definitely ways to structure a song so the flow of it feels constantly exciting, as well as melodically making sure the writing has dynamic. With that being said, there's no way to guarantee a song will have that "magic" which ultimately wins over the masses. You also can't predict what other songs it will be competing against on the radio once it's released so there's definitely a lot of luck and timing required in that sense.
Other than luck and timing, why else do you think "rockstar" performed so well?
I honestly think a big part of the success of the song is because of how Post is the type of artist that he is. His voice, likability and artistic perspective, coupled with the writing on "Rockstar" — a deadly recipe. There's always shifts in music and we're experiencing a major one right now with a new generation of artists emerging.
The beat was a collaboration with Tank God. Which part did you make and which part did he do?
Tank God had the first version of the beat with drums and the main pad loop finished, which he initially played to Post in New York when they met in the studio. Post then laid down a rough take of the chorus and a rough sketch of the verse melody.
Once he got off tour, he and I got in the studio to finish the song. We re-recorded the chorus then finalized the verse and pre-chorus vocally. I then added a bunch of pads and synths to the verses so they would have a nice build and added some changes to the second verse as well — as an alternate bass line for the end of 21 Savage's verse — to give it a lift.
Finally, I put together an outro with some pads, bass and synth, mimicing a wailing guitar solo. My goal was to make the song feel super epic at the end without it being too overstated, while still maintaining the original vibe.
His voice, likability and artistic perspective, coupled with the writing on "Rockstar" — a deadly recipe.
You also co-wrote Camila Cabello and Young Thug's "Havana". How was making that like?
After we had finished all of Camila's pars for the song, Frank Dukes, the songs producer, sent to it Young Thug for him to lay his verse. A day or so later we had his parts back, it was pretty impressive!
You've been in the game for quite some time. How long have you been producing for and who are some other artists you've worked with?
I've been producing professionally for 15 years and have worked with Justin Bieber, Selena Gomez, Quavo, PartyNextDoor, Ty Dolla Sign, DJ Snake, Marshmello and more.
How did you get into producing?
When I first started, I was recording my own songs over beats I was finding online. After a while I got bored with the limitations of that and found the program Fruity Loops. I had taken piano lessons briefly when I was 11, so I had a slight musical background. This skill helped me start building my own tracks on the computer. I ended up opening up my own studio where I worked with dozens of artists. That way, I could perfect my craft in producing, recording and mixing.
Is there any difference writing music now compared to writing music in the '90s or '00s?
I think the biggest difference now is that the melodic structure in songs are drastically changing. Verses may not have the same melodies, bridges may be replaced with rap features and production may be super minimal at times depending on the sound choice. I think that since so many people have access to production programs, it's led to there being a massive outbreak in the number of producers we're seeing.
Beerbongs & Bentleys does not have a release date yet. Stay tuned on HYPEBEAST Music for the latest in music and music news.