Justice Reveal Their Style Secrets and Favorite New Artists
The Parisian duo speak ahead of dropping their third album, 'Woman.'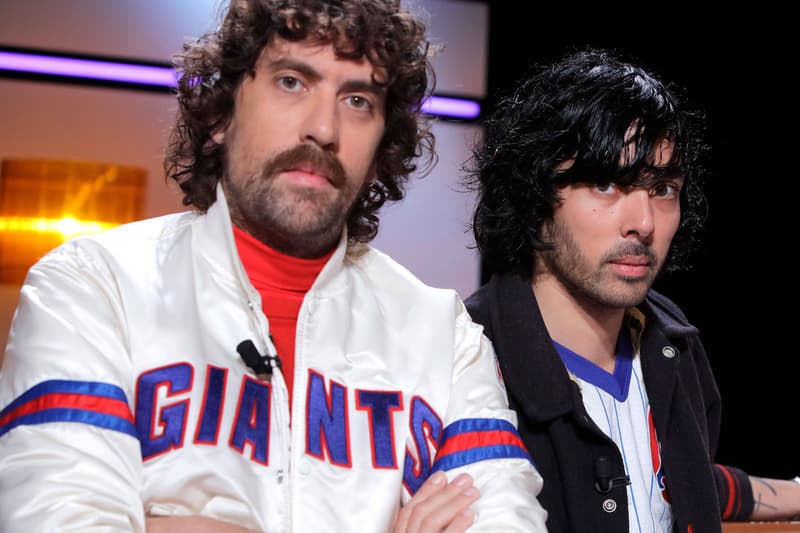 [gallery columns="3"]After signing to pioneering French label Ed Banger Records back in the mid 2000s, Justice – aka Parisian duo Gaspard Augé and Xavier de Rosnay – set the world alight with 2006's "We Are Your Friends"; their euphoric collaboration with Simian Mobile Disco that filled dancefloors across the globe. Two blockbuster albums followed, backed up by epic live shows and a striking aesthetic that twinned religious and rock 'n' roll iconography, resulting in a cult following as much for their sharp dress sense as their alternative take on electronic music. Along the way they've picked up a series of awards, released a documentary, and soundtracked fashion shows for the likes of Dior Homme, cementing themselves as modern-day poster boys for the Parisian dance scene.
This summer, after a hiatus of five years, Justice put out new singles "Safe And Sound," "Randy" and "Alakazam", which served as strong, synth-heavy reminders of the duo's significant talent. With their third album, Woman, dropping this week, we spoke to the pair on the roof of London's Ace Hotel on their style, their sound, and their hot tips for 2017.
What can we expect from your new album, Woman?
Xavier de Rosnay: One of the ideas we had when we started this record was to work with the idea of gospel music. We wanted to take that and make it our own way by presenting a contemporary sci-fi version of it, as that's another thing that we find cool.
Listening to a record is an immersive experience for us and we still like to believe that some people will listen from beginning to end. Our music has one foot in victory and another in something sadder – we always say that it's like you've won the war but you lost some friends along the way. We're never fully satisfied with a sound that's completely dark or completely uplifting – that sounds cheesy to our ears.
How do you translate your records to a live show? 
Gaspard Augé: We don't really come from the dance music world and its iconography and ravey, fractal lights were never really our cup of tea, but there is something appealing in technology. We are drawn to tech as it allows you to make sounds that you couldn't have made five or 10 years ago but we try to use it in an understated way as we don't want our music to sound too futuristic, as that way it can quickly go out of date.
How important is style to you?
XDR: It's what comes to us naturally. It's all those things that you absorb when you're a kid as well as your vision of what's cool – this can stick with you forever. For me, confirmation of this came recently when I saw some Frank Marjerin comic books from the late 1970s or 1980s. I used to read these comics about French suburban kids and if you look at images of them now, we look exactly the same – the jackets, the shape of the trousers, and the shoes. Back in the early 2000s, everyone was wearing biker jackets but as far as I can remember, we've always dressed the same.
Which designers and shops appeal to you?
XDR: We mainly shop on eBay or on trips to Japan. Japanese vintage shops are amazing for everything – it's like they've taken everything from the 1960s onwards and sorted them out neatly by decade – you can always find such amazing pieces.
Why has the Paris electro scene traditionally been so strong?
XDR: I think it's the only type of music we have in France that isn't an imitation of something else – too often we try too hard. It's tough to make authentic rock 'n' roll in France, for example, as you've got bands in the UK and U.S. who have been doing it for so long. But some artists such as Phoenix have found a winning formula because they manage somehow to sound very French. It's the same with rap music – right now there's a band called PNL from the Parisian borders and whether you like them or not, they sounds like nothing else, so they've managed to find their own sound.
GA: With electro there's no problem with language. You can sing in English with a terrible French accent but in this context it sounds OK.
How is nightlife in Paris changing?
XDR: All the big parties are happening in warehouses in the suburbs of Paris – I guess it's a worldwide movement. Clubs can seem quite exclusive and they're expensive and these days people are maybe trying to find something a bit more authentic. People want the impression of participating in something a bit rougher and spontaneous like rave parties – it ties in with the whole 1990s revival thing.
Which artists do you expect big things from in 2017?
XDR: We have a friend called Surkin who releases music as Gener8ion. We started making music at about the same time and what he's been releasing so far has been amazing – it's a new form of electronic music. He made one track with M.I.A. but the general aesthetic is similar to the Japanese anime of Akira.
GA: There's another new band called The Lemon Twigs who aren't making "new" music but I really like their concept. They're two really young brothers from Hollywood who are obsessed with the British Invasion and they're great at writing songs, too.