12 of the Best Places to Eat, Drink and Shop in Bangkok
A definitive list of places for first-time visitors.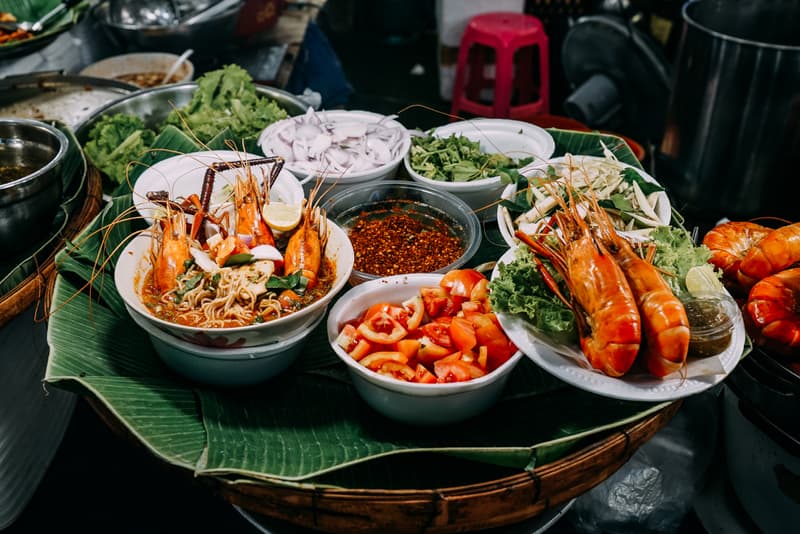 As one of Southeast Asia's most vibrant travel destinations, Bangkok is renowned for its urban design that pushes modern elements while preserving rich cultural heritage. Aside from being an epicenter for travelers looking to indulge and imbibe local cuisine, Thailand's capital is emerging as a unique shopping destination filled with international labels, and a growing number of brands that represent the Thai way of life.
In our first city guide for the frenetic city, we offer our greatest hits for first-time visitors strapped for time. Bypassing some of the city's tourist traps, we've honed in on the gems that you might previously have only uncovered thanks to friends or locals.
Take a look at our selection of must-visit restaurants, bars, cafes, shops and markets for first-time visitors below.
Restaurants
1. Issaya Siamese Club
Standing out as a beacon of progressive Southeast Asian cuisine is Issaya Siamese Club. Helmed by a world-renowned chef in the unassuming neighborhood of Rama IV Road, the restaurant operates within a 100-year-old home hidden in a tropical garden. Guests are encouraged to enjoy a drink while exploring the wonderfully refurbished house before being seated for dinner in Issaya's eclectically designed shared dining space, or private rooms.
The menu is comprised of contemporary, refined Thai dishes presented with creative finesse. A must try is Yum Hua Plee – a banana blossom and palm heart salad dressed with chili jam, crispy shallots and roasted peanuts. Sweets are clever and subtle variations of Thai desserts. Rounding off the meal on a high note are complimentary "little-nothings" – often a set of perfectly packaged delicious takeaways, representative of the service at Issaya.
Address: 4 Soi Sri Aksorn, Chua Ploeng Road, Sathorn
2. Sor Roongroj
Opened 63 years ago at Nang Loeng Market, Sor Roongroj has been serving up an old family recipe for duck to an ever-growing crowd of locals and tourists. Despite being a little far out from the city center, throngs of fans has forced the restaurant to take over the shop spaces to its left, right and directly opposite.
At Sor Roongroj, duck is undeniably the star of the show, as it is served in a variety of ways and forms. A must-try is the Dry Noodle – sliced duck breast served on a bed of noodles, tossed in fat, then topped with sweet soy and fried garlic.
Address: 141-143 Soi Nakhon Sawan 6, Nang Lerng Market
3. Street Food
Bangkok has some of the best street food in South East Asia. Not only is the food tasty, but it is also remarkably affordable. Without picking out a specific street, or food stall, we recommend you get adventurous and follow your nose; as most of the places located in central markets will not disappoint. Key snacks to try are meat skewers, boat noodles, grilled banana, pad thai, and pla pao.
Address: Everywhere
Cafes
4. Red Diamond Café
Located inside the bustling CentralWorld mall, Red Diamond Café is an easy choice for tired shoppers in need of a mid-day pick-me-up. Equipped with some of the most sophisticated coffee-making machines on the market, the elegant dark-wood counters of the cafe serve as a makeshift laboratory for a clinically precise approach to coffee-making.
Address: 5/F, CentralWorld, Beacon Zone 999/9 Rama I Road, Pathum Wan
5. Pacamara Coffee Roaster x Specialty Coffee Lab
Serving as its first location outside of Chiang Mai, Pacamara Coffee Roaster's Specialty Coffee Lab in Thonglor is the go-to place for quality single-origin coffee beans. The Specialty Coffee Lab serves as an expert brewing focused extension of the famed Southeast Asia-based Pacamara brand. Part of the emerging "third wave coffee movement" that's vibrant in Bangkok, the Pacamara outlet roasts all their beans in-house with top of the line machinery.
Guests are welcome to choose from an extensive mix of freshly roasted beans from Guatemala, Panama, Ethiopia, Burundi, and Yemen, which are introduced by a staff of knowledgeable baristas. Those looking for a new way to enjoy their daily intake of caffeine can try the location-exclusive Snow Cold Brew. Designed for openness, the minimalist mix of light grey and black at Pacamara Coffee Roaster x Specialty Coffee Lab makes it the place to be when trying to duck away from the Bangkok sun.
Address: 25 Thonglor Soi 66, Wattana
Bars
6. ad lib Hotel Bar
Under the ad lib boutique hotel umbrella, the hotel's bar is one of the city's best-kept secrets with its location nestled in the lobby of the discreet hotel, hidden right in Bangkok's city center. The bar boasts a cocktail menu designed by globally renowned top bartender Joseph Boroski of J. Boroski fame, featuring a line-up of expertly crafted classics, referencing local flavors with a theme of travel. Sans the usual bells, whistles and high prices associated with high-end watering holes, the ad lib bar is perfect for thirsty travelers looking to round off a night.
Address: 230/5 Sukhumvit Soi 1, Wattana
7. The Rabbit Hole
Hidden behind an unmarked plain timber facade is The Rabbit Hole speakeasy. Upon entering, visitors are greeted by a dimly lit multi-level space, and impeccably designed drinks inspired by Alice's Adventures in Wonderland.
The accomplished bartending team maintains a cocktail list that's constantly updated; comprised of a compilation of drinks categorized under the headings: Vintage, Craft and Whisky Cocktails. Utilizing refined techniques and premium ingredients, each concoction serves as a respectful reinterpretation of classic cocktails combined with a touch of spirit-forward that's inspired by Lewis Carroll's timeless novel.
Address: 125 Thonglor Soi 125, Sukhumvit 55
8. Black Amber Social Club
From humble beginnings as a barbershop, Black Amber Social Club is now one of Bangkok's most authentic whiskey bars. Located at the end of an alley off Thonglor, the white townhouse holds an impressive range of whiskey, bourbon, and rum in its regal ground floor lounge. Decorated with oddities, bespoke leather furnishings and a vintage grand piano, BASC exudes an original gentlemen's club feel.
After enjoying an Old Fashioned and a premium cigar, peruse the offerings found upstairs at the risque Mirror Mask vintage store and Toast Bespoke tailor. If fashion isn't your thing you can also get a clean fade or classic sailor's tattoo at the Black Amber Barbershop & Tattoo Parlor on the second floor.
Address: 160/17 Thonglor Soi 6, Soi Sukumvit 55
Shops
9. Night Train Market Srinakarin
Choosing which night market to visit in Bangkok can be one of the most daunting tasks for first-time visitors. Confusingly one of three 'Train Markets,' the Srinakarin location has become one of the most popular destinations for tourists and locals thanks to its balance of traditional market, curated thrift shops and food-and-drink options.
The market is broken down into two sections – a main outdoor area with countless colorful tents, and another area with wide alleys filled with rows of brick-and-mortar vintage shops. Heaven for thrifters, the vintage shops carry everything from vintage sportswear to military issue gear from different nations. Those in need of a break from shopping can visit one of the many grilled seafood stalls and retro-themed cafes that are riddled throughout the market.
Address: 3/F, CentralWorld, Beacon Zone 999/9 Rama I Road, Pathum Wan
10. Carnival
Already established as Bangkok's top destination for footwear, CARNIVAL is the premier destination for hyped sneaker releases from Nike, adidas and everything in between. Most recently CARNIVAL revamped its Siam Square location to serve as its main flagship in addition to the three locations it has spread throughout the city. Aside from sneakers the flagship carries an assortment of streetwear from brands like PLEASURES, MISBHV, STUSSY and CARNIVAL's own in-house label.
Address: Srinakarin Road Soi 51 (behind Seacon Square)
11. UPPERGROUND
UPPERGROUND is CARNIVAL's natural expansion into fashion. Located inside CentralWorld, Thailand's premier shopping destination, UPPERGROUND serves to reinvigorate the longstanding mega-mall opened in 1990.
UPPERGROUND's features a mix of international labels, local names and houses special activations that serve as the introduction point for Bangkok's fashion folk. Some notable label's at the retailer include  #FR2, UNDERCOVER, POLIQUANT, Wacko Maria and Magic Stick, along with lesser-known names WVS and Takara Wong.
Address: 428 Siam Square Soi 7, Khwaeng Pathum Wan, Khet Pathum Wan
12. VAC
Located in Siam Square, VAC stands as an early hub for street culture in Bangkok. Most recently celebrating its seventh anniversary, the local sneaker retailer has stood out as the place to get Jordan Brand sneakers and apparel in the city. Already holding a solid footing in the footwear realm, VAC is now looking to expand its clothing offerings, which can be found on the second floor of the two storey shop space.
Address: Siam Square Soi 1, Khwaeng Pathum Wan, Khet Pathum Wan