Rajon Rondo, Chris Paul & Brandon Ingram Set to Receive Suspensions For Lakers-Rockets Brawl
How the NBA plans to deal with the situation.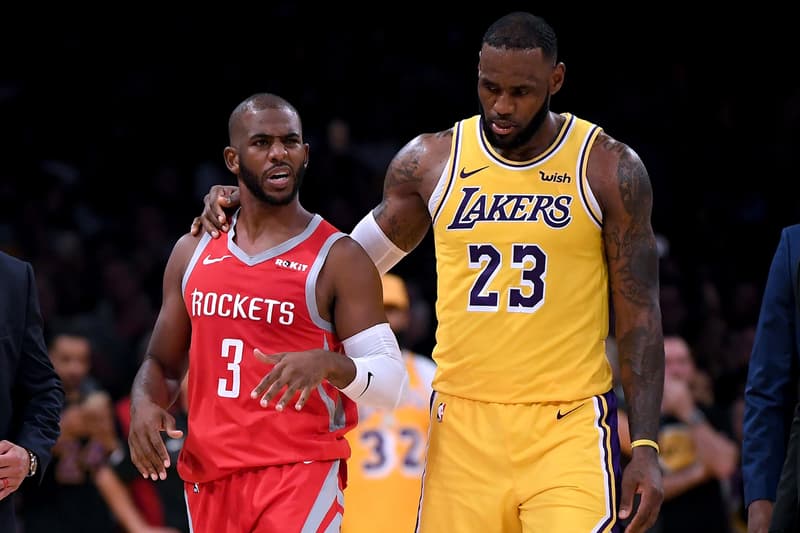 As the dust settles after the Los Angeles Lakers and Houston Rockets brawl, reports are noting that Rajon Rondo, Chris Paul and Brandon Ingram are now facing suspensions for their part in the fight.
According to tweets from ESPN Senior NBA Insider, Adrian Wojnarowski, Ingram has been suspended four games, Rondo has been suspended three games and Paul will be out for two games. Although none of these suspensions have been officially launched, it is assumed that all players will receive a penalty despite claims that Rondo provoked Paul by spitting at him. The league is currently reviewing courtside video that will be key in determining the events that occurred in lead up to the all-out brawl, which will help determine who provoked who, so that accurate suspensions can be set.
Catch the series of tweets below and stay tuned for more information as the story develops.
For more NBA news, the association recently forced Lonzo Ball to cover up his Big Baller Brand tattoo.
Sources: NBA suspensions – Brandon Ingram 4 games; Rajon Rondo 3 games; Chris Paul 2 games.

— Adrian Wojnarowski (@wojespn) October 21, 2018
Whatever case Rondo's making, NBA is evaluating a video clip captured courtside that shows saliva/spit shooting from Rondo's mouth onto Chris Paul's face. It appears Rondo will have to sell league on fact that it was unintentional — and that appears to be a tough case to make. https://t.co/ddrhhHuxnN

— Adrian Wojnarowski (@wojespn) October 21, 2018
Sources: NBA's expected to learn two things on case Lakers/Rajon Rondo will make to league: Rondo suffered a cut/scratch under right eye from Chris Paul, which Rondo contends provoked him. Also, Rondo used a mouthguard, which presumably would complicate alleged act of spitting.

— Adrian Wojnarowski (@wojespn) October 21, 2018
This is one of the pieces of video the Rockets are sending the league office as the NBA investigates last night's fight at Staples Center and determines discipline. pic.twitter.com/YKw7JF13cP

— Rachel Nichols (@Rachel__Nichols) October 21, 2018