Chris Paul & Rajon Rondo Threw Punches During Lakers-Rockets Game
With Paul claiming that Rondo spat on him.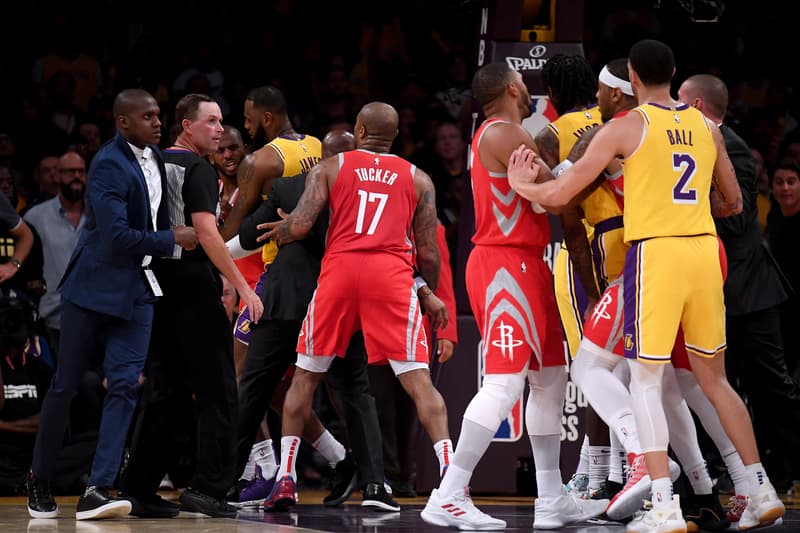 LeBron James lost his first home game with the Lakers against the Rockets this Saturday night, but that wasn't the only unfortunate circumstance for the athlete and his team. The Lakers' Rajon Rondo and Rockets' Chris Paul got into a brawl with punches thrown in the fourth quarter of the game. Seconds after the fight ensued, players from both teams rushed into the brawl. Moreover, Paul claims that Rondo spat on him as per GQ. New video from The Athletic alleges that Rondo actually spat on Paul.
"I thought like (Paul) shouldn't have put his hand in Rondo's face. You hit someone in the face, you know what's going to happen after that," said Lakers' Lance Stephenson to USA Today. "I felt like the other team was trying to provoke us and we fell for it. I think our guys didn't get there and push our players away, both Rockets and Lakers. We should have broke our players up, we got to do better at that, grabbing our guys and getting our composure."
View the incident below and stay tuned for more details.
The Lakers and Rockets threw punches at Staples ? pic.twitter.com/YKWRkqHnXF

— ESPN (@espn) October 21, 2018
Sources: Lakers officials watched tape and are backing Rajon Rondo's contention that he didn't spit on Chris Paul. Meanwhile, CP3 and Rockets are insisting that Rondo did spit. "Lot of history between them," one source connected to both players says.

— Adrian Wojnarowski (@wojespn) October 21, 2018