Surrender's Mae Tan Talks About Singapore's Rapid Growth in Luxury Streetwear
For G-SHOCK's 35th anniversary campaign 'We the Gs.'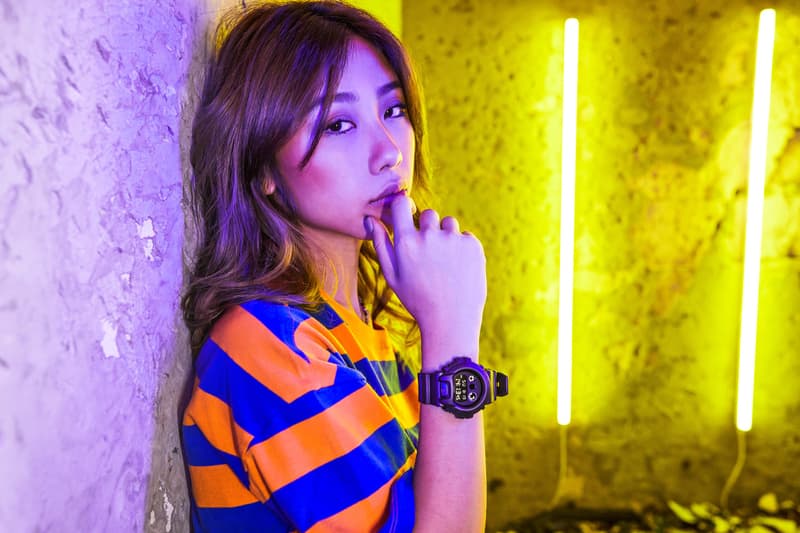 Launching the second installment of its We the Gs video series, G-SHOCK presents "Vol 2: Shock Your Style" to celebrate it's 35th anniversary. The campaign focuses on three Singaporean representatives whose expertise lies in arts, street fashion and music, all of which are supported by mysterious live activations, limited collaboration pieces and graffiti installations.
Rounding out the campaign, the Japanese watchmaker taps creative Mae Tan who heads the marketing initiatives for Surrender, a boutique that carries visvim, AMBUSH and fragment design among other coveted street labels. While tying into G-SHOCK's "Cool Nipponica" DNA, Tan tells us about how she wore the watch as a teen and developed her personal aesthetic via flea markets. "I like to mix highs and lows. As much as I'm doing luxury streetwear and into that lifestyle, I would normally wear something that's of a high price range and match it with something vintage or with something I got for a dollar or two. I think that's the fun part and G-SHOCK gives that factor of street and casual while looking like you've put thought into your outfit."
Read on to learn more about Mae Tan's style influences and Singapore's rapid growth in the luxury streetwear scene.
Walk us through a day in the life of Mae Tan.
People don't think that I lead a normal lifestyle, but from Monday to Friday I go to the office, I do my work and in my spare time, I do things like this. I'm kind of a workaholic and I just can't stop doing things. When I see an opportunity to do something, I would want to do it and with Instagram, it's the same thing. I have a day job and this is more of what makes me happy and what I enjoy doing. As a creative person, it's nice to have an outlet where you get to own it and do what you want to do.
"I had very bad fashion choices until I found out about flea markets."
Where do you get your style from?
I get asked this question a lot and I find it a little bit hard to answer because growing up, I was just really rebellious in my own way. I had very bad fashion choices until I found out about flea markets; my friends and I would go buy vintage or used clothes and then we would style them up by mixing and matching. I felt like that was my first steps of finding out my style. I took a while to get it honestly.
I only have one or two female cousins and I think that growing up with my brothers, we're all really sporty. We all love to do sports and my brother used to skateboard. We used to listen to punk rock music. My brother used to play the bass, he used to do tattoos and that really inspired me a lot. My family is just a huge inspiration, so I guess that's where I kind of picked stuff up. I used to take my brother's T-shirts and I steal my mother's bags and belts.
Could you tell us about your collaboration with G-SHOCK?
We're creating a cool campaign with the We The Gs videos and photos, and working with a really sick production crew which I'm really excited to see because so far it looks really awesome.
How has your perception of G-SHOCK changed since your involvement in the campaign?
I was really impressed, especially by the last GMW-B5000 watch that came out. I thought that was really cool and I really wanted it. I was just so sad I couldn't make it for the launch event. The fact that G-SHOCK is really open to working with local artists is a huge win for me as a consumer or as a personality taking part in this. They've worked with artists like Jahan and then now they're working with ClogTwo and I think that's really exciting.
G-SHOCK's slogan is #AbsoluteToughness; what does that mean to you?
I think the fact that it withstands anything, and even after all this time, it's still relevant and it's still withstanding everything else. I grew up wearing Baby-G and it was my dream watch when I was a kid. It's cool that now you see G-SHOCK getting really in tune with their consumers and understanding the different markets.
Streetwear culture has gained a significant presence in the world of luxury fashion. What are your thoughts on the shift that has taken place in Singapore?
I love streetwear because it gave everyone that opportunity to want to take care of themselves. It's so weird but three years ago, no one would spend $400 USD on a printed T-shirt or pay a $1,000 USD for a pair of sneakers, but now kids under 18 or even 10 are going to Supreme or Off-White™ to buy really expensive stuff.
As much as it is mind-blowing, the beauty of it is that you'd have never been able to see fashion like that in Singapore ever until today. No one used to care about how they dressed. It's nice that fashion hit the masses. They are in love with it and it's because people want to take care of themselves and feel good about themselves. I think that's the beauty of streetwear — creating something where it gave the affordability and also that window for people to be casual but yet care for themselves enough to dress up.
We're just creating our own culture.
How would you describe Singapore's current streetwear scene?
Singapore is definitely always a bit slower but I don't blame it. It has been the fastest it has ever been, and I think Singapore is doing really well. Take a look around you on the streets now and you'll see that people are definitely much more conscious about how they look and what they wear and what they do. I think slowly but surely. I wouldn't want it to be too hectic like a Paris Fashion Week every day in Singapore, so slow-and-steady is good.
People are getting way more cultured in Singapore. People are finding their culture, finding out what the Singapore culture is because the country is so young and people are trying to find that out, which I think is really cool and that's the beauty of Singapore. We're just creating our own culture.
---
You can enter to win the special 35th Anniversary G-SHOCK watch via G-SHOCK's website. G-SHOCK Singapore just announced G-FEST, its first-ever street culture festival in Singapore this November 24th and 25th. Held at SCAPE, the two-day festival will celebrate 35 years of G-SHOCK's heritage in sports, art, music and fashion with music performances, fashion showcases, creative workshops, art installations, food vendors, and street culture experiences including spaces for sports and limited edition G-SHOCKs. More details to follow.