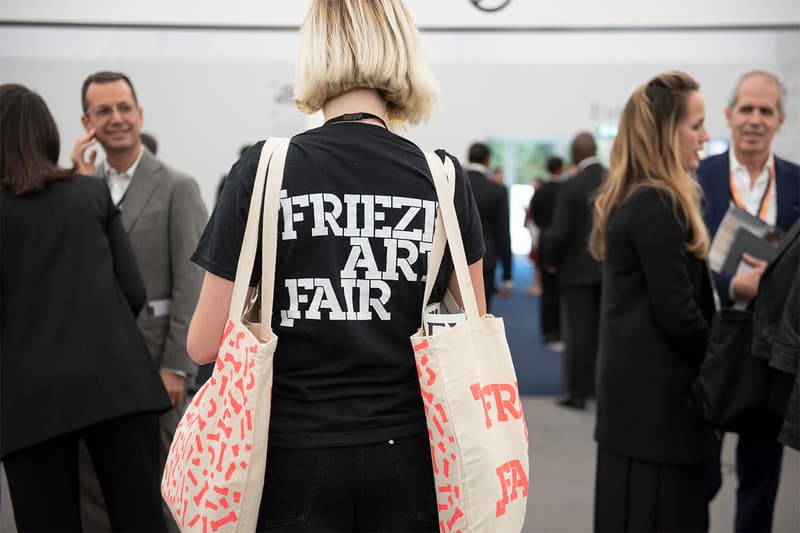 What to Look Out for at Frieze London 2018
The best galleries, installations & talks from this year's fair.
---
After its last fair in New York back in May, Frieze is back in London for its next edition. The world-renowned art fair — which runs from October 4 until October 7 — will see the great and the good of the international art world head to London, and will include booths from more than 160 galleries and work by over 1,000 artists. This year's fair will also feature a host of location-specific installations as well as talks, films and a wide range of off-schedule events across the city.
To make finding your way through the fair slightly easier, we've pulled together some of the key things to look out for over the course of Frieze.
Gucci's Latest Second Summer of Love Film
Following on from films with Wu Tsang and Jeremy Deller, Gucci is set to unveil the third installment of its Second Summer of Love project with Frieze. The latest film sees Gucci and Frieze partner with artist Josh Blaaberg for a work titled Distant Planet: The Six Chapters of Simona. The film focuses on three Italo-disco stars looking back at 1988 as well as their forgotten fantasies from that time and what the genre might have become. Distant Planet: The Six Chapters of Simona will be shown at Frieze on October 7.
David Shrigley's Shopfront
British artist David Shrigley has created a site-specific installation for this year's fair, which will showcase four different elements of his work: a series of large-scale neons, a two-screen digital animation, a sound-based installation and a collection of works on paper. Designed to look like a shopfront, the installation highlights the themes that run throughout Shrigley's work, particularly his deadpan humor and use of satire. The installation will take over Stephen Friedman Gallery's booth at Frieze London.
New Works From Wolfgang Tillmans, Chris Ofili & More
Stand-out works from this year's fair include previously unseen artworks from legendary German photographer Wolfgang Tillmans and Turner Prize winner Chris Ofili at David Zwirner Gallery. Elsewhere, there will be "seminal" work from legendary performance artist Marina Abramovic on display at Lisson Gallery and a new melting sculpture by Urs Fischer at Sadie Coles. Other notable galleries to take part include Gagosian, White Cube and Perrotin.
"Social Work" Themed Section
Following on from last year's curated section — titled "Sex Work: Radical Politics and Feminist Art" — the section this year will be themed around social work. The themed section will feature eight monographic presentations, all by women artists whose work was created in response to the social and political changes of the '80s and '90s. As well as celebrating artists who challenged the status quo, the section will also look at the role that galleries have played through their support of these women artists.
The Best New Galleries
As well as some of the more established names (see above), Frieze also spotlights some of the best emerging galleries from across the world through its "Focus" section. This year, some of the stand-out galleries from "Focus" include Hong Kong's Edouard Malingue Gallery — which will host an immersive installation by Wong Ping — as well as New York-based 47 Canal and London's Arcadia Missa.
Frieze Talks Featuring Nan Goldin, Laurie Anderson & Kemang Wa Lehulere
This year's series of talks will focus on the role that autobiography and personal experience play in the arts. Key speakers include Laurie Anderson, South African artist Kemang Wa Lehulere, author Alexander Chee and photographer (and Supreme collaborator) Nan Goldin, whose talk will cover her series The Ballad of Sexual Dependency and new activism as the founder of P.A.I.N. amongst other issues. The program of talks will run throughout the fair from October 4 until October 7.
Off-Schedule Events
As well as the actual fair itself, Frieze leads to a number of off-schedule events across London. Standouts from around the city this year include the first screening of Tom Sachs' new Paradox Bullets project with NikeCraft, the latest Dover Street Market Open House and a new infinity room by Yayoi Kusama, which recently opened at the Victoria Miro gallery.