The 11 Best Galleries to Follow During Frieze New York 2018
Spotlighting works from Takashi Murakami, Wolfgang Tillmans and many more.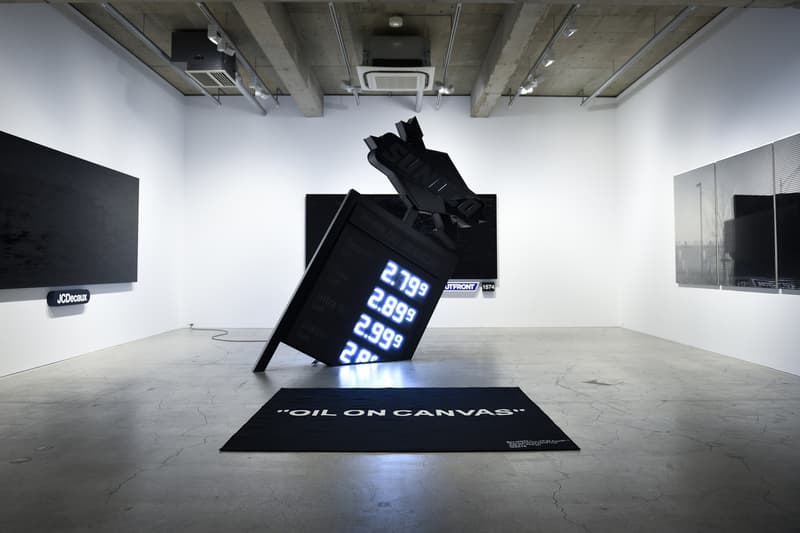 The world-renowned Frieze Art Fair will soon open to the public this coming weekend in New York City, bringing thousands of art aficionados to Randall's Island to celebrate its seventh consecutive year. A total of 197 galleries from 30 countries will showcase works from over 1,000 leading contemporary artists. Early standouts include pieces from Virgil Abloh's early 2018 "PAY PER VIEW" exhibition at Takashi Murakami's Kaikai Kiki Gallery in Tokyo, Gagosian's solo presentation of Robert Therrien and his larger-than-life sculptures, and David Zwirner's booth dedicated to the early work of Raymond Pettibon.
If you can't make it to the art fair, experience the event vicariously through the Instagram accounts of participating galleries listed below. Frieze Art Fair New York 2018 will be open to the public from May 4 until May 6.
Gagosian
Gagosian will launch a solo presentation of sculptures and drawings by Los Angeles-based artist Robert Therrien. The artist is widely-known for creating enlarged replicas of furniture and other household items. Furthermore, the gallery will also display a themed section of various media by Takashi Murakami. Artworks by Murakami include large-scale paintings, sculptures and drawings.
Kaikai Kiki
Takashi Murakami's
Kaikai Kiki Gallery
will present a slew of paintings and sculptures by celebrated Japanese artists MR, Madsaki and Yoshitomo Nara, as well as American artist Lee. Additionally, artworks from Virgil Abloh's "PAY PER VIEW" exhibit in Tokyo will be displayed in the booth. This marks the first time Abloh's painting will be shown at an art fair.
Perrotin
Perrotin
will present a solo show of
Bharti Kher
who recently launched an exhibition at the DHC/ART Foundation in Montreal. Kher is an Indian contemporary artist whose work is comprised of sculptures, installations,and mixed media works that feature bindis — the popular forehead decoration worn by women in India. Moreover, a selection of works by Daniel Arsham, Jens Fänge, Paola Pivi, Josh Sperling, Gregor Hildebrandt, Elmgreen and Dragset will be on display.
David Zwirner
David Zwirner will present new works by New York City-based artists Josh Smith and Jordan Wolfson. For the themed-section of the fair, the gallery will open a solo booth dedicated to the legacy of the acclaimed dealer, Hudson. Lastly, David Zwirner will sell rare Raymond Pettibon prints on its
online website
 during the fair.
Maureen Paley
Maureen Paley is one of the first galleries in London's East End to showcase works of contemporary art. The institution will be showing photographs from influential artist Wolfgang Tillmans. A total of 22 photographic works culled from Tillman's extensive archive will be on display at its booth.
Pace
Pace Gallery
is gearing up to launch new iPhone and iPad drawings by iconic English painter David Hockney. The artist first launched the series of works during his trip to Yosemite National Park back in 2010. "The compactness and portability of the devices allow the artist to work in an immediate and impromptu manner, capturing landscapes, still-lifes and scenes as he experiences them," said the gallery in a statement.
Stephen Friedman
London-based
Stephen Friedman Gallery
will be showcasing works by Tom Friedman as part of the "For your Infotainment" installment at Frieze dedicated to the late art dealer and owner of the influential Feature Inc. gallery, Hudson. Friedman is acclaimed for his conceptual sculptures that subvert everyday objects. "Often presented with humour and pathos, his work speaks of the complete spectrum of human life from the dark to the joyous," said the gallery in a statement.
Sprueth Magers
For its Frieze booth,
Sprueth Magers
continues to champion the work of German and American artists who predominantly make up its roster. The works of Gary Hume, Otto Piene, Analia Saban and Andreas Schulze will be on display at the gallery's section. Highlights include British artist Hume's
Cheap Sweets
(2016) gloss paint on paper measured at 206.5 × 106 centimeters and conceptual artist Saban's
Graphite Cluster #10
painting.
David Kordansky
David Kordansky
is a Los Angeles-based gallery that is set to display new photographs by Norwegian-born artist Torbjørn Rødland. The photographic work of Rødland is comprised of haunting portraits, still lives and landscapes. "At first glance, Rødland's images have the crispness and veneer of commercial photography, but gaze through the surface to discover the otherworldly logic beneath," the gallery stated.
Anton Kern
Brooklyn-based artist Chris Martin is set to display one of the largest paintings at the fair as one of many pieces at
Anton Kern Gallery
's booth. Martin is celebrated for his abstract paintings that predominantly draw influence from cosmology. A slew of his paintings are embellished with collage images, splotches of glitter and paint stains. "Lush and alchemical, these are abstract paintings that one needs to experience firsthand with eyes, mind and body, and allow their cosmic power to wash over you," the gallery expressed.
Empty Gallery
Hong Kong-based
Empty Gallery
specializes in showcasing works of contemporary art, experimental music and film. More precisely, works that lean towards the ephemeral as well as unconventional practices devoid of any objects. For Frieze, the gallery will present a solo exhibition of Jacqueline Kiyomi Gordon who is known for integrating sound installations, large sculptures and performance. "By investigating the networks of institutional and technological power which traverse our aural perception, the artist hopes to reveal the myriad ways in which our acoustic experience is subject to control and suggest alternative modes of engagement with the sonic world," the gallery exclaimed.