Rihanna, The Weeknd, Chance The Rapper & More Respond to Las Vegas Attack
Pray for Las Vegas.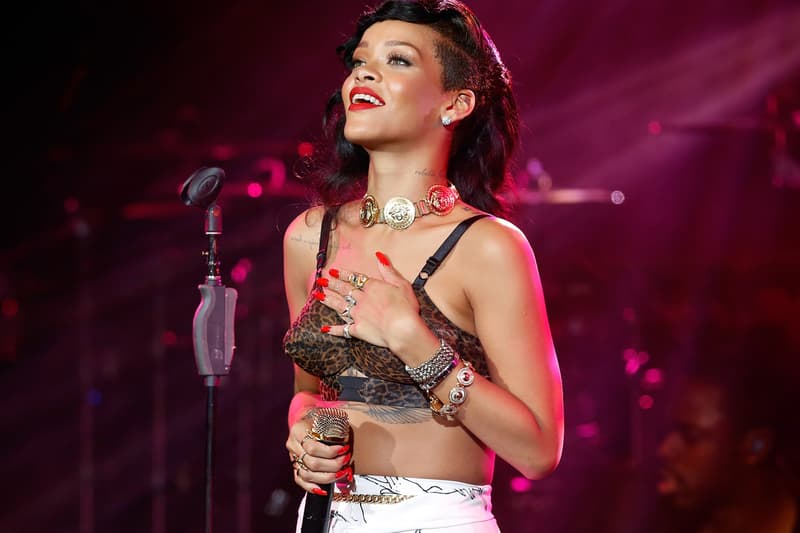 On Sunday night, a mass shooting on the famed Las Vegas strip left more than 50 people dead and hundreds more injured. According to The New York Times a lone gunman opened fire on a crowd of 22,000 during the country music Route 91 Harvest Festival. The suspect has been identified as 64-year-old Stephen Paddock of Mesquite, Nevada, who reportedly shot himself after the mass shooting.
Paddock was on the 32nd floor of the Mandalay Bay Hotel who started shooting at the crowd below watching Jason Aldean perform. Those in attendance said the shooting lasted for about 10 minutes.
Taking to social media, artists such as Rihanna, The Weeknd, Chance The Rapper, John Mayer and more have sent out their condolences and voiced out their views on gun laws in America. Check out their responses below.
Saying a prayer for all the victims & their loved ones, also for the residents & visitors of Las Vegas! This was a horrific act of terror!!

— Rihanna (@rihanna) October 2, 2017
Lord help us

— Lil Chano From 79th (@chancetherapper) October 2, 2017
Horrified to hear about the shooting in #LasVegas. My thoughts are with the victims and their families. Praying for everyone's safety ??

— Mariah Carey (@MariahCarey) October 2, 2017
Waking up to this horrible news in Las Vegas is so heartbreaking. My thoughts and prayers go out to those who were tragically involved

— The Weeknd (@theweeknd) October 2, 2017
Praying for Las Vegas

— Justin Bieber (@justinbieber) October 2, 2017
Praying for LasVegas

— Gucci Mane (@gucci1017) October 2, 2017
My heart hurts this morning for Vegas ?? gx #PRAYERSFORVEGAS

— Gwen Stefani (@gwenstefani) October 2, 2017
fuck. feel sick for the victims of las vegas and their families. i'm so sorry

— Lorde (@lorde) October 2, 2017
politicians: don't act like you care about mass shootings if you are anti-gun control

— vino bambino (@VicMensa) October 2, 2017
no one needs weapons like the one used in vegas. please don't tell me that's for deer hunting

— vino bambino (@VicMensa) October 2, 2017
Vegas ❤️??

— Ty Dolla $ign (@tydollasign) October 2, 2017
There is no way to make sense of such senseless violence. #LasVegas, our hearts are with you. #PrayForLasVegas pic.twitter.com/2xjMOtoZoh

— Roc Nation (@RocNation) October 2, 2017
Our hearts are with the victims in Las Vegas, their families and loved ones who are grieving this morning and to our @LiveNation employees

— Michael Rapino (@rapino99) October 2, 2017
?? for Vegas.

— Lil Wayne WEEZY F (@LilTunechi) October 2, 2017
No words. Just grief, sadness, and the never-ending attempt to make sense of something utterly senseless. Love to all in Las Vegas.

— John Mayer (@JohnMayer) October 2, 2017
Prayers up for Vegas!

— BADMON (@joeyBADASS) October 2, 2017
Completely heartbroken over the news this morning. Keeping the victims of last night's tragedy in Las Vegas in my prayers ? #PrayForLasVegas pic.twitter.com/ay0BP86om0

— Britney Spears (@britneyspears) October 2, 2017
This is terrorism plain and simple. Terror bares no race, gender or religion. Democrats & Republicans please unite now #guncontrol ??

— xoxo, Gaga (@ladygaga) October 2, 2017
4 anyone who'd like to join, I'm doing a 20 minute moment of meditation/silence/prayer on my InstagramLive for calming of the ? @ 3:30 PST

— xoxo, Gaga (@ladygaga) October 2, 2017
Praying for the shooting victims in #LasVegas and those loved ones that are suffering unimaginably today.

— TIDAL (@TIDALHiFi) October 2, 2017
There are no words to express the helplessness and sorrow my broken heart feels for the victims in Vegas and their families.

— Taylor Swift (@taylorswift13) October 2, 2017
Prayers up for those in vegas …

— ghost (@therealstylesp) October 2, 2017
Unbelievable what's happening in our country may God bless everyone in Vegas

— FAT JOE (@fatjoe) October 2, 2017
PRAY FOR VEGAS ??????

— Desiigner (@LifeOfDesiigner) October 2, 2017
iiF This Country Wanted Shooting TO STOP THEY WILL BAND GUNS EASY #Pray4VEGAS ????

— Desiigner (@LifeOfDesiigner) October 2, 2017
I am deeply saddened by what happened in Las Vegas last night. I am keeping all of the victims and their families in my prayers.

— Russell Simmons (@UncleRUSH) October 2, 2017
Woke up to the heartbreaking news from Las Vegas, my thoughts are with everyone and their families. Love. H

— Harry Styles. (@Harry_Styles) October 2, 2017
My heart is broken for Las Vegas. Music is a place to find refuge not fear. Praying for the victims and their families.

— Demi Lovato (@ddlovato) October 2, 2017
Horrifying scenes in Las Vegas. My heart and soul is with all the victims & their families and friends. Everybody please stay safe.

— Sam Smith (@samsmithworld) October 2, 2017
Prayers up right now for Las Vegas ??????

— Travis Barker (@travisbarker) October 2, 2017
just woke up…can't believe this is where we are now as a nation. Mind you this is w/o context —how in god's name do they have auto? How? https://t.co/sqoF7PbkJW

— Questlove Gomez (@questlove) October 2, 2017