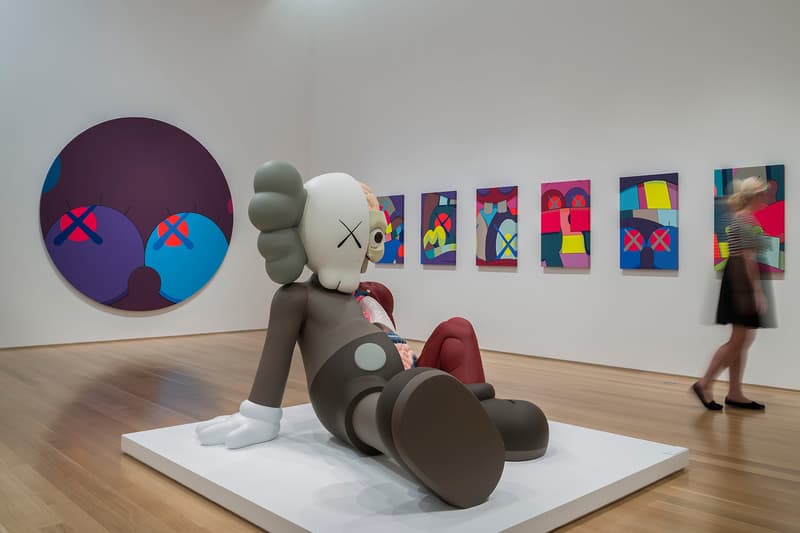 KAWS, Takashi Murakami & More Major Art News This Week
Including Jenny Holzer's Blenheim Palace takeover.
---
The art world is always shifting, which makes it difficult to remain relevant as an artist, especially for an emerging one. However, it isn't exactly that much easier for major artists. KAWS and Takashi Murakami continue to dominate the industry with never-before-seen variants of their trademark motifs. How do they reserve a global presence despite the emergence of new trends? They make pieces worth talking about and do their best to stay connected with their fans on social media.
The aforesaid pair rarely goes a day without posting an Instagram photo, story or video. An artist's niche is important, but constant communication is major. Nevertheless, stay in the art loop by checking out these key stories below.
KAWS to Debut New Artwork at Frieze Art Fair in London
The prestigious Frieze Art Fair in London is set to commence on October 17. Cocktails will be served, suits will be donned, and fine contemporary art will be available to peruse. One participating artist is KAWS who will display a handful of new pieces at Galerie Perrotin's solo booth (A17) at the event. Accompanying the paintings is a new outdoor Companion sculpture at Regent's Park which made its debut this past July.
Visit the Frieze Art Fair's official website to learn more and find the address below.
Regent's Park
Chester Road
London, UK NW1 4NR
Takashi Murakami's "Under the Radiation Falls" Exhibit in Moscow
Takashi Murakami has opened a major retrospective at the Garage Museum of Contemporary Art in Moscow, Russia. Titled "Under the Radiation Falls," the new exhibit is split into five parts and spotlights a slew of archival as well as new prints, paintings, sculptures and installations. Murakami's signature Flowers, Mr. DOB, Kai Kai Kiki and even Miss ko2 characters are featured in the extensive presentation.
The exhibit is currently open to the public up until February 4, 2018. Visit Garage MCA's official website to learn more.
Jenny Holzer Takes Over the Blenheim Palace in England
Jenny Holzer has launched a new exhibition at the historic Blenheim Palace in England. The presentation features a wide array of text-based artwork and stonework pieces alongside Holzer's iconic LED light installations. Additionally, she has created a virtual reality mobile app for the showcase. The text highlighted in the pieces are culled from The Not Forgotten Association—a charity organization that provides assistance for military veterans in the UK.
The exhibit is currently open to the public up until December 31. Head over to the Blenheim Art Foundation's official website to learn more.
Blenheim Palace
Woodstock OX20 1PP, UK
Felipe Pantone's "Planned Iridescence" Exhibit in NYC
Innovative artist Felipe Pantone will be making his way into New York City this fall to launch a new solo exhibit called "Planned Iridescence." The digitally-inclined presentation will see approximately 20 new artworks that explore "the interaction between the displacement of the light spectrum and the color dynamism," said Pantone in a statement.
"Planned Iridescence" will open at the GR gallery in New York City from October 19 up until November 25.
GR Gallery
255 Bowery
New York, NY 10002
Vitamin C Explores Iconic Clay & Ceramic Artists
Acclaimed publisher Phaidon has released a new hardcover book called Vitamin C: Clay and Ceramic in Contemporary Art. The 300-page tome highlights clay and ceramic pieces by over 100 storied visual artists from across the globe. To name a few, the works of Ai Weiwei, Sterling Ruby and Caroline Achaintre are featured in the book. "Clay and ceramics have in recent years been elevated from craft to high art material, with the resulting artworks being coveted by collectors and exhibited in museums around the world," said Phaidon.
Drop by Phaidon's online shop to purchase the book for approximately $69 USD.