How Per Götesson Uses Contradiction to Subvert Modern Masculinity
We caught up with the designer backstage at Stockholm Fashion Week.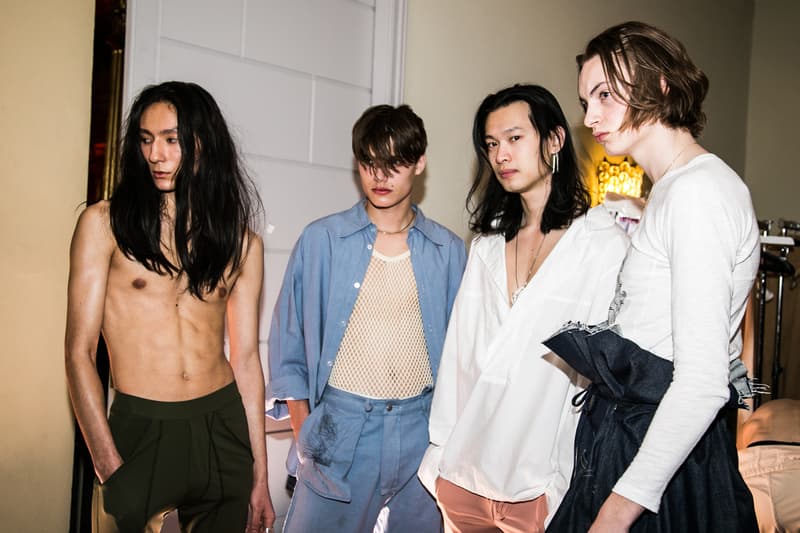 Despite only graduating from his MA in 2016, Swedish designer Per Götesson has already won the support of MAN in London and Swedish Fashion Talents back in Sweden. These backers have meant that Götesson is quickly gaining a reputation as one of the industry's rising stars, and his distorted staple pieces caught the eye at his recent show in Stockholm and presentation at London's influential MACHINE-A store.
"I like to say I'm exploring notions of modern masculinity," Götesson explains at his Stockholm Fashion Week show, "it's about distorting shapes, but then looking at staple masculine clothes. Changing them, finding a new silhouette." Arguably the key example of this from Götesson's past output is a pair of jeans — which are in the show's opening look — that come in a hugely exaggerated silhouette.
Götesson says that his main inspiration comes from his own clothes. "It's quite intuitional," he says, elaborating, "I look at my own wardrobe and then I use my staples." Another source of inspiration come from his youth, growing up in a small village in rural Sweden. "I didn't really have much to look at for inspiration," he adds, "so I became quite creative. I think how we work in the studio — we make something out of a garment and play with the garment — comes from me just playing with what was around me in the middle of nowhere."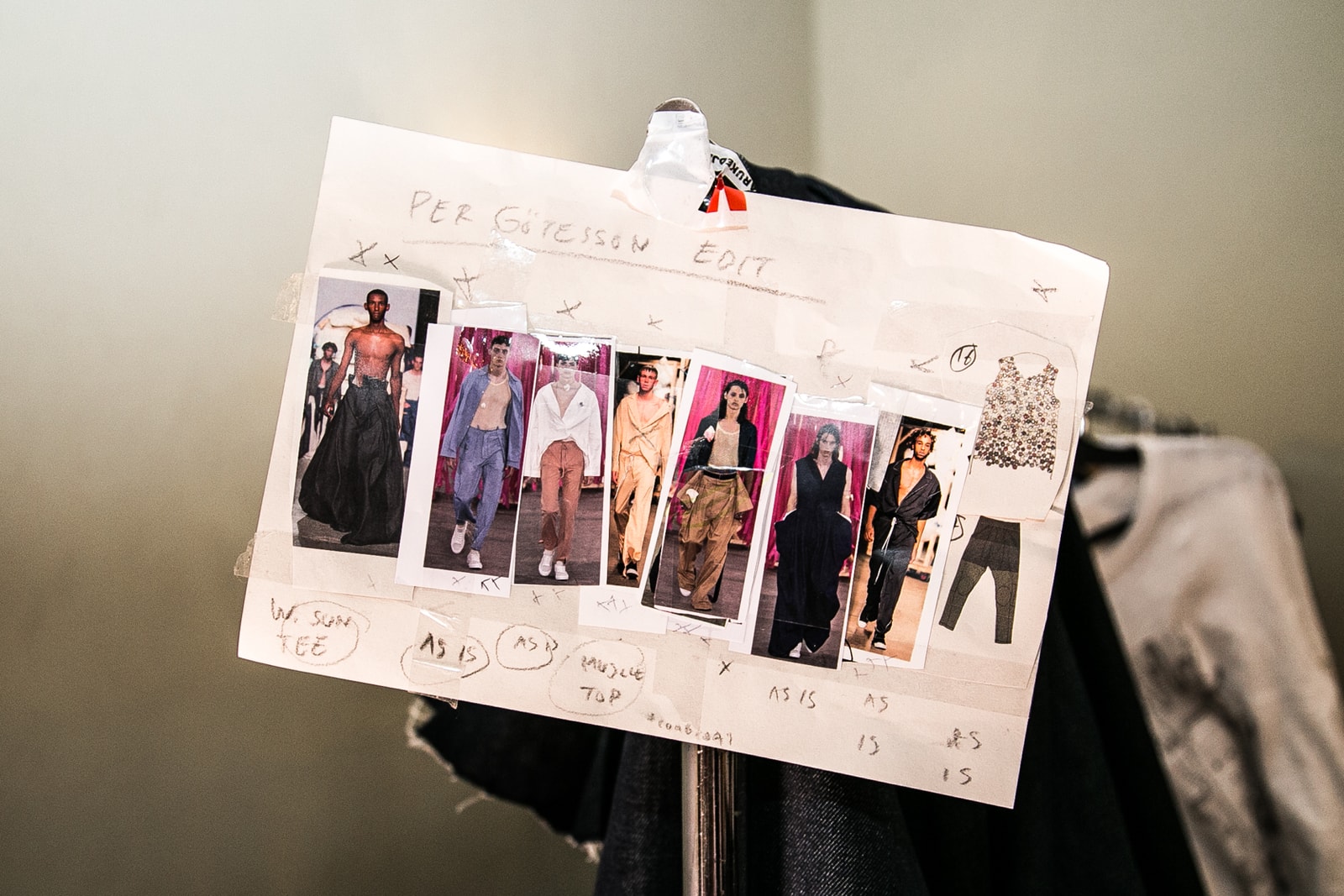 Another key influence on his work comes from traditional ideas of masculine clothing, especially for his upcoming Fall/Winter 2018 collection. "I looked a lot at army and utility vests, I brought this old British army vest," Götesson explains of the military references in this collection, although he's keen to make it clear that his pieces aren't overly masculine. "I don't think my clothes in the end can be put in a typically masculine box, but I think it's quite fun to reference the masculine things and put them somewhere else."
This idea of taking something and reinterpreting it runs as a thread through Götesson's work. Other examples in his Stockholm Fashion Week show — made up of previous season's highlights, rather than one seasonal collection — include simple blue jeans that have been turned inside out and adorned with scribble marks on the pockets. "I like to play with these silly ideas," he explains, "but make it sophisticated." This idea also exists on a T-shirt featuring screen printing of art created in Microsoft Word or a vest made of discarded beer bottle tops. "I like that kind of jarring between those two elements," he adds, "the making of it is quite sophisticated, but then it's really silly."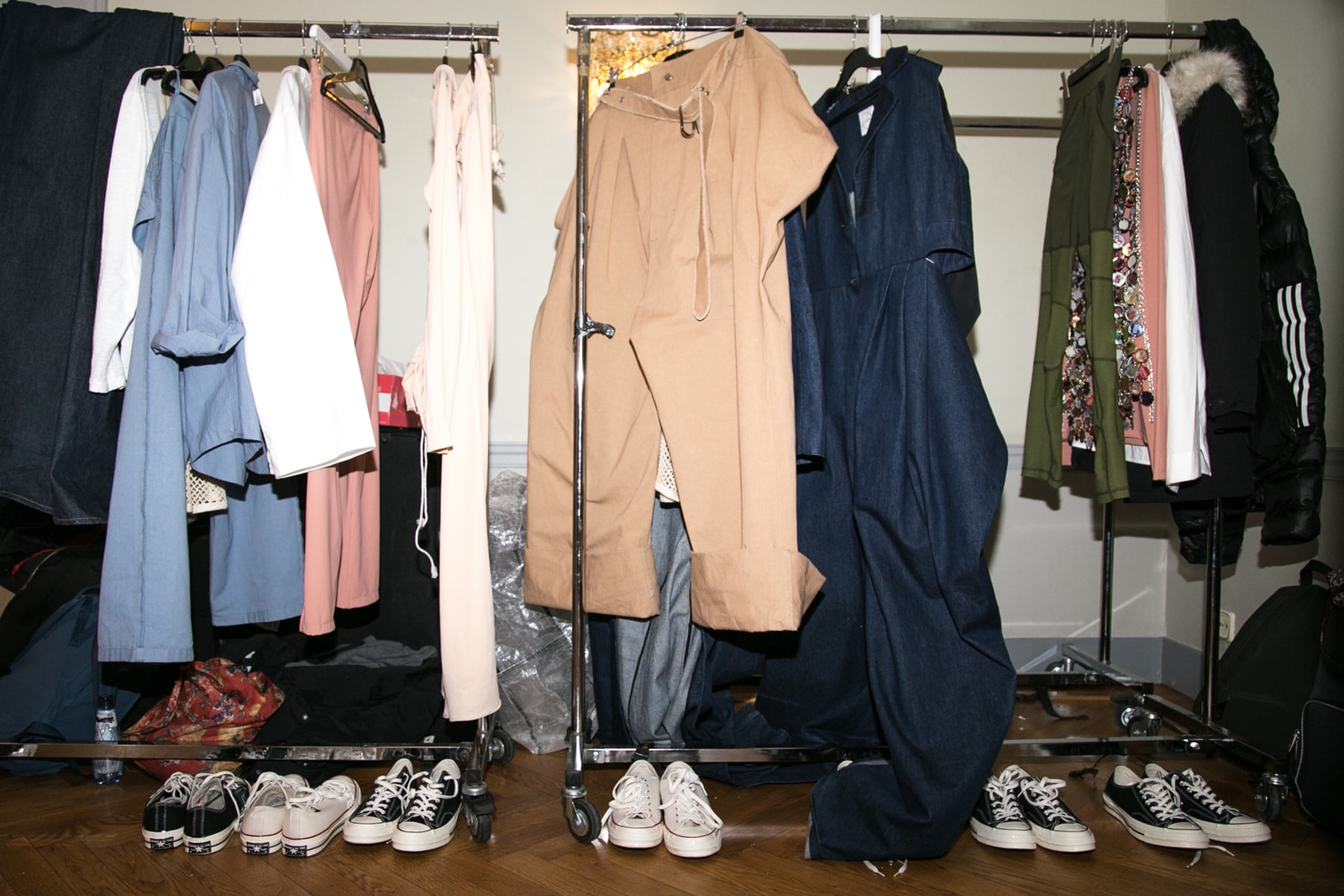 Despite completing his fashion education at the Royal College of Art in London, Götesson's Swedish roots also play an important role in his designs. "I guess coming from Sweden you always have that 'oh, you can't be too out there,'" he explains of the nation's fashion legacy, "I guess that I have that. It's something that I can use as a motor to move forward, rather than letting it push me back."
"I think function is great," Götesson goes on to say of how Swedish fashion is perceived, "but a lot of things are functional, it's how we apply it. In the middle of all this I have a really straightforward, classic, almost sentimental relationship with fashion. That's why I love being in the studio and working with the silhouettes that are almost like ball gowns."
This is the latest juxtaposition at the heart of Götesson's work. His designs see him mix seemingly conflicting elements — functional staples with a ball gown approach, silly ideas produced through sophisticated means — to produce pieces that take aim at traditional ideas of masculinity.
Per Götesson is currently stocked at select retailers, including MACHNE-A. Check out some more of the best up-and-coming brands and designers from across Europe with our European Designer Spotlight series.