All the Japanese, European and American Cars in 'Forza Motorsport 7' Revealed
Along with a list of classics.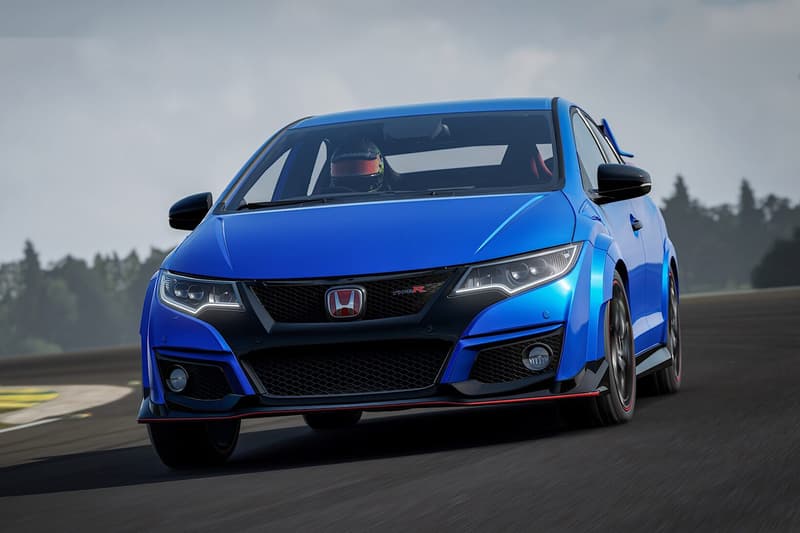 After revealing the first 167 cars in its upcoming Forza Motorsport 7 title, Turn 10 Studios has revealed the list of European, Japanese and American cars that will be featured in the game. Included within the list are classics like the '67 Chevrolet Chevelle Super Sport 396, '69 Datsun 2000 Roadster and '55 Mercedes-Benz 300 SLR. The European roster sees familiar brand names like Audi, Bentley, BMW, Jaguar, Mercedes-Benz and Volkswagen alongside lesser known brands like Abarth, Alfa Romeo, Holden, Renault and Vauxhall. For all the JDM fans, Acura, Honda, Mazda, Mitsubishi, Nissan and Subaru all make an appearance with Toyota nearly invisible. Finally, the American makes and models from Cadillac, Chevy, Dodge, Ford and Jeep round out the cast with AMC making an appearance as well.
Check out the list below which brings the total amount of cars revealed up to over 550. Forza Motorsport 7 is out November 7 exclusively on Xbox One and Windows 10.
Abarth
1968 Abarth 595 esseesse
2013 Abarth Punto SuperSport
2016 Abarth 695 Biposto

Acura
2001 Acura Integra Type-R
2002 Acura RSX Type-S
2017 Acura NSX

Alfa Romeo
1934 Alfa Romeo P3
1950 Alfa Romeo 158
1965 Alfa Romeo Giulia Sprint GTA Stradale
1965 Alfa Romeo Giulia TZ2
1968 Alfa Romeo 33 Stradale
1970 Alfa Romeo Montreal
1986 Alfa Romeo GTV-6
1986 Alfa Romeo Spider Quadrifoglio Verde
1990 Alfa Romeo SZ Sprint Zagato
1992 Alfa Romeo 155 Q4
1992 Alfa Romeo Milano Quadrifoglio Verde
2007 Alfa Romeo 8C Competizione
2011 Alfa Romeo Giulietta Quadrifoglio Verde
2014 Alfa Romeo 4C

AMC
1970 AMC Rebel "The Machine"
1971 AMC Javelin AMX
1977 AMC Pacer X

Audi
1983 Audi Sport quattro
1995 Audi RS 2 Avant
2001 Audi RS 4 Avant
2003 Audi RS 6
2004 Audi S4
2006 Audi RS 4
2009 Audi Q7 V12 TDI
2009 Audi RS 6
2010 Audi TT RS Coupé
2011 Audi RS 3 Sportback
2011 Audi RS 5 Coupé
2013 Audi RS 4 Avant
2013 Audi RS 7 Sportback
2013 Audi R8 Coupé V10 plus 5.2 FSI quattro
2015 Audi RS 6 Avant
2015 Audi S1
2015 Audi S3 Sedan
2015 Audi TTS Coupé
2016 Audi R8 V10 plus

Auto Union
1939 Auto Union Type D

Bentley
2013 Bentley Continental GT Speed
2015 Bentley EXP 10 Speed 6 Concept
2016 Bentley Bentayga
2017 Bentley Continental Supersports

Bowler
2012 Bowler EXR S

BMW
1959 BMW 507
1957 BMW Isetta 300 Export
1973 BMW 2002 Turbo
1981 BMW M1
1986 BMW M635CSi
1988 BMW M5
1991 BMW M3
1995 BMW 850CSi
1995 BMW M5
1997 BMW M3
2000 BMW 323ti Sport
2000 BMW Z8
2002 BMW Z3 M Coupe
2003 BMW M5
2005 BMW M3
2008 BMW M3
2009 BMW M5 E60
2010 BMW M6 Coupe
2011 BMW 1 Series M Coupe
2011 BMW Z4 sDrive35is
2011 BMW X5 M
2012 BMW M5
2013 BMW M6 Coupe
2014 BMW M4 Coupe
2015 BMW i8
2015 BMW X6 M
2016 BMW M2 Coupé
2016 BMW M4 GTS

Buick
1970 Buick GSX
1987 Buick Regal GNX

Cadillac
2011 Cadillac CTS-V Coupe
2012 Cadillac Escalade ESV
2013 Cadillac XTS Limousine
2016 Cadillac ATS-V
2016 Cadillac CTS-V Sedan

Caterham
2013 Caterham Superlight R500

Chevrolet
1953 Chevrolet Corvette
1957 Chevrolet Bel Air
1960 Chevrolet Corvette
1964 Chevrolet Impala Super Sport 409
1966 Chevrolet Nova Super Sport
1967 Chevrolet Chevelle Super Sport 396
1967 Chevrolet Corvette Stingray 427
1969 Chevrolet Camaro Super Sport Coupe
1969 Chevrolet Nova Super Sport 396
1970 Chevrolet Camaro Z28
1970 Chevrolet Chevelle Super Sport 454
1970 Chevrolet Corvette ZR-1
1970 Chevrolet El Camino Super Sport 454
1971 Chevrolet Vega GT
1979 Chevrolet Camaro Z28
1988 Chevrolet Monte Carlo Super Sport
1990 Chevrolet Camaro IROC-Z
1995 Chevrolet Corvette ZR-1
2002 Chevrolet Camaro 35th Anniversary Super Sport
2002 Chevrolet Corvette Z06
2009 Chevrolet Corvette ZR1
2012 Chevrolet Camaro ZL1
2014 Chevrolet Super Sport
2015 Chevrolet Corvette Z06
2016 Chevrolet Camaro Super Sport
2017 Chevrolet Camaro ZL1

Chrysler
1972 Chrysler VH Valiant Charger R/T E49
2012 Chrysler 300 SRT8

Datsun
1969 Datsun 2000 Roadster
1970 Datsun 510

Dodge
1967 Dodge Coronet WO23
1968 Dodge Dart HEMI Super Stock
1969 Dodge Charger Daytona HEMI
1969 Dodge Charger R/T
1970 Dodge Challenger R/T
1970 Dodge Coronet Super Bee
1986 Dodge Shelby Omni GLHS
1999 Dodge Viper GTS ACR
2005 Dodge SRT-4 ACR
2008 Dodge Viper SRT10 ACR
2012 Dodge Challenger SRT8 392
2012 Dodge Charger SRT8
2013 Dodge Dart GT
2015 Dodge Challenger SRT Hellcat
2016 Dodge Viper ACR
2013 Ram Runner
2013 SRT Viper GTS

Eagle
1998 Eagle Talon TSi Turbo

Fiat
1969 Fiat Dino 2.4 Coupe
1952 Fiat 8V Supersonic
1975 Fiat X1/9
1980 Abarth Fiat 131
1980 Fiat 124 Sport Spider

Ford
1932 Ford De Luxe Five-Window Coupe
1940 Ford De Luxe Coupe
1946 Ford Super Deluxe Station Wagon
1964 Ford Fairlane Thunderbolt
1965 Ford Mustang GT Coupe
1967 Ford Falcon XR GT
1969 Ford Mustang Boss 302
1956 Ford F-100
1971 Ford Falcon XY GTHO Phase III
1971 Ford Mustang Mach 1
1972 Ford Falcon XA GT-HO
1973 Ford Capri RS3100
1973 Ford Escort RS1600
1973 Ford XB Falcon GT
1975 Ford Bronco
1977 Ford Escort RS1800
1978 Ford Mustang II King Cobra
1981 Ford Fiesta XR2
1985 Ford RS200 Evolution
1987 Ford Sierra Cosworth RS500
1992 Ford Escort RS Cosworth
1992 Ford Falcon GT
1993 Ford SVT Cobra R
1995 Ford SVT Cobra R
2000 Ford SVT Cobra R
2003 Ford Focus RS
2005 Ford GT
2009 Ford Focus RS
2007 Ford Shelby GT500
2010 Ford Crown Victoria Police Interceptor
2011 Ford F-150 SVT Raptor
2011 Ford Transit SuperSportVan
2013 Ford F-150 SVT Raptor Shelby
2013 Ford Shelby GT500
2014 Ford Fiesta ST
2014 Ford FPV Limited Edition Pursuit Ute
2015 Ford Falcon GT F 351
2015 Ford Falcon XR8
2015 Ford Mustang GT
2016 Ford Shelby GT350R
2017 Ford F-150 Raptor
2016 Ford Focus RS
2017 Ford GT

GMC
1983 GMC Vandura G-1500

Holden
1951 Holden 50-2106 FX Ute
1973 Holden HQ Monaro GTS 350
1974 Holden Sandman HQ panel van
1977 Holden Torana A9X
1985 HDT VK Commodore Group A
1988 Holden VL Commodore Group A SV
1996 HSV GTSR
2009 Holden HSV W427
2011 HSV GTS
2014 HSV GEN-F GTS
2014 HSV Limited Edition GEN-F GTS Maloo

Honda
1967 Honda RA300
1970 Honda S800
1984 Honda Civic CRX Mugen
1986 Honda Civic Si
1991 Honda CR-X SiR
1992 Honda NSX-R
1994 Honda Prelude Si
1997 Honda Civic Type R
2000 Honda Prelude Type SH
2004 Honda Civic Type-R
2005 Honda NSX-R
2007 Honda Civic Type-R
2009 Honda S2000 CR
2014 Honda Civic Si
2016 Honda Civic Type R

HUMMER
2006 HUMMER H1 Alpha

Hyundai
2013 Hyundai Veloster Turbo

Infiniti
2003 Infiniti G35 Coupe
2012 Infiniti IPL G Coupe
2014 Infiniti Q50 Eau Rouge
2015 Infiniti Q60 Concept

International
1970 International Scout 800A

Jaguar
1959 Jaguar Mk II 3.8
1961 Jaguar E-Type S1
1956 Jaguar D-Type
1954 Jaguar XK120 SE
1990 Jaguar XJ-S
1993 Jaguar XJ220
2012 Jaguar XKR-S
2015 Jaguar F-Type R Coupé
2015 Jaguar XE-S
2015 Jaguar XFR-S
2015 Jaguar XKR-S GT
2016 Jaguar F-TYPE Project 7
2017 Jaguar F-PACE S

Jeep
1945 Jeep Willys MB
1976 Jeep CJ5 Renegade
1991 Jeep Grand Wagoneer
2009 Jeep Grand Cherokee SRT8
2012 Jeep Wrangler Rubicon
2014 Jeep Grand Cherokee SRT
2016 Jeep Trailcat

Lancia
1968 Lancia Fulvia Coupe Rallye 1.6 HF
1974 Lancia Stratos HF Stradale
1982 Lancia 037 Stradale
1986 Lancia Delta S4
1992 Lancia Delta HF Integrale EVO

Land Rover
1972 Land Rover Series III
1997 Land Rover Defender 90
2012 Land Rover Range Rover Supercharged
2015 Land Rover Range Rover Sport SVR

Local Motors
2014 Local Motors Rally Fighter

Mazda
1972 Mazda Cosmo 110S Series II
1973 Mazda RX-3
1985 Mazda RX-7 GSL-SE
1990 Mazda MX-5 Miata
1990 Mazda Savanna RX-7
1994 Mazda MX-5 Miata
1997 Mazda RX-7
2005 Mazda Mazdaspeed MX-5
2010 Mazda Mazdaspeed3
2010 Mazda MX-5 Super20
2011 Mazda RX-8 R3
2013 Mazda MX-5
2013 Mazda MX-5 Cup
2016 Mazda MX-5

Mercedes-Benz/Mercedes-AMG
1939 Mercedes-Benz W154
1954 Mercedes-Benz 300 SL Coupe
1955 Mercedes-Benz 300 SLR
1967 Mercedes-Benz 280 SL
1972 Mercedes-Benz 300 SEL 6.3
1990 Mercedes-Benz 190E 2.5-16 Evolution II
1998 Mercedes-Benz AMG CLK GTR
2004 Mercedes-Benz C 32 AMG
2009 Mercedes-Benz ML 63 AMG
2009 Mercedes-Benz SL 65 AMG Black Series
2011 Mercedes-Benz SLS AMG
2012 Mercedes-Benz C 63 AMG Coupé Black Series
2012 Mercedes-Benz SLK 55 AMG
2013 Mercedes-Benz A 45 AMG
2013 Mercedes-Benz E 63 AMG
2013 Mercedes-Benz G 65 AMG
2015 Mercedes-AMG GT S
2016 Mercedes-AMG C 63 S Coupé
2017 Mercedes-AMG GT R

Mercury
1949 Mercury Coupe
1970 Mercury Cougar Eliminator

Meyers
1971 Meyers Manx

MINI
1965 Mini Cooper S
2009 MINI John Cooper Works
2012 MINI John Cooper Works GP

Mitsubishi
1988 Mitsubishi Starion ESI-R
1992 Mitsubishi Galant VR-4
1995 Mitsubishi Eclipse GSX
1997 Mitsubishi GTO
1999 Mitsubishi Lancer Evolution VI GSR
2004 Mitsubishi Lancer Evolution VIII MR
2006 Mitsubishi Lancer Evolution IX MR
2008 Mitsubishi Lancer Evolution X GSR

Nissan
1969 Nissan Fairlady Z 432
1966 Nissan Silvia
1971 Nissan Skyline 2000GT-R
1973 Nissan Skyline H/T 2000GT-R
1987 Nissan Skyline GTS-R (R31)
1992 Nissan Silvia CLUB K's
1993 Nissan 240SX SE
1993 Nissan Skyline GT-R V-Spec
1994 Nissan Fairlady Z Version S Twin Turbo
1994 Nissan Silvia K's
1995 Nissan NISMO GT-R LM
1997 Nissan Skyline GT-R V-Spec
1998 Nissan R390
1998 Nissan Silvia K's Aero
2000 Nissan Silvia Spec-R
2002 Nissan Skyline GT-R V-Spec II
2003 Nissan Fairlady Z
2010 Nissan 370Z
2012 Nissan GT-R Black Edition
2014 Nissan Juke Nismo RS
2015 Nissan IDx NISMO
2016 Nissan Titan Warrior Concept
2017 Nissan GT-R

Oldsmobile
1969 Oldsmobile Hurst/Olds 442

Opel
1968 Opel GT
1979 Opel Kadett C GT/E
1984 Opel Manta 400

Penhall
2011 Penhall Cholla

Peugeot
1984 Peugeot 205 T16
2011 Peugeot 308 GTI

Polaris
2015 Polaris RZR XP 1000 EPS

Plymouth
1958 Plymouth Fury
1971 Plymouth Cuda 426 HEMI
1971 Plymouth GTX 426 HEMI
2000 Plymouth Prowler

Pontiac
1965 Pontiac GTO
1969 Pontiac Firebird Trans Am
1969 Pontiac GTO Judge
1973 Pontiac Firebird Trans Am SD-455
1977 Pontiac Firebird Trans Am
1987 Pontiac Firebird Trans Am GTA
2002 Pontiac Firebird Trans Am Ram Air
2009 Pontiac G8 GXP
2009 Pontiac Solstice GXP

Renault
1973 Renault Alpine A110 1600s
1980 Renault 5 Turbo
1990 Renault Alpine GTA Le Mans
2003 Renault Sport Clio V6
2010 Renault Clio RS
2013 Renault Clio RS 200
1993 Renault Clio Williams
2010 Renault Megane RS 250

Rolls-Royce
2014 Rolls-Royce Wraith
2016 Rolls-Royce Dawn

Shelby
1965 Shelby Cobra 427 S/C
1965 Shelby Cobra Daytona Coupe

Subaru
1980 Subaru Brat GL
1990 Subaru Legacy RS
1996 Subaru SVX
1998 Subaru Impreza 22B STi
2004 Subaru Impreza WRX STi
2005 Subaru Impreza WRX STi
2005 Subaru Legacy B4 2.0 GT
2008 Subaru Impreza WRX STi
2011 Subaru WRX STI
2013 Subaru BRZ
2015 Subaru WRX STI

TAMO
2018 TAMO Racemo

Toyota
2007 Toyota Hilux Arctic Trucks AT38

Vauxhall
2006 Vauxhall Astra VXR
2009 Vauxhall Corsa VXR
2012 Vauxhall Astra VXR
2016 Vauxhall Corsa VXR

Volvo
1972 Volvo 1800E
1983 Volvo 242 Turbo Evolution
1997 Volvo 850 R
2015 Volvo S60 Polestar
2015 Volvo V60 Polestar

Volkswagen
1963 Volkswagen Beetle
1967 Volkswagen Karmann Ghia
1981 Volkswagen Scirocco S
1984 Volkswagen Rabbit GTI
1988 Volkswagen Scirocco 16v
1992 Volkswagen Golf Gti 16v Mk2
1995 Volkswagen Corrado VR6
1998 Volkswagen GTI VR6 Mk3
2003 Volkswagen Golf R32
2008 Volkswagen Touareg R50
2010 Volkswagen Golf R
2011 Volkswagen Scirocco R
2014 Volkswagen Golf R

Volvo
1967 Volvo 123GT