European Designer Spotlight: BOYHOOD
Everything you need to know about the young French streetwear brand.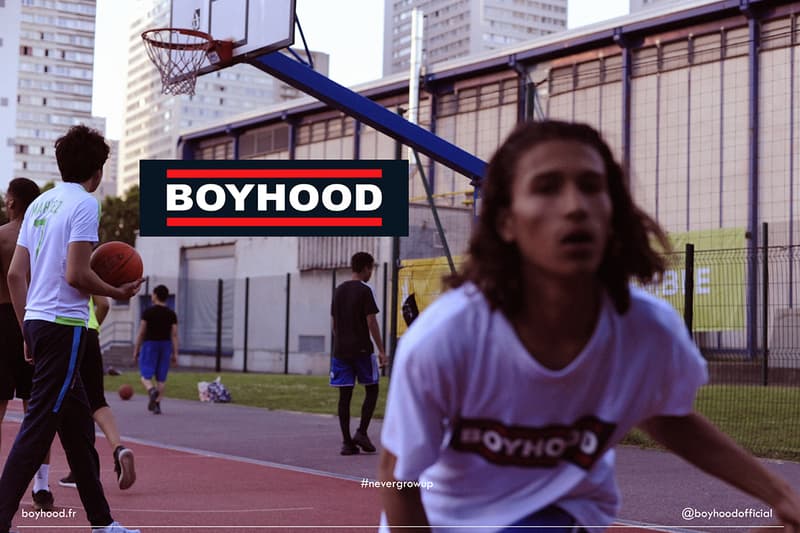 While it's true that there's no shortage of streetwear lines around at the moment, it's also true that the requirements to get noticed have changed massively. After all, it's a long time since you'd be able to just screen print a graphic on a T-shirt and hope for the best. In addition to the design level rising, the bar for art direction in streetwear has risen exponentially in recent years due to a number of factors — be it more high-end magazines shooting the clothes or more fashion houses creating their own take on streetwear. The end result of this rise in quality is that now brands need to be thinking of themselves as an entity rather than as a disparate range of clothing with no central connection. It's a difficult task, and one which makes being able to stand out all the more rare. But, on the upside, when something does manage to rise to the top, it'll really catch your eye.
One particular name which has managed to achieve exactly that is BOYHOOD — a French brand, founded by Benjamin Brouillet and Céline Fadalat. Brouillet is a 31 year-old who has worked for a number of titles as a stylist, having moved to Paris at the age of 18 after growing up in Angers and competing as a professional athlete (starting out as a gymnast and then becoming an ice skater). He briefly moved to New York to study fashion at the FIT, later returning to take up the position of Fashion Editor at FIASCO, affording Brouillet styling experience that proved invaluable when it came to the development of the brand.
"In a practical sense, working as a stylist helped me to learn the ropes in the industry, make contacts and gain a basic understanding of where to start with BOYHOOD," says Brouillet. "Of course, it also refined me creatively. When you work for someone you have to combine your own taste with their vision and objective. It allows you to figure out what you like and don't like. Now I'm at the point that I know what BOYHOOD is aesthetically and I know what fits."
1 of 4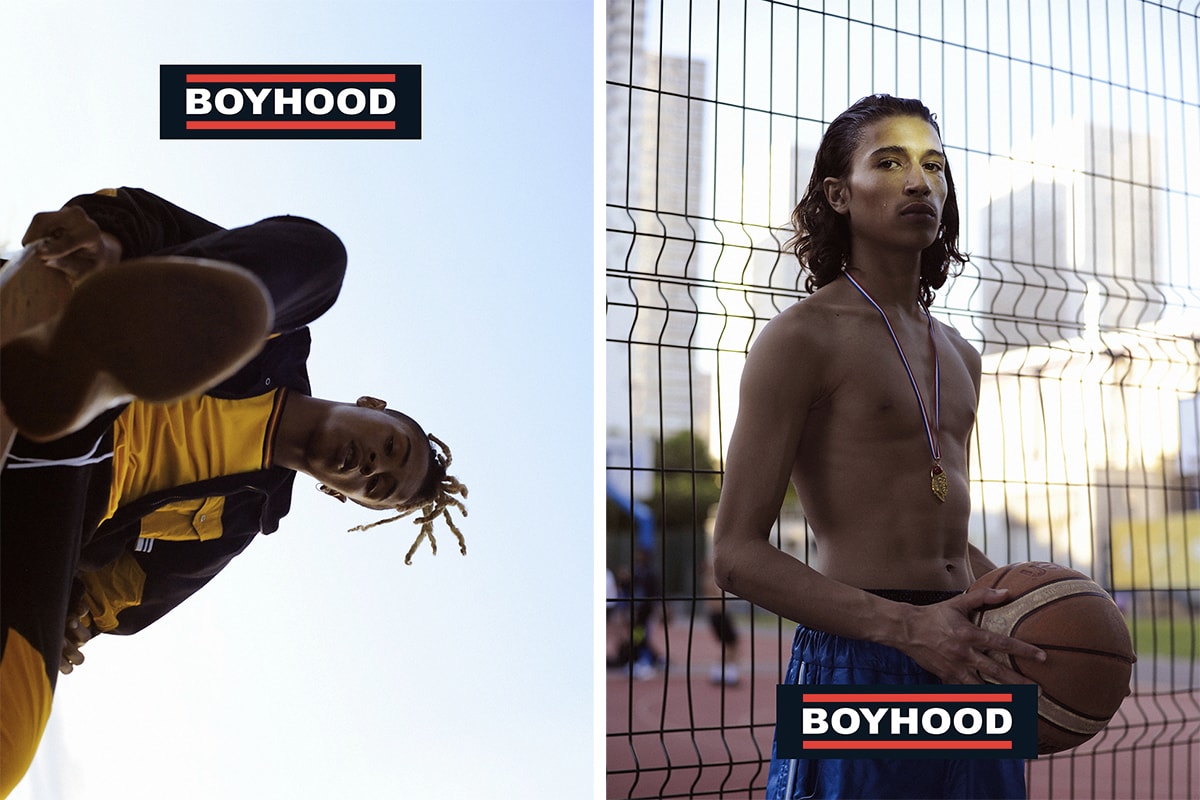 2 of 4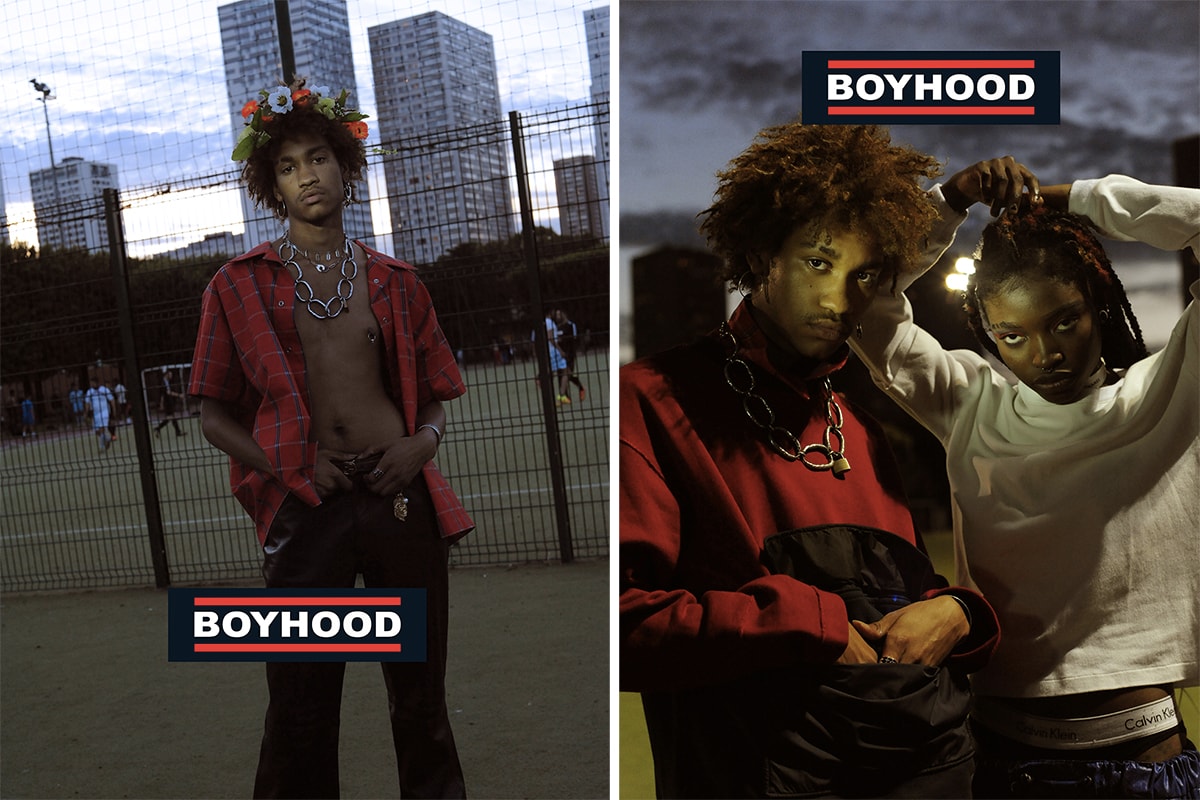 3 of 4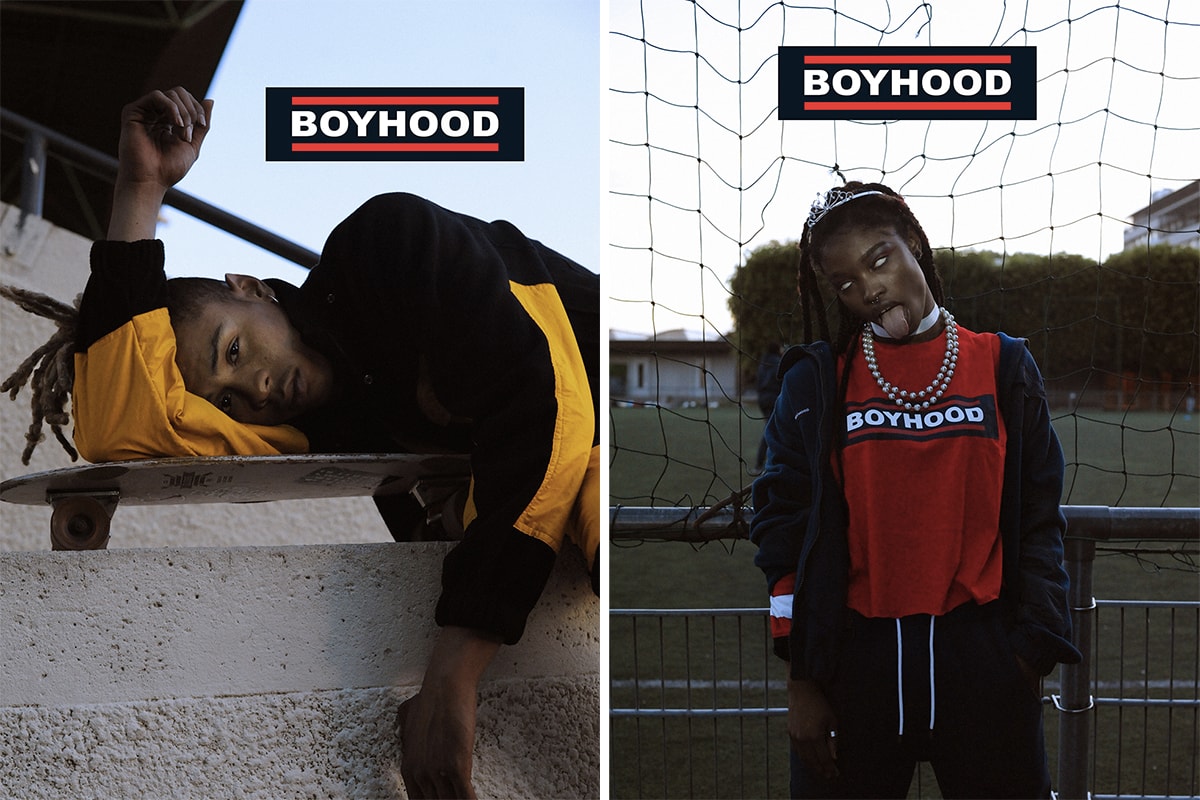 4 of 4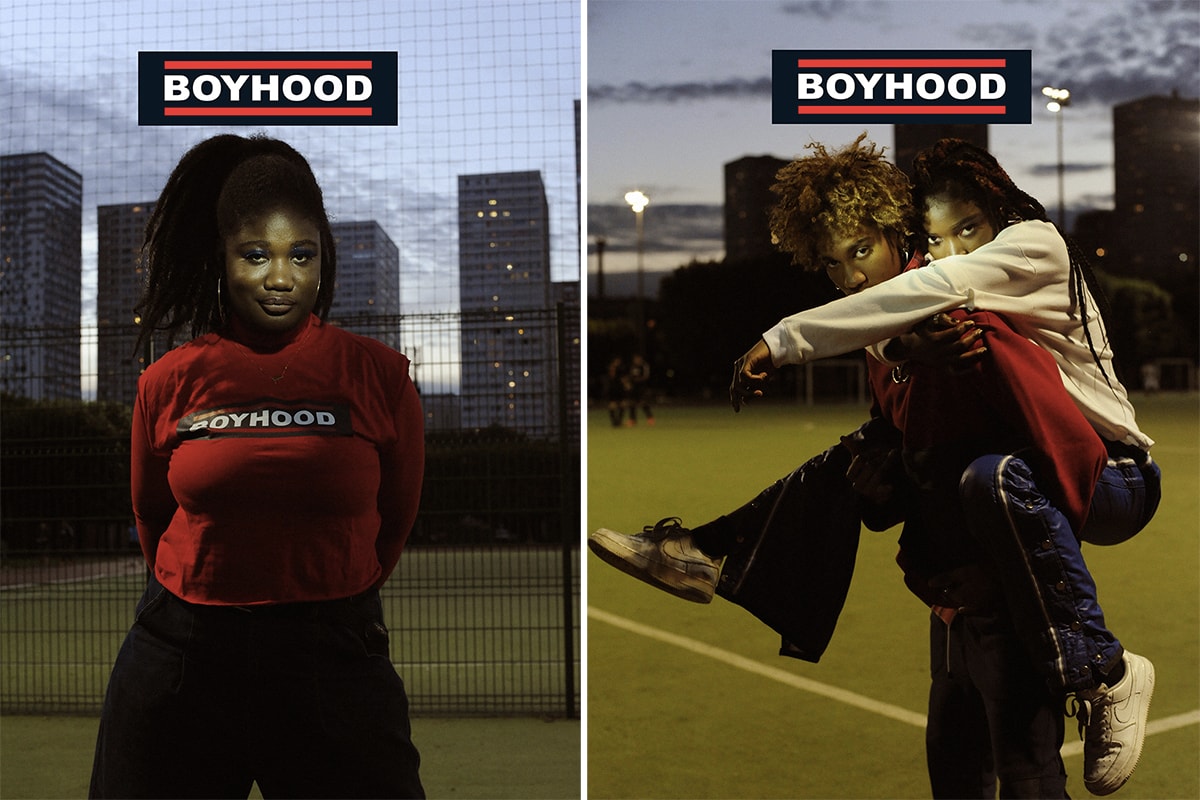 The brand is something that had been on Brouillet and Fadalat's minds for a while. "We used to talk about launching something one day and eventually it just felt like the right time." But they decided to take their time. "We didn't rush the process. Things came together pretty naturally and eventually moved into the sample making process. I just had so many ideas that I wanted to see come to life and BOYHOOD is my outlet for that."
The influences for the brand are wide but simultaneously also very focused in their scope. While the biggest influence is simply '90s, it hones in on the French streetwear style of that age, with Brouillet saying that the French rappers of that era and the early 2000s provide a constant source of inspiration, with the brand applying "the subtleties [of their dress] to the current digital age."
Aside from that, inspiration also comes on a more personal level from Brouillet's sports-filled youth. "I did a lot of different sports as a kid growing up in Angers. Those roots definitely inspired the athletic feel to the brand. Simple things like the clothes my P.E. teachers used to wear — like their fleece joggers and lanyards — are memories I tapped into."
I just had so many ideas that I wanted to see come to life and BOYHOOD is my outlet for that.
There are also more literal ways that the brand shows off its heritage. "BOYHOOD's jewelry line, that I created in collaboration with Chris Habana, has charms of the French flag and I use blue, red and white in many of the garments." The result is a collection that's both suitably streetwear and unapologetically French while not playing into any tired cliches of the country's style.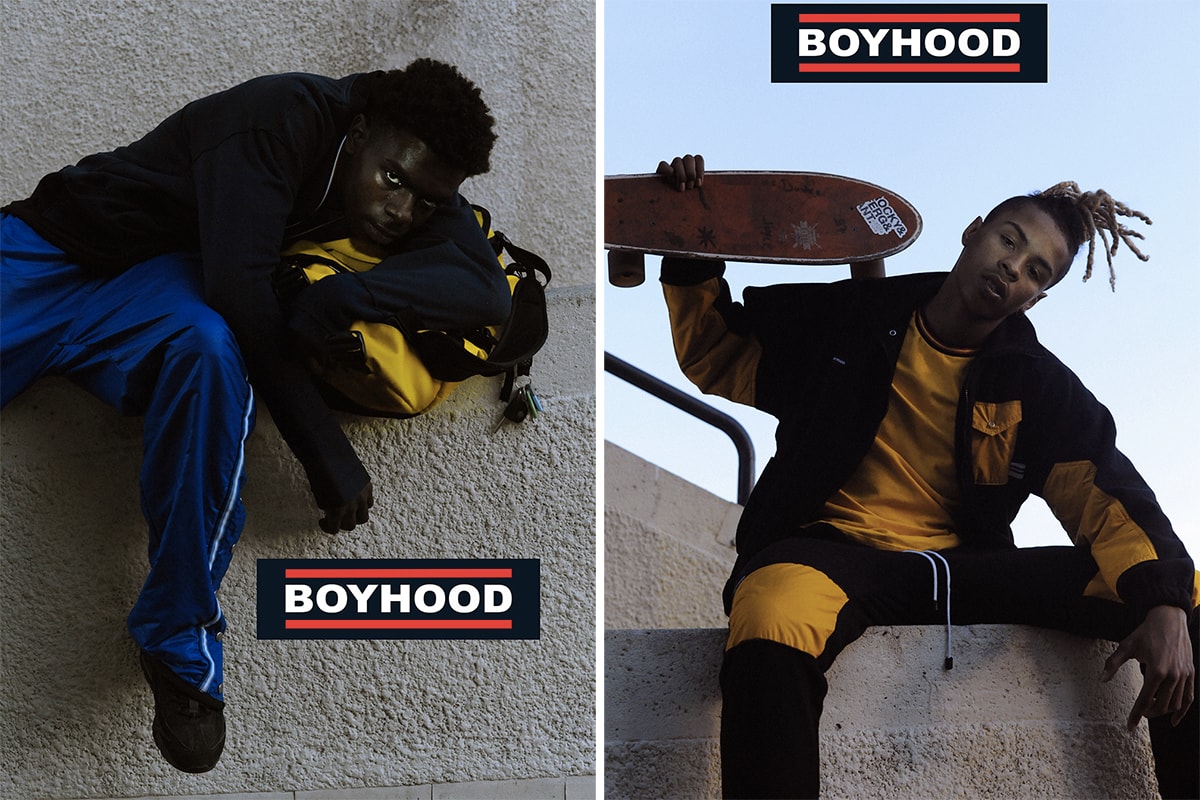 As of right now, Brouillet wants to keep working on other outlets of expression. "I continue to do freelance styling and consulting for other brands on the side," he says, stating his work with label Gypsy Sport as an example of another place to which he contributes his talents. The reason he continues to do this is a simple but considered one — "I think it's good to stay plugged into the industry in different ways."
BOYHOOD is still a brand in its infancy, so their current plans for the future are straightforward. "We are currently growing our international sales and look forward to the next season of development. I am excited to collaborate with other brands and maybe think about doing a show or some non-traditional presentation of our future collections." For more information you can check out BOYHOOD  directly via the brand's web site.
The European Designer Spotlight series is a continuation of our Spotlight series, where we distill brands to their essential points such as origins, key pieces, fits and more, so you can get the full picture without having to scour the web.