Manny Pacquiao Loses Welterweight Title to Jeff Horn in Controversial Unanimous Decision
As Pac-Man prepares to leave the boxing world.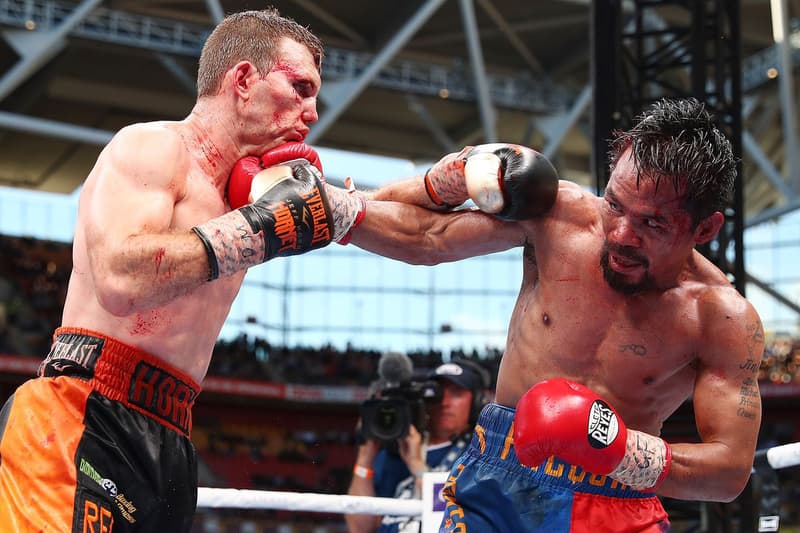 On Sunday night, Manny Pacquiao lost both his seventh career fight and his WBO Welterweight title to Jeff Horn by a controversial unanimous decision. Taking place at the Suncorp Stadium in Brisbane, Australia, Pacquiao's career record fell to 59-7-2 with the loss, and he is now just 5-4 over his past nine outings. On the other hand, Horn managed to remain undefeated despite being an underdog, improving to 17-0-1 in front of his home-country.
Though Horn landed early shots against Pacquiao during the first round, Pacquiao appeared to dominate the second and third rounds. According to ESPN Stats & Info, Pacquiao had a clear edge in the punching statistics, landing nearly twice as many punches — 32 percent of a total 573 punches thrown to Horn's 15 percent on 625 punches.
The controversy then came when the judges unanimously declared Horn the winner. Although Horn performed well beyond expectations, the common verdict was that Pac-Man got robbed. Despite Pacquiao's late dominance and superior accuracy, judges Waleska Roldan, Chris Flores and Ramon Cerdan scored the fight 117-111, 115-113 and 117-111 in favor or Horn. The scores prompted talks of a "hometown decision," given that the fight took place in Horn's native Brisbane, Australia.
Following the fight, Pacquiao stated, "That's the decision of the judges. I respect that." Though Pacquiao took a loss, he still managed to take in $10 million USD for fight.
Also be sure to tune in on August 26 as The McGregor vs. Mayweather Superfight will finally come to fruition.