Meet the Chinatown Doyenne Behind Music's Favorite Jewelry Spot
"Hit Canal Street, vintage gold medallion/ Smokin' blunts in front of public housin'."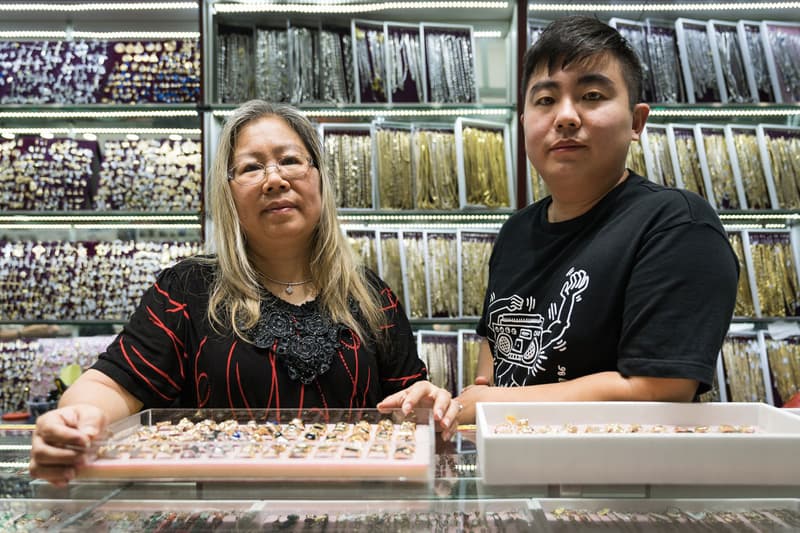 In 1989, Wu-Tang Clan affiliate Cappadonna walked through Chiokva "Eva" Sam's doors. "He was the first [rapper]," Eva recalls.
Eva had opened her jewelry store, Popular Jewelry Inc. only a year prior. Her family fled their hometown during the cultural revolution, giving birth to her in Macau and eventually residing in the United States. With a $100,000 USD loan from her brother, Eva signed a lease on October 3, 1988 to open the now rap-famous jewelry spot at 255B Canal St.
The walls inside the unassuming booth are lined with fringed Polaroid photos of famous patrons, and frequent customers. They tell the history of a mother, her son, and the musicians who love to frequent their business. It's a family story rooted in Chinese culture, and laced with the folklore of an American dream tale.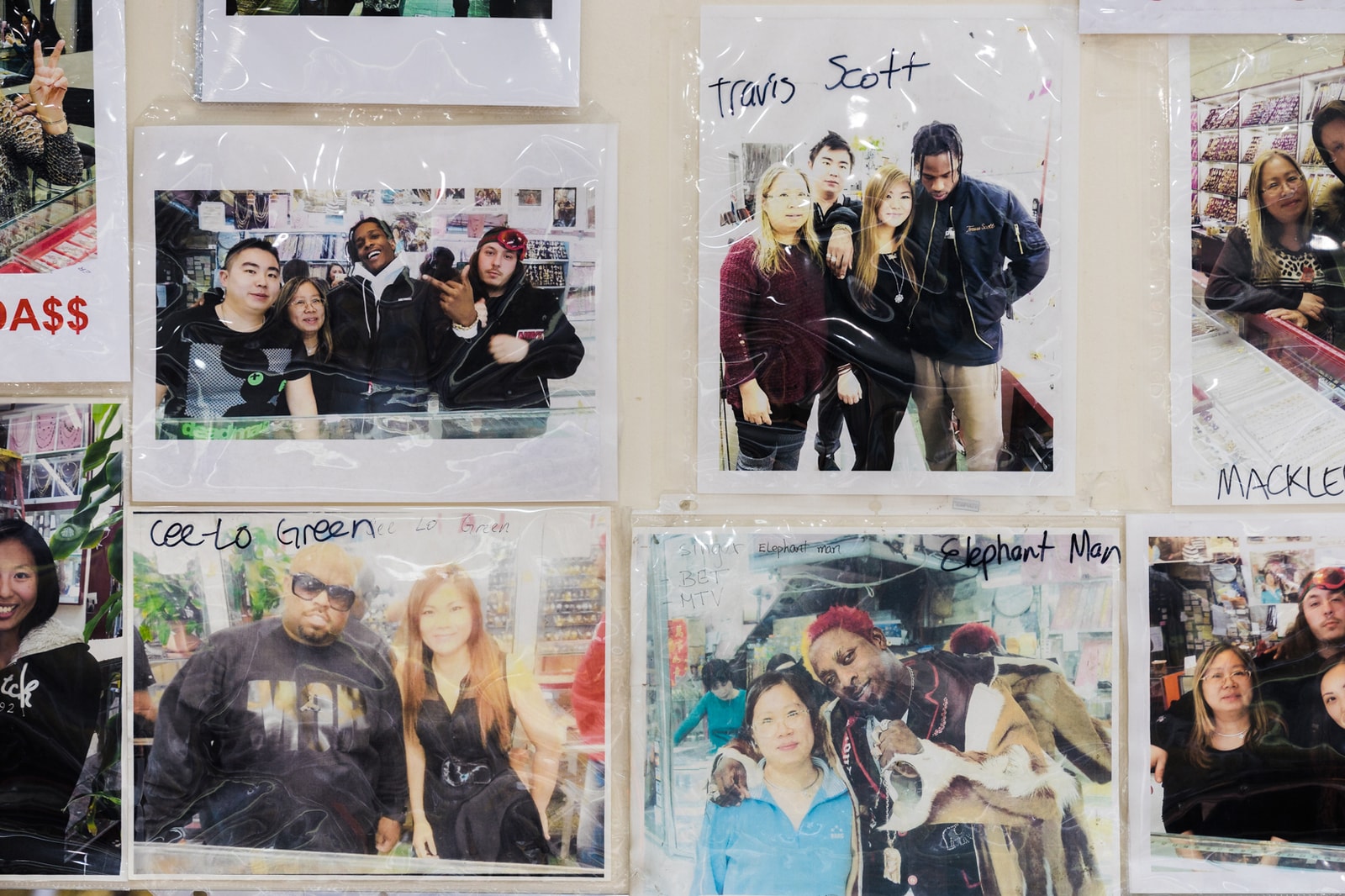 Cappadonna was only the first of many rappers to give the Canal St. spot a blessing. With his cosign, other members of the Wu-Tang would soon come into the store to buy more jewelry. As times changed and hip-hop moved on from its "golden era," Popular remained, welcoming a new wave of New York rappers seeking gaudy chains, bracelets, and medallions. It wasn't long before the tales of Popular struck a chord with the A$AP Mob — a collective of Harlem friends originally lauded for their fashion sense and rugged rhymes.
Eva rails off something in Cantonese towards her son, William, who assists her with the daily maintenance of the business. He's also her go-to translator when a smile and a price point aren't enough to convince a customer. He rolls his eyes, like a son does to their mother at times, and translates, "When A$AP Rocky first came to the shop, she didn't know exactly who he was. But Eva knew he was very fashionable and probably someone who was noteworthy, judging by the mink coat that he placed on the jewelry counter. She didn't exactly listen to hip-hop music, so she asked him to write his stage name down on a piece of paper, so she could show it to me when she got home."
William notified his mom that the man she met earlier was A$AP Rocky. After Rocky visited Popular, other rappers began to do the same — almost instantaneously. There was A$AP Ferg, Na$t, Illz, Ant, and later Travis Scott, Macklemore, and Joey Bada$$. Tracy Morgan was an early customer back in his 30 Rockdays, plus Beyoncé, Ceelo, Luka Sabbat, and Elephant Man, among others.
Rocky was like an unofficial ambassador to the store — sharing compliments and the location with whoever he could. Coincidentally, Rocky was born Rakim Meyers on October 3, 1988, which was the same day Eva paid the deposit to her landlord for Popular Jewelry Inc.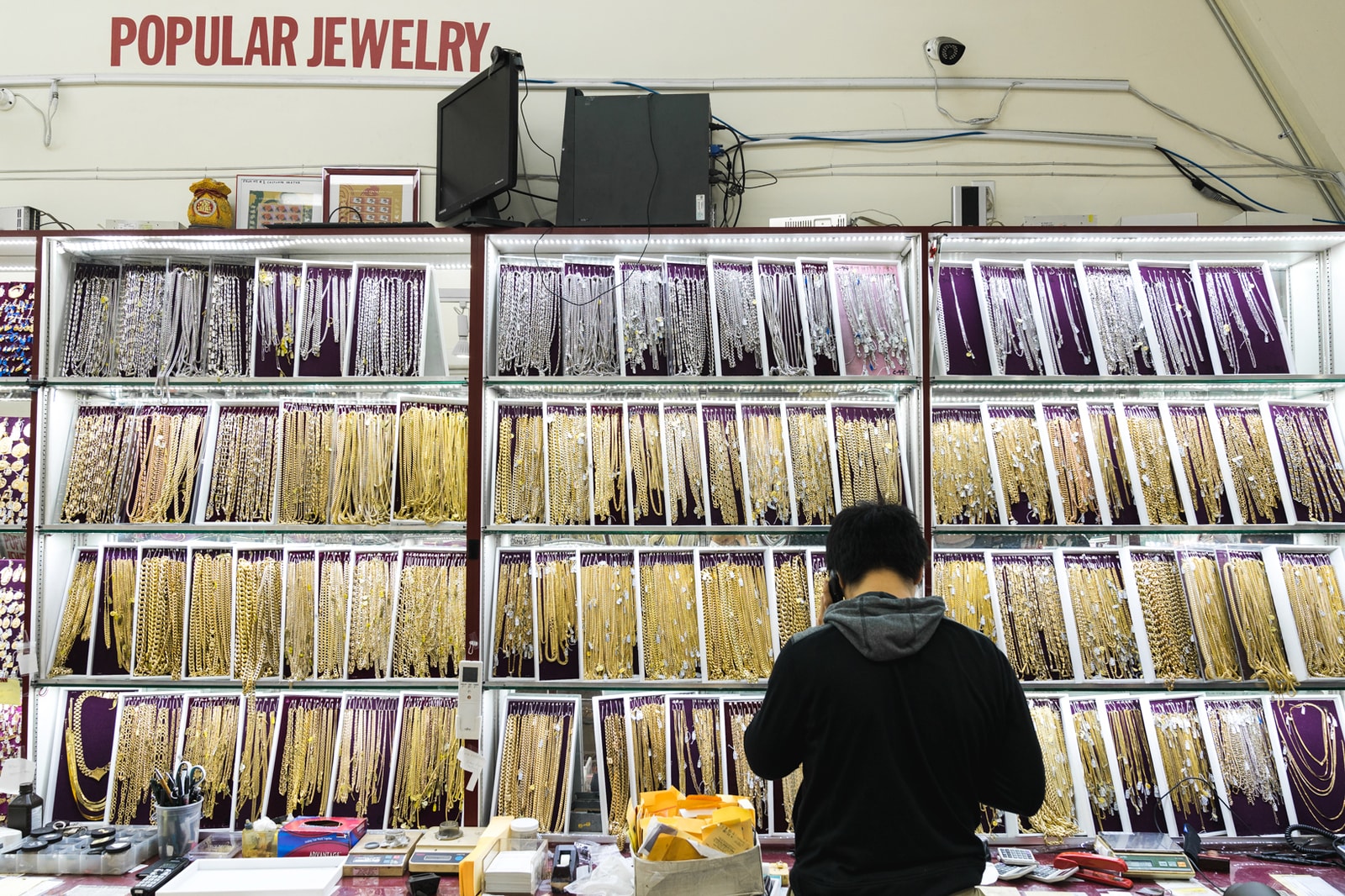 "He always brings a lot of joy when he visits us,""says Eva. "There was one time where he broke up an argument between a brother and his sister in our store who were complete strangers to Rocky."
"Even though he's famous, he's very down to earth in person and really knows how to bring people together," adds William.
Of all Eva's customers in the shop's three decade span, Rocky and the rest of the Mob (Bari is the only one who hasn't visited) have spent the most amount of money. Combined, William says, they've dished out $100,000 USD — the same amount Eva was loaned to start the business. Rocky expressed his gratitude through rhyme, but he hasn't exactly called out Popular by name. On "Canal St." — a track off Rocky's 2015 album At.Long.Last.A$AP. – Rocky raps, "Hit Canal Street, vintage gold medallion/ Smokin' blunts in front of public housin'." Though the lyrics weren't specifically directed at Popular, William knew who he was referring to.
"'Canal St.' came out a year after a few visits to our store (by Rocky)," William says. "He also purchased jewelry for the Wu-Tang Forever video shoot with Drake back in 2014, which unfortunately never released. The pieces were later featured in his 'Multiply' music video."
William, a self-proclaimed avid hip-hop fan, created a Spotify playlist titled "Popular Jewelry Radio" featuring clients, and other popular songs. He also manages a SoundCloud page where he follows and shares his talented customer's music.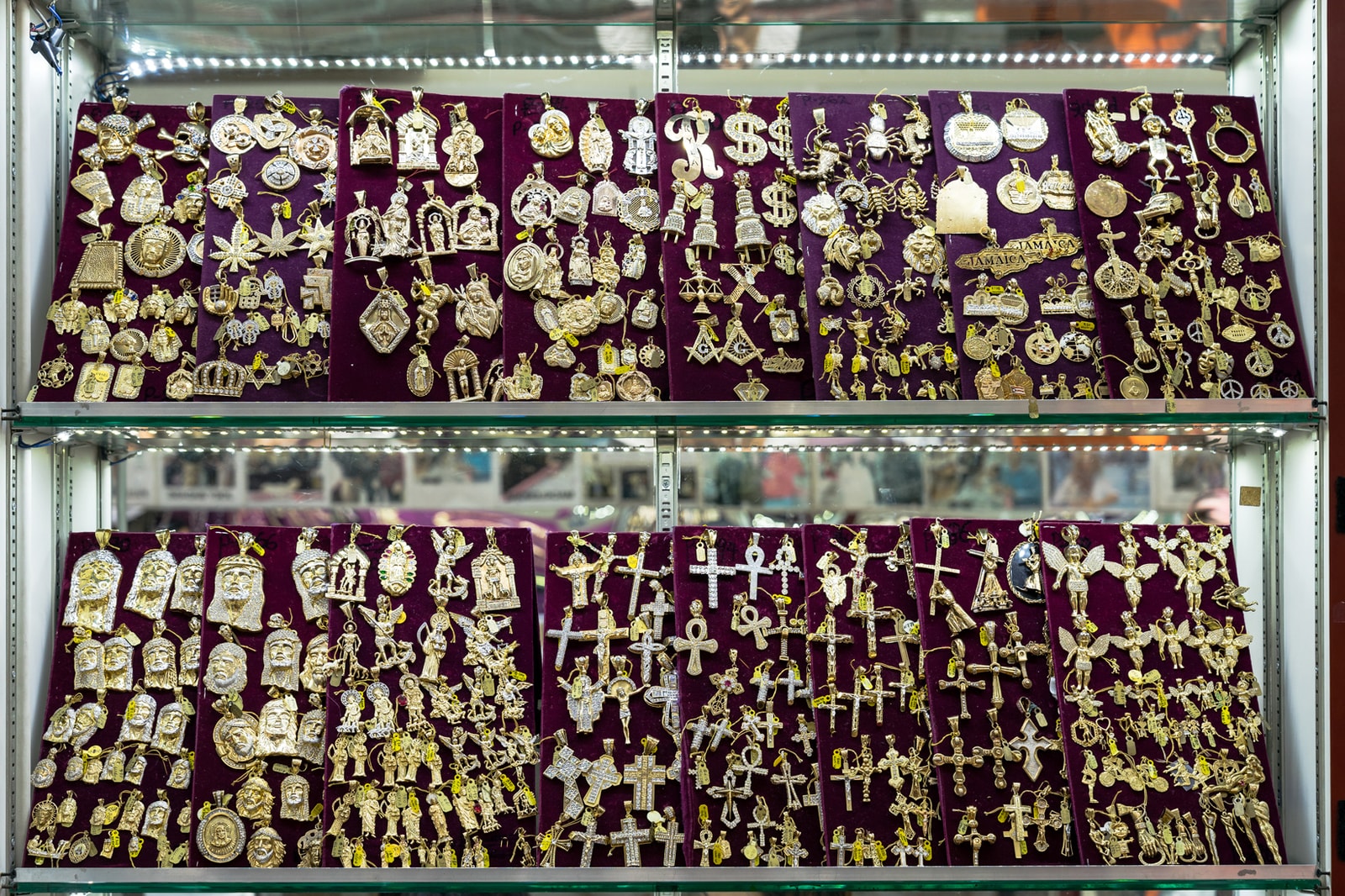 Popular only carries fine jewelry: diamonds, platinum, and a selection of sterling silver. In a large glass case that spans the entire store, styles range from antique to estate, ethnic, vintage '80s and '90s, and bespoke pieces for clients who crave something extra unique.
When asked what it is about Popular that attracts rappers, and other celebrities, William translates for Eva, "It's our top-notch quality service. Everyone that comes in to shop with us is treated like family. We have a reasonable price, and we work with the customer's budget. We also pay close attention to our client's needs and desires when it comes to the jewelry."
"Artists in particular, expect that kind of attention to detail when they're purchasing jewelry because whatever they wear reflects their brand and is highly scrutinized," he adds.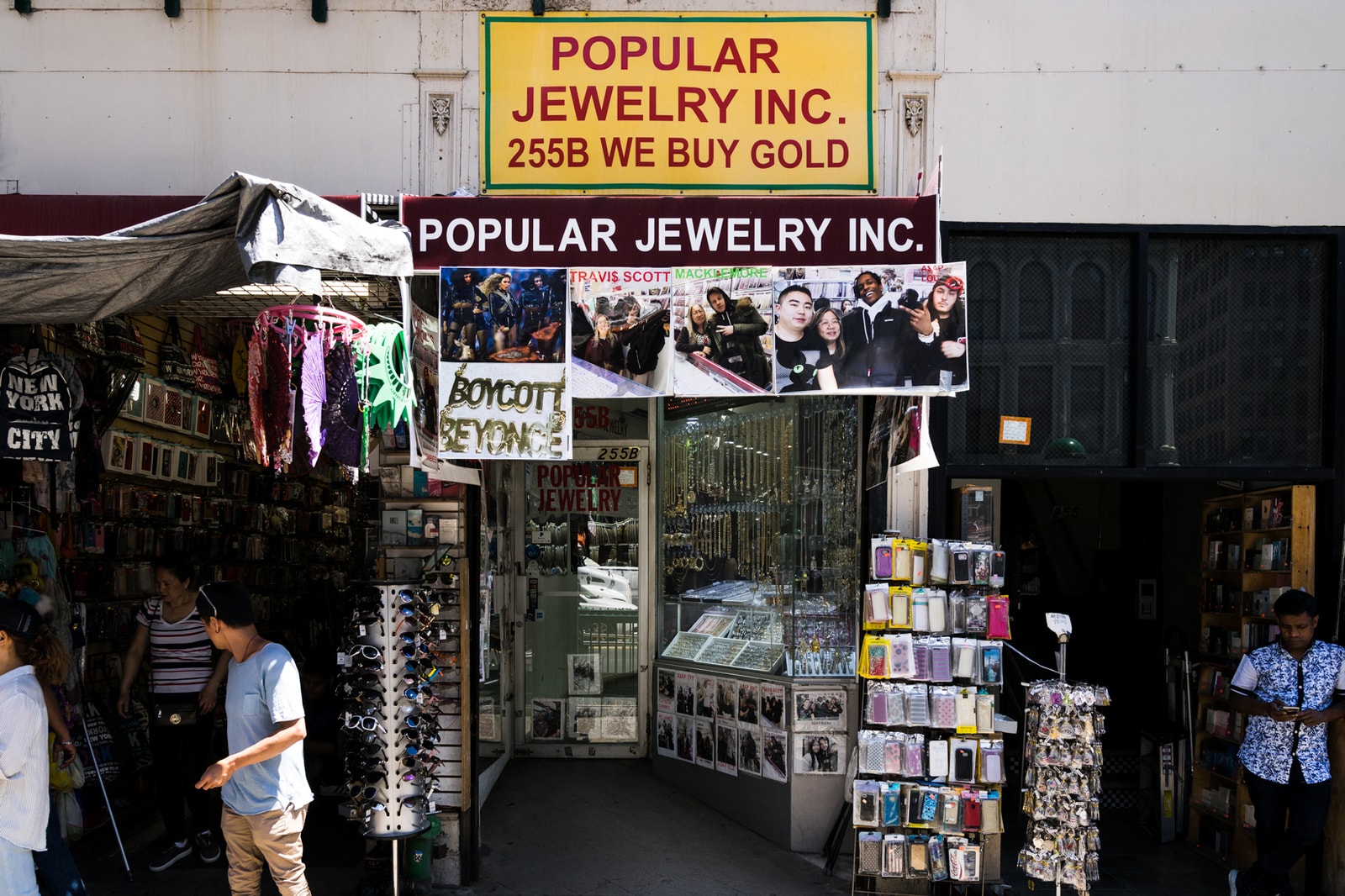 Eva wears very little jewelry nowadays. Sometimes, she'll put on a platinum necklace, a watch, and a gold sapphire ring. "They're antiques," she explains, adding more insight to this by saying, "and even if you have money, you probably won't be able to find them." They have sentimental value.
Looking at the photographs that line her store, it's difficult to not notice Eva is in almost every single one. Police officers, businessmen in suits, and inspiring rappers have posed with her — resting their arms around her shoulder like family.
She finishes off the conversation with, "My name is A$AP Eva," while cracking a smile.