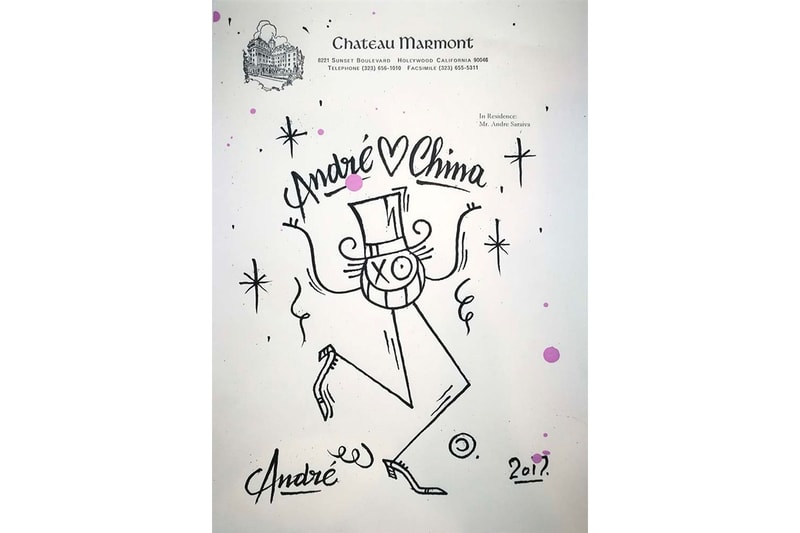 André Saraiva Presents His Solo Show at Shanghai's Magda Danysz Gallery
Including classical paintings, drawings, ceramics and other creative mediums.
---
For the creatively-inclined art aficionado, the name ANDRÉ likely conjures up sentiments of nostalgia and imaginativeness. The Swedish-born, French-raised André Saraiva cut his teeth learning the ins and outs of expressive impression work by tagging his name all throughout his hometown neighborhoods. Acknowledged as an early '80s pioneer of the logotype-style aesthetic, the talented creator is arguably best known for devising his now infamous "Mr. A" figure. Characterized by an oversized head and elongated limbs, the cartoonish creature became somewhat of a fixture in Saraiva's preliminary canvas works.
Since then, the artist introduced the world to his themed "Love Graffiti" initiative, which involved spray painting a lover's name at a requested address from the subject's partner. Other noteworthy projects include taking part in Paris' "La Force de l'Art," the "Dream Concerts" series presented at the MoCA in Los Angeles and the "Andrépolis" installation — mimicking a miniature scale Paris and New York.
André Saraiva is currently on exhibit at the Magda Danysz Gallery located in Shanghai. The artist will pay homage to traditional Chinese techniques through classical paintings, drawings and various ceramic molds. The solo show runs from July 15 to September 16.
Magda Danysz Gallery
256 Beijing East Road x Jiangxi Road,
Shanghai,
China