How Comic Book Universes Shaped Run-D.M.C.'s World
Darryl 'DMC' McDaniels talks us through his graphic inspirations.
---
"I was a nerdy, straight-A student who went to Catholic school. I was considered a geek."
Darryl 'D.M.C.' McDaniels, founder of the seminal Run-D.M.C., didn't have the start in life that most would expect of an infamous MC. Now – with a second career in comic books and displaying his art at galleries – he's putting this experience of a double life to good use, through his characters.
DMC, the debut title from his Darryl Makes Comics project, imagines an alternate universe that blends traditional comic book storytelling with the stylings of 1980s New York. Superhero DMC kicks ass in his tracksuit, adidas trainers and knuckle dusters, alongside other characters like Lak6: a fierce 13-year-old Puerto Rican, inspired by graffiti artist Lady Pink as well as Iris Morales, a member of the Young Lords activist group.
The city is a setting close to DMC's heart, and was central to his love of comics as a child. Although DC's Batman was the first book he bought at just 5 years old, it was Marvel Comics that really resonated with him growing up, as Stan Lee had his characters running around real-life New York City, rather than DC's fictional cities like Gotham or Metropolis. "Spider-Man's from Queens – I'm from Queens," D.M.C. says. "When you open up those comic books you see the Lower East Side, Hell's Kitchen, Manhattan, downtown, uptown, Harlem… so it wasn't like a fantasy, it was real to me."
Captain America was his favorite book – "When I looked at him I didn't see a white superhero, I just saw a great superhero with great stories" – and another was the Hulk. Darrly says he could relate to him, and his human form – the quiet, reserved Bruce Banner – and says that he too had a superhero side to contrast with his mild-mannered side. "Because of hip-hop I was able to transform into one of the most powerful people in the universe," he says. "But the only reason I was able to do hip-hop is because I was pretending to be a super-powered MC, the greatest in the universe, that gave me the confidence.
"The initials of my name weren't going to mean Darryl McDaniels, it was going to stand for 'Devastating Mind Control,' I was going to be the King of Rock, the Microphone Master – like all the people in comic books who had nicknames. Spider-Man was also Wall Crawler, Web Slinger, Spidey… so hip-hop took those comic book alter-ego personalities too. Method Man is also Meth and Methtical. Ghostface is also Tony Stark."
The only reason I was able to do hip-hop is because I was pretending to be a super-powered MC.
D.M.C. says all the comic book clues are there in the tracks, you've just got to know what to listen out for. "All my raps would be in the make-believe world, just for me – I didn't want y'all to hear it," he smiles. "Like 'Crash through walls / Come through floors / Bust through ceilings and knock down doors' – rappers don't do that, superheroes do."
D.M.C. started drawing in first grade, going from stick figures to tracing paper, and by second grade he'd practiced so much he didn't need to trace. He says there are parallels between the dedication, almost obsession, when it comes to getting good at drawing and getting good at rapping.
"Some people now just want to make a hip-hop album to make money, it's entertainment now, it's a commercial item," he says. "Rather than a culture, a skill, an art form. It's just 'I'm gonna rap to get paid.' But when you're doing it because you just really want to do it, the more you do that the better you get at it. So the only really good rappers are the ones who actually want to do it, not make money."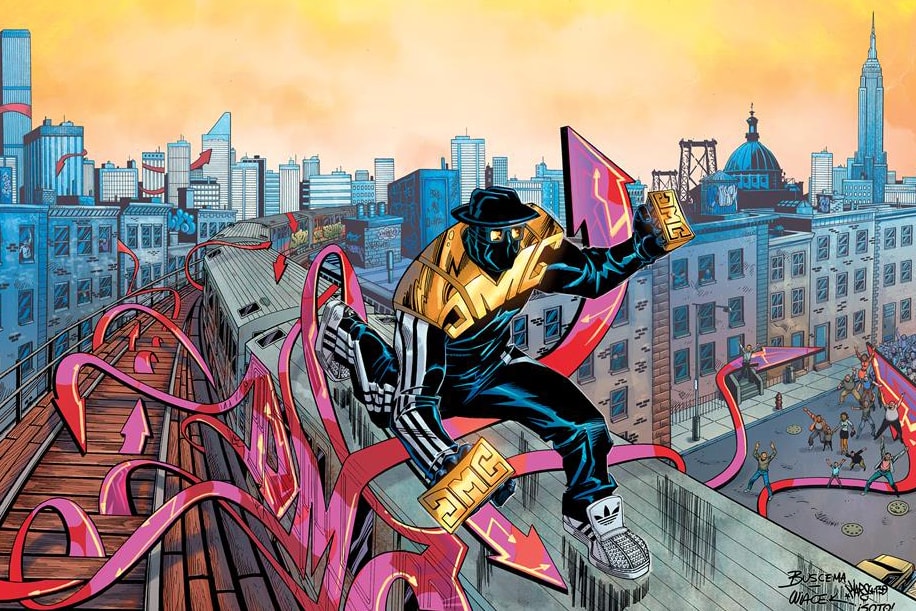 He talks about how his 21-year-old son has literally never had to pay for music, and how this new throw-away approach, consuming single-after-single (as opposed to buying and listening to whole albums) has changed the value people put on music, and therefore changed the way people make it. "Songs are presented to you anymore either, it's the artist. It's the celebrity and status," says D.M.C. "It lacks imagination. there's no De La Soul, there's no KRS-One or Public Enemy, there's no socially-conscious radical fighters… it's just a bunch of people participating in a show. It lacks balls innovation, universality."
While he concedes that one of the exceptions to this is the latest Tribe record – "It's brilliant, that should be in hot rotation" – D.M.C. says that hip-hop's success has also been its downfall, becoming so popular that it's now the mainstream: "We've been diluted and diluted, what hip-hop needs to do is take the legendary people – like Kool Moe Dee, like Kool Herc – and give them positions of power in Universal Records, in Warner Brothers, so this generation can do what they wanna do but these guys can say 'How about doing a record like this?'"
For him, the best time in hip-hop was before "Rapper's Delight" (another, far earlier, sign of rap becoming mainstream), artists like Afrika Bambaataa, The Treacherous Three, Funky 4+1 – "The 'plus one' was a female rapper who was better than 99% of the dudes out there today" – Cold Crush Brothers and Furious Five. "What they were doing out on the streets was phenomenal," D.M.C. enthuses. "It was scientific, wise, creative, educated. These kids were 16, 17 years old talking politics, socially-aware stuff. Eventually someone young is going to come along and want to put that sound on a record."
He says all those kids were also reading comic books, going to see Kung Fu movies – "You can really hear that with Wu-Tang, every kid in New York was into that" – doing graffiti, watching Star Trek, cartoons, and (weirdly) Monty Python and Benny Hill. "Pop culture was our thing, and then we put it into hip-hop."
Pop culture was our thing, and then we put it into hip-hop.
NYC seems like the only place D.M.C. could have located his characters, and the 1980s are clearly just as important to him. "The '80s was the most powerful, artistic, literary, musical, visual time period on Earth," he enthuses. "You had hip-hop AND punk rock, people forget that you had Debbie Harry on a punk record talking about a DJ called Flash. If you came to New York in the '80s you'd see Lou Reed, the Ramones, the Beastie Boys, Afrika Bombaataa, Grandmaster Flash, Melly Mell, Kool Moe Dee, Keith Haring, all in one place. And everybody was doing something artistic."
The style and subcultures of the '80s are most definitely there in the comic too: the lines of the graffiti, the B-boy and break-dancer clothes, and the team went to great lengths to keep it authentic. "Real graffiti writers – like Tats Cru – do all the graffiti in the books," says D.M.C.  "If you're into graffiti then you're into comic books. On the New York trains in the '80s graffiti writers would always add, say, a Spider-Man or a Mickey Mouse."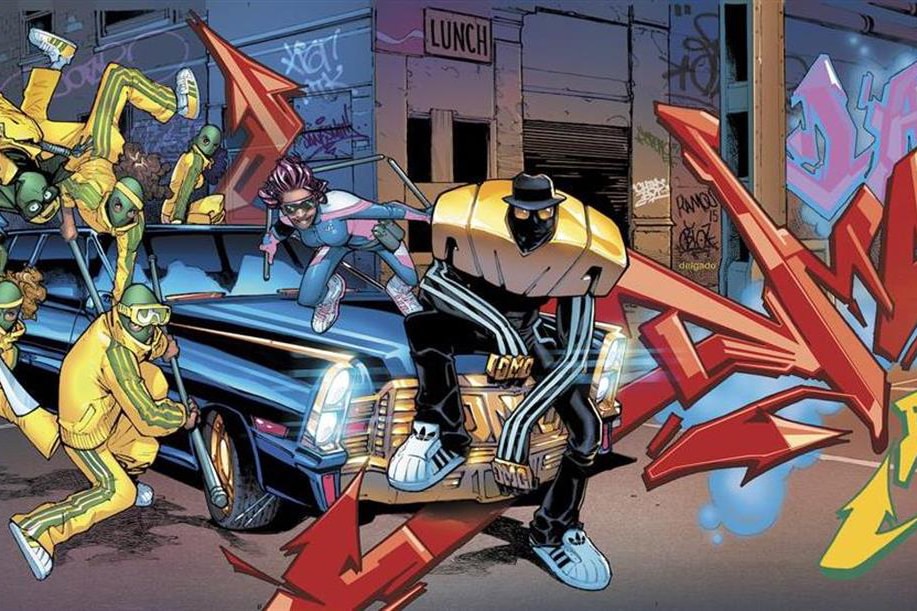 But while the style is there, the time period of the comic is ambiguous. D.M.C. says although it looks and feels like the '80s, it could also be the future. He likens his world to contemporary sci-fi films, with their post-apocalyptic landscapes, bleak crowded ghettos and even greater polarization between rich and poor. "Is it the '80s? Because it could be the future," he says. "That's up to the reader to decide."
And it's thought that D.M.C. wants to inspire in his readers, especially the young. "I want people to be inspired to write, draw, pain, sculpt, write screenplays and novels," he says. "Art's the only thing that will free us – the arts succeed where politics and religion often fail. The army and dictators that take us over, the first thing they do is go to the museums and take all the paintings, like ISIS destroying all those sculptures. When a people get overthrown, their books get burned, the invaders kill all the playwrights and the journalists. If you crush art and crush creativity, you can control.
"Once we're all able to create what we want to create, we'll stop beefing. Albert Einstein said imagination is more important than knowledge – you can learn all the stuff you want but it's pointless if you don't have imagination." And that's a super power we've all got up our sleeves.
Art U Grew Up With Intl – the global publisher for the DMC Fine Art Programme – appointed Hang Up Gallery in east London as their UK partner, where the The Art of DMC — originally due to run until 25 June — has been extended by a week due to demand.