The Chicago Bulls Reveal Their Favorite Spots in the Windy City
Featuring D-Wade, Rondo, Nikola, Lopez and even the recently-traded Jimmy Butler.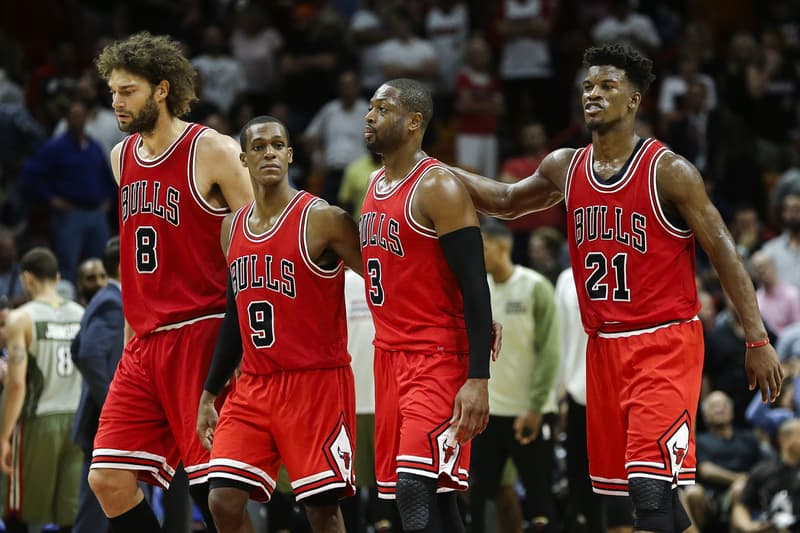 While the NBA season is a grueling 82-game marathon with traveling, practices, weightlifting and treatment sessions filling out their schedule, players have little free time to distribute between family, putting in extra work and taking in some of the best their home city has to offer. It's no secret that the bigger the market, the more to see and explore.
Chicago is the NBA's third-largest media market and, according to Forbes, the Chicago Bulls rank as the fourth most valuable franchise, behind the New York Knicks, Los Angeles Lakers and the Golden State Warriors.
The Midwest winters can be brutal, but the Bulls sell themselves to free agents on being one of the most recognizable franchises in team sports and the chance to continue on a championship legacy that's been void since their dynasty era of the '90s. There's the still-new multi-million dollar, state-of-the-art practice facility that sits right across from the United Center. Away from basketball, there are lots of business opportunities, a number of great residences that offer security and seclusion, plenty of fine dining and other areas of social and private interests.
We previously comprised a list of Chicago locals to provide their insight on some of the local gems of the Windy City, but this time we sought the insight of the Bulls for their favorite spots in the city. Our list of contributors included the Dwyane Wade, Cristiano Felicio, Paul Zipser, Nikola Mirotic, Rajon Rondo, Robin Lopez, Denzel Valentine and the recently-traded Jimmy Butler.
Favorite Place to Eat After a Win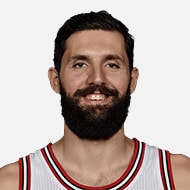 Nikola Mirotic
Joe's Seafood. They have great fish. It's fresh and they always treat me and my family well.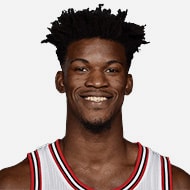 Jimmy Butler
Maple & Ash for the chill vibe.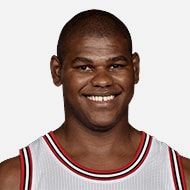 Cristiano Felicio
I haven't gotten to too many places just yet, but Fogo De Chao is by far my favorite. I love the Brazilian food and while I can't get all of what I'm used to, I can get some good food.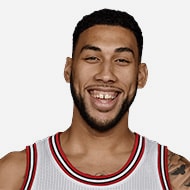 Denzel Valentine
Summer House Santa Monica. They have healthy options and it's a cool setup in there. Best of all, good food.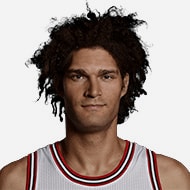 Robin Lopez
Chicago's Pizza. I always go for the deep-dish pizza and the minestrone soup. Also, Sublime Sushi.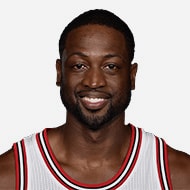 Dwyane Wade
The best meal I've had so far has been at Maple & Ash. Me and my wife had a great time. It's funny because the first time we went, it was late after a game and I guess the accommodations weren't made like we thought they were, so we had to go back and give them another try and they laid out the red carpet for us. The food was incredible, environment was great and we had a great time.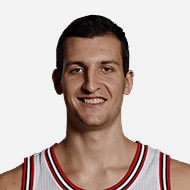 Paul Zipser
RPM is very good. The atmosphere is good, good dessert, good wine, and the food is very good. It's perfect for me.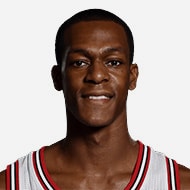 Rajon Rondo
Sunda. I love sushi and they always treat me well when I'm in there. They'll surprise me with a certain dish that I might not be open to trying otherwise, but it's always really good.
Favorite Attraction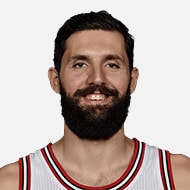 Nikola Mirotic
There are a lot of things to do here, but my favorite would probably be the Field Museum, the Shedd Aquarium and the Planetarium. I don't have much time to go to them a lot. I also like opera. Last year, me and Pau [Gasol] went a lot and this year, I went once with my wife. I like music and the orchestra. There's just so much to do here.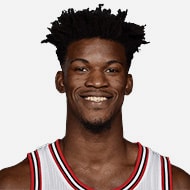 Jimmy Butler
It would have to be the United Center and playing in front of our fans during a big game, especially during the playoffs. There's nothing like that atmosphere.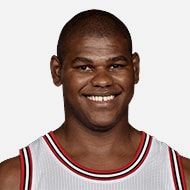 Cristiano Felicio
I like to go to Second City. It's a fun place to go and take your mind off everything. I like to take walks in Millennium Park also. I'm just trying to get to know the city as much as I can and enjoy all of it.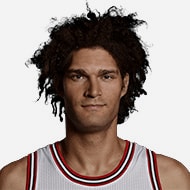 Robin Lopez
Wrigley Field. It gives off such a warm ambience and friendly feel.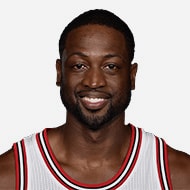 Dwyane Wade
Once the snow clears and the weather gets better, it's a beautiful city. A day where you can go out to Tavern On Rush and just sit out there and chill; great conversation, good people, good vibe and good food. It's something for everyone here from the downtown area, the west loop area, old town and there's so many different communities that have grown and still growing. It's pretty cool.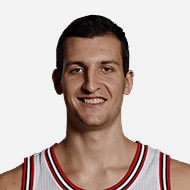 Paul Zipser
Millennium Park is right outside my door. I think the lake is my favorite, though. I would go to the lake every day in the summer. That's another reason I'm in the city. Also, Lincoln Park Zoo. I'm used to going to zoos often. My girl loves animals and she worked at a zoo for a little bit.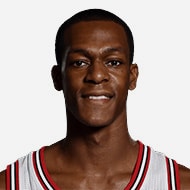 Rajon Rondo
The Hancock building. It has a pretty dope view. I really don't like heights, but I went and got to see a different view of the city and it was pretty dope.
Favorite Place to Shop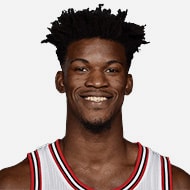 Jimmy Butler
Bonobos. I like looking fresh and feeling comfortable.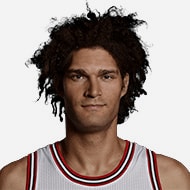 Robin Lopez
My girlfriend goes down to Michigan Ave and hits the Nordstrom, Sephora and all that. Me, not so much.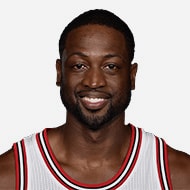 Dwyane Wade
I like ZARA. They have a little bit of everything and they're affordable. You can put together some nice looks there.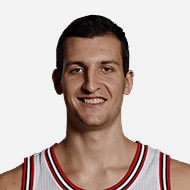 Paul Zipser
I just went to Succezz the other day. That's a really good shop. There's the Jordan store and Nike Chicago. I like to visit once in awhile to see what's new, but I don't go that often.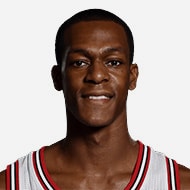 Rajon Rondo
Barneys on Oak Street. They have a little bit of everything.
Best Place to Chill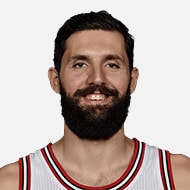 Nikola Mirotic
I'm a family man, so when I do have time off, I like to be with them and go to Millennium Park and let my son play. My wife and me also like theatre. When we can find a baby sitter, we're at the theatre.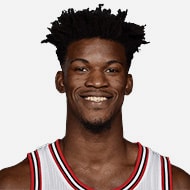 Jimmy Butler
I don't go out too much, so relaxing at home with my guys and teammates.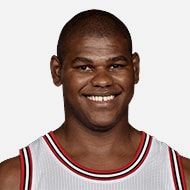 Cristiano Felicio
The Museum Campus. You can see the city, listen to the waves of the water and it's a place I go a lot to relax.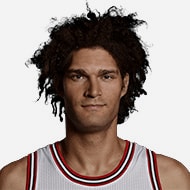 Robin Lopez
Anywhere [my girlfriend and I] can take our dogs, honestly. Navy Pier and we also take them out walking before [home] games around some sports bars, where there is seating outside.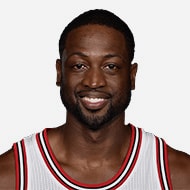 Dwyane Wade
Uh, I really don't have one of those (laughs). The wife is always working and is back and forth. I'm working and the kids have their own thing. In our house would be our favorite spot.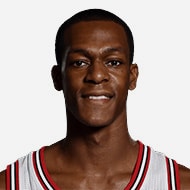 Rajon Rondo
My place. I love hosting and keeping everyone happy.
Best Part About Chicago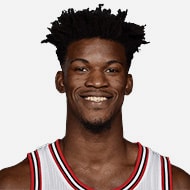 Jimmy Butler
The people and fans in Chicago are amazing.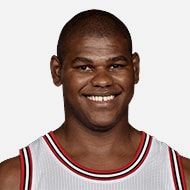 Cristiano Felicio
The people. They love sports and they embrace it. From the White Sox, Cubs, Blackhawks and us, they're always cheering. I've been to a few games and it's always amazing to see how the people embrace the teams.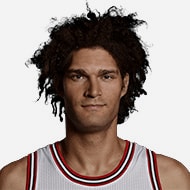 Robin Lopez
Everyone has been just super friendly. I also did get to go to the birth home of Walt Disney. That was cool.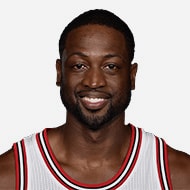 Dwyane Wade
It's a difference for me since I've been in Miami and now being back here. Even though people here know me because it's my hometown, I'm playing for the Bulls; it's been the way people have kind of said "hi" and kept their distance. Because I've been in Miami throughout so many generations, there's people who have seen me from kids, adults and people my age. They have this admiration for me and what we were able to do there. It's a little different. I've liked the privacy I've had with living in the city.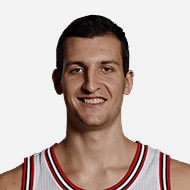 Paul Zipser
When I moved here, I just wanted to experience the atmosphere in the city. If you go outside the city, it's a little different compared to other cities. I lived in Munich (Germany). Not downtown, but I experienced it. I wanted to be downtown in Chicago. When you step outside, there's so much going on. I told myself that I wanted to experience that, but if I'm here longer than I'll move somewhere outside of the city.