From Sci-Fi R&B to Retro-Futurism: Inside Ikonika's 'Distractions'
The UK producer talks crashes, science fiction and defining the sound of modern London as we premiere her new album exclusively in full.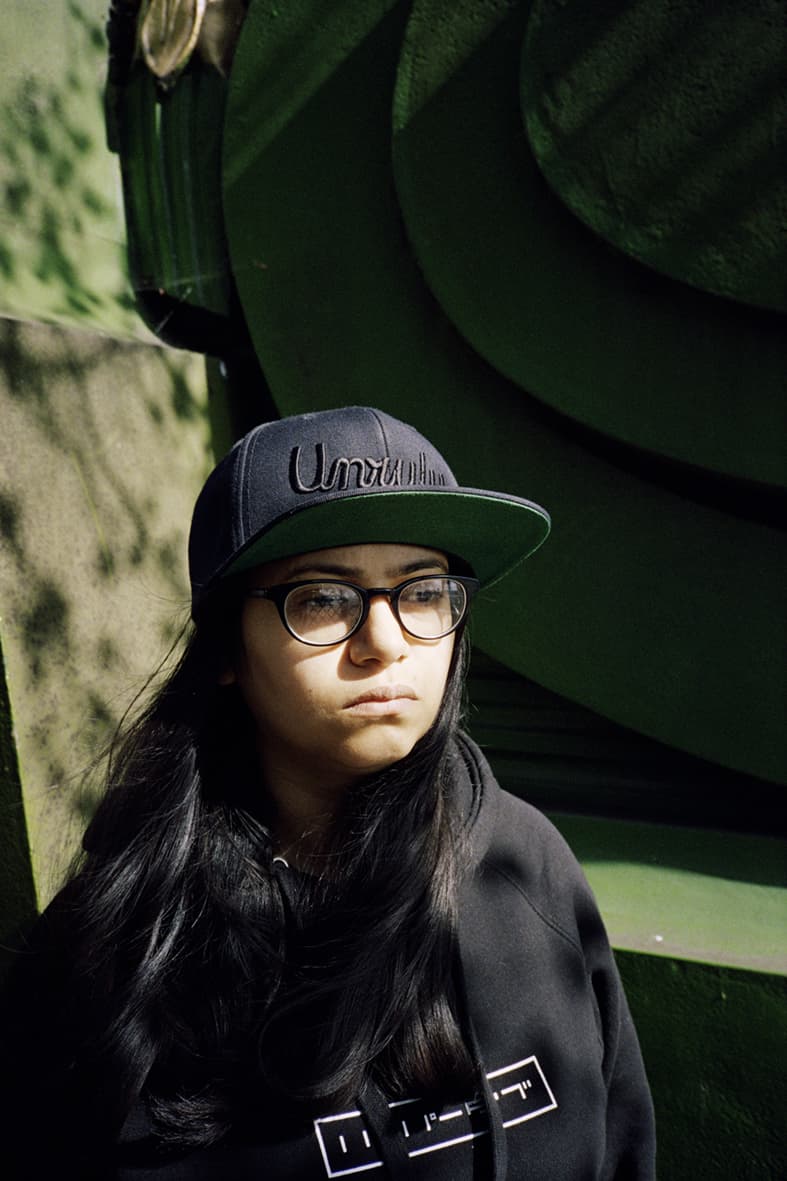 UK producer and DJ Ikonika will release her first album in four years this Friday, unifying the sprawling sounds of her near decade-long partnership with Kode9's Hyperdub records. Available to hear exclusively below, Distractions is an album tinged with grime, R&B and sci-fi synths. Conjuring both the sounds and cityscapes of modern London, rendered below in its futuristic visual form, it is music reflective of the city's innumerable thriving music scenes as well as Sara Abdel-Hamid's own recent personal history beyond the walls of her Ikonika alias.
Originally inspired by a specific area of London undergoing significant expansion, and completely reshaped after a car crash left her unable to work at all, Ikonika's second full-length album is a chronicle of personal pain, a near-universal sense of modern malaise, and of the rapidly-changing face of the place that Abdel-Hamid calls home.
Since your last album you've worked on remixes for everyone from CHVRCHES to Dawn Richard — what was the process of writing the album like compared with time spent reworking the music of those other artists? 
When I work on a vocal remix, I wanna let the vocal be at the forefront. I try to do a call and response as much as possible, so that the vocal and my synths converse. I want to add meaning to every lyric. I did the same thing with "Sacrifice." I wrote the entire song around Jammz's vocal. It gives me time to really listen to the vocal and have more of an understanding of the feel of the track.
I guess the main difference between remixes and writing your own stuff is the ingredients are already there — you can't change it. That's the best thing, because the idea is already in place, the experimenting is complete and you can focus on the main task of transforming.
in an interview with The Fader you mention that a bad car crash halfway through the writing process ended up shaping the landscape of Distractions — how was the recovery process as an experience, and how did that impress itself on your work?
Being unable to work was torture for me. The crash left me immobile and unable to sleep without having flashbacks. I felt helpless. I didn't want to be in that situation. I needed to distract my mind.
Before the crash I had a clear vision for the artwork (the world): I became fascinated by this part of West London where the A4 meets the M4. It's been going through some redevelopment — high rises were being built and car dealerships where growing higher, and I felt a little claustrophobic every time I drove through it. I started imagining what it would look like in maybe 50 years, and I guess I went as far as to imagine it in a post-apocalyptic state. Maybe this city was run by a generator? It could be post-nøtel. Post-Hi:emotions. What if I was the only one left and crashed my car and no one was there to help me? The car crash IRL was a bad coincidence.
Distractions is the sound of dead-end streets and the endless maze-like quality of a place somehow completely anonymous but totally unique. How did that the real-world landscape filter into the landscape of the album?
Up until this album I always thought my music to be about height. That it was in the sky, flying. It's now definitely taken this grounded feel. I feel more reflective than ever. I don't drive anymore and I live in Greater West London, which makes it hard for me to see friends who might live in South or East London. It makes travelling back home from a night out a tactical and expensive mission. It's a boring and ugly commute. I'd rather stay home in the studio but it's just impossible. I don't wanna live anywhere else, so it's something I must get used to. I think these feelings trickled into Distractions. A slightly cold and brutal Ikonika.
Up until this album I always thought my music to be about height. That it was in the sky, flying. It's now definitely taken this grounded feel. I feel more reflective than ever.
With tinges of grime, that kind of dubstep heritage and even the album artwork itself, Distractions feels like a distillation of so many aspects of London's music scenes — past, present and future. How does the city figure in your mindset when you're writing?
My writing is automatic but it's influenced by my DJ sets. My sets have London on the mind and it's important for me, when I tour, that I represent my city the best way I can. I'm very much a hybrid of London underground sounds past and present and I'm proud of that. It's important for me to share those sounds with people. It's important for me to have such elements in my productions as well.
Obviously things are a lot more global than ever, I take advantage of that and try and understand different club scenes from around the world. It's really nice when people give me USB sticks at gigs — I appreciate the youngers coming up, and I want to support them as much as possible. You also can't escape the impact London club music has had, it's always a pleasure when I hear a local DJ on the other side of the world banging out something like UK funky or old grime instrumentals.
In terms of what's being released right now, what do you think is the defining sound of London?
Grime is the best example of how something can stay true to itself. It's built itself on DIY values and persistence. It's a beautiful story and I hope the success continues to grow. To me, there wasn't much of a movement after UK funky and that's fine. I think the new kind of Afrobeat and dancehall influence in the UK is showing us something completely new and exciting, something we haven't had for nearly a decade. I mean, I've been waiting very patiently, but this hasn't stopped me refining my individual sound. Like I said in the previous question, I'm a hybrid, I'm not someone that needs a particular genre to express my intentions and feelings.
Grime is the best example of how something can stay true to itself. It's built itself on DIY values and persistence. It's a beautiful story and I hope the success continues to grow.
The various kicks and ticks of the album hint at modern distractions like social media and rolling news coverage — but the focus of the record, the crystallizing of your sound into a kind of Blade Runner-meets-J.G. Ballard-meets-contemporary R&B, seems at odds with that.
My intention was to have the songs play as a distraction from all the bullshit we see on social media and in the news. I've become cynical. I'm left with a distrust of the human race. I am a pessimist trying to kill time. Nevertheless, I refuse to let all these things depress me. I'd rather be in the studio, working. I want to be alone and locked out of that world. Distractions is my coping mechanism. I think there's a lot of loneliness out there, but you really won't find what you're looking for on your smartphone.
The distractions that kept you from finishing the record, were they literal or figurative — grounded in reality or more on the existential side?
To be honest, I don't feel I took too long making this album. I guess time flies, especially when you're touring a bit. But I hate writing on the road. I need to be in a studio. I need to be in a creative and comfortable space. The term 'Distractions' came to me by thinking about concepts… and that I really didn't have any to begin with. I didn't want to talk about it much when it was announced, I always felt that doing press was just a distraction. I felt skeptical that I needed a concept in order to sell a brand.
It never really works out that way though, I always end up with a story and I wasn't really expecting this story to be so deep and personal to me. It feels right to talk about it.
How does your studio equipment help define that sound?
I have a deep love for '80s synths. I think I've been described as "retro-futurism" — and I think that's more or less the vibe. I use these synths with modern techniques: the drums usually form the modernity — especially on Distractions. My love for R&B has never been more prevalent, and your right in saying it's a sort of R&B/sci-fi. I'm a sucker for pop sensibility as well. I want you to sing my synths, I want them to be memorable. I want the emotion to be evident.
Distractions has features from Jessy Lanza, Jammz and Andrea Galaxy — among others. How did you choose who you wanted to work with?
Sweyn and myself had written "Hazefield" one night and I knew it needed someone like Jessy on it. We've worked together before and I know she understands my music. She came back with the vocal so quickly — I was so amazed how this track worked out. Jammz I've been a big fan of for a while now; he turned in a somber vocal and I've never really heard him like that before. It's nice to hear a male MC on something that's a little bit R&B, and it works really well with the aesthetic of the album.
Scratcha DVA got me in touch with Andrea Galaxy. "Noblest" is a sweet and crazy production. It was nice to be in the studio with Andrea — she's real funny and easy to work with, and this is the only song where I was present for the vocal takes. Andrea is a great new talent and her new stuff is sounding banging, so look out for that.
Distractions releases on June 2, available directly from Hyperdub.