Hideous Ronaldo Bust Sculptor Gets A "Do-Over" With Gareth Bale
Paddy Power offers up a second chance to prove himself, and, well, he's getting there.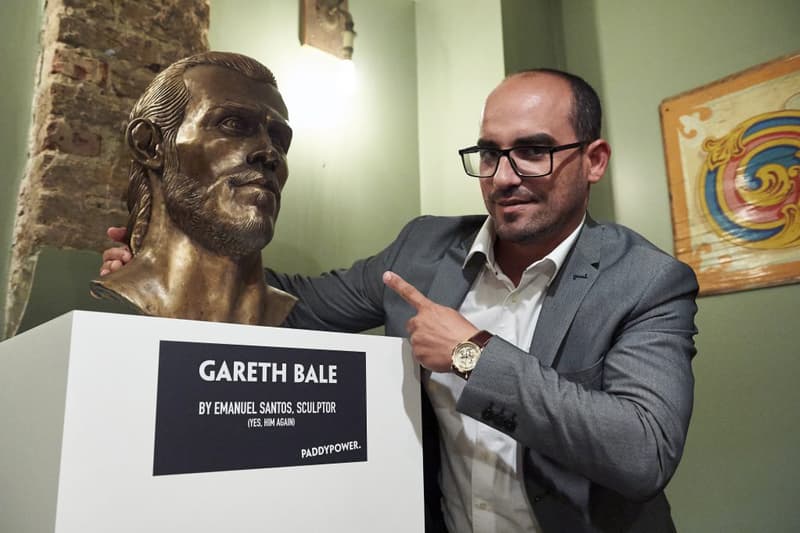 Emanuel Santos — sculptor of the hideous Cristiano Ronaldo bust that was revealed back in March – is getting a do-over. This time around, he was commissioned by Paddy Power, for the fun of it, to create a bronze statue of Ronaldo's teammate, Gareth Bale, and he's definitely progressing, if anything.
So you may be asking, "Why would Santos submit himself to such ridicule?" Well, it seems as if he's been a good sport about it all, and sincerely enjoys his line of work. Paddy Power said of their collaborative endeavor "Yeah, it wasn't particularly hard to convince him to do it – he probably didn't expect to ever work again after that fiasco."
It took Santos 264 man hours to create his 40kg bronze Bale, including a "WHOLE DAY of Google Image research." He obviously wasn't about to make the same mistake twice.
The result is a much better depiction of Bale and Emanuel's work. Paddy Power offers a BTS look at the process (below), and plans to display the piece at its Cardiff store, on St. Mary Street, until Sunday.
Hurry over and snatch a selfie with it before it's gone.
Remember the Ronaldo statue? We've got the same artist to create one of Gareth Bale. And we're not sure it's much better. pic.twitter.com/gIyjWQnlAK

— Paddy Power (@paddypower) May 31, 2017
Here's the making of that Gareth Bale statue. pic.twitter.com/RDTn9MMmAY pic.twitter.com/61vJG6wTvZ

— Paddy Power (@paddypower) May 31, 2017
looks more like Danny Trejo pic.twitter.com/CKubAZypOZ

— Chris Boulton (@boltons1980) May 31, 2017
#SonsofAnarchy pic.twitter.com/vfPT1hcYc2

— Andy Fleet (@AJFleet_Co) May 31, 2017
Gareth Bale and Cristiano Ronaldo both look relaxed ahead of the Champions League final. pic.twitter.com/ECQujAUJTp

— Goal UK (@GoalUK) May 31, 2017
El escultor del busto de Gareth Bale debe de ser un seguidor aférrimo de Juego de Tronos y de Khal Drogo : pic.twitter.com/HJZVAmLDpL

— ? Juli (Belmez) ? (@Juli_Rome_) May 31, 2017