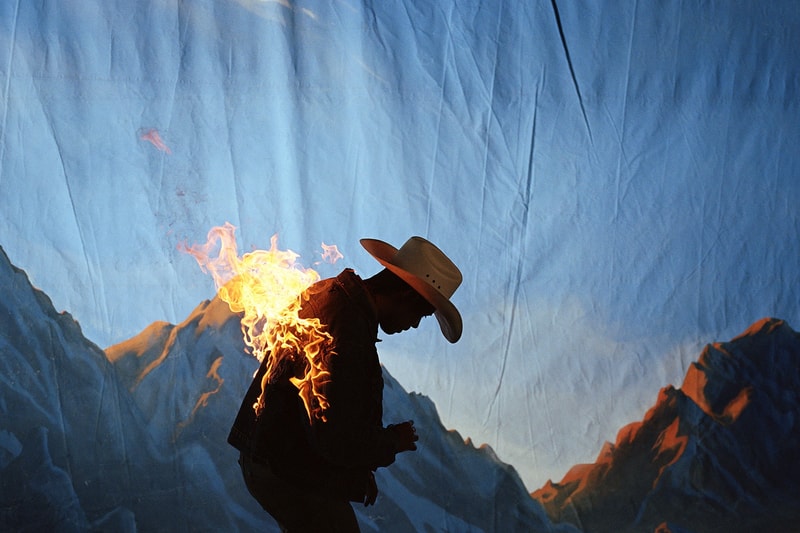 These Current Art Exhibits & Installations Will Go Beyond to Capture Your Fascination
From a cowboy on fire to a sinking floor in France.
---
The art world is never short of fairs, festivals, exhibits and new works to be seen from fans all across the globe. It takes insurmountable effort from the artist as well as his or her sponsor to put on an impressive show that will lure in gallery-goers. Whether it's Daniel Arsham's eye-catching gamut of decaying teddy bears for his "Crystal Toys" exhibit in Seoul or an artist duo's striking sinking floor installation in a medieval city in France, these works are changing the landscape of the entire industry in ways we have never thought were possible. From the mediums used to the pieces produced, this latest round-up of artwork will be sure to hold your attention.
Daniel Arsham's "Crystal Toys" Exhibit in Seoul
Daniel Arsham recently launched his brand new "Crystal Toys" exhibit in Galerie Perrotin's Seoul, South Korea outpost. Channeling his signature Future Relic aesthetic, the showcase is filled with decaying teddy bears that are made up of ash, amethyst, selenite and quartz minerals. All in all, the sculptures imbue strong feelings of nostalgia. Arsham told HYPEBEAST in an exclusive interview: "I've been experimenting with these soft toys for a while, and a development of that technique has taken a couple of years to perfect. Exhibiting them in Korea first felt appropriate. There is kind of an obsession here and in many places of Asia with childhood and with characters that are not so apparent in the States or in Europe."
"Crystal Toys" is currently open to the public up until July 8.
Galerie Perrotin Seoul
1F 5 Palpan-Gil, Jongno-Gu
Seoul, 
South Korea
Nobuyoshi Araki's "Tombeau Tokyo" Exhibit in LA
Controversial Japanese photographer, Nobuyoshi Araki, has a new exhibition at Little Big Man Gallery in Los Angeles, California. Araki's batch of monochromatic images on display reflects on human mortality, romance, lust, and sex. The thought-provoking visuals portray a wide range of inanimate objects alongside nude models. Flowers, dolls, figurines as well as sex toys are spotlighted in the series called "Tombeau Tokyo" (which translates to "Tokyo Bomb").
The exhibit is running until July 15. Head over to Little Big Man Gallery's official website to learn more.
Little Big Man Gallery
#2, 1427 E 4th St
Los Angeles, CA 90033
Sotheby's "Street Masters" Exhibit at Fat Free Art Gallery in NYC
Sotheby's Old Master department and Fat Free Art have teamed up on a new project called "Street Masters." The duo has enlisted a handful of acclaimed street artists from across the globe to reimagine six iconic paintings from the 15th-17th centuries. Sotheby's Old Master Paintings expert David Pollack told Design Taxi: "We were approached by Fat Free with the concept to collaborate with them and the artists they represent with the aim of juxtaposing two sectors of the art world that rarely, if ever, meet." Having added: "Our goal as an Old Master Paintings department has been, and continues to be, to introduce a new generation of art lovers to the rich and fascinating visual history of painting."
Street Masters will be open to the public starting June 2 at Fat Free Art gallery in New York City. Watch Fat Free Art's accompanying video to learn more.
Fat Free Art
102 Allen St.
New York, NY
USA
David Black's "Cerro Gordo" Exhibit at Colette in France
David Black is an American director and photographer who is most-recognized for capturing portraits of musicians such as Pharrell Williams, Kendrick Lamar, The Roots, Daft Punk, Cat Power and more. The Maryland-born creative is the subject of a new exhibition at Colette. He will be exhibiting new photographic works from his Cerro Gordo series that feature both rural and urban depictions of Los Angeles, California. More precisely: "Black's photographs examine the complex existence between light and dark and its role in our modern mythologies, visually appraising Los Angeles' archetypes and identity in popular culture and exposing the city's paradoxical bent as a land of dreams and disillusionment," a press statement indicated.
Head over to Colette to learn more. Cerro Gordo is currently on view up until June 17.
Colette
213 Rue Saint Honoré
Paris, France 75001
Fanny Bouchet and Emanuelle Messier's 'Débarrassons le plancher' Installation in Aigues-Mortes
French artist duo Fanny Bouchet and Emanuelle Messier were enlisted by Byme Architecture to create a new installation in Aigues-Mortes—a medieval city located in the South of France. Dubbed "Débarrassons le plancher" (which translates to "let's get rid of the wooden floor"), the piece is comprised of approximately 3,000 small cubes laid out on a floor to make it look like it is sinking. Additionally, the installation was produced as a part of a festival organized by the Center of National Monuments.
Learn more about the installation by visiting Byme Architecture's official website here.