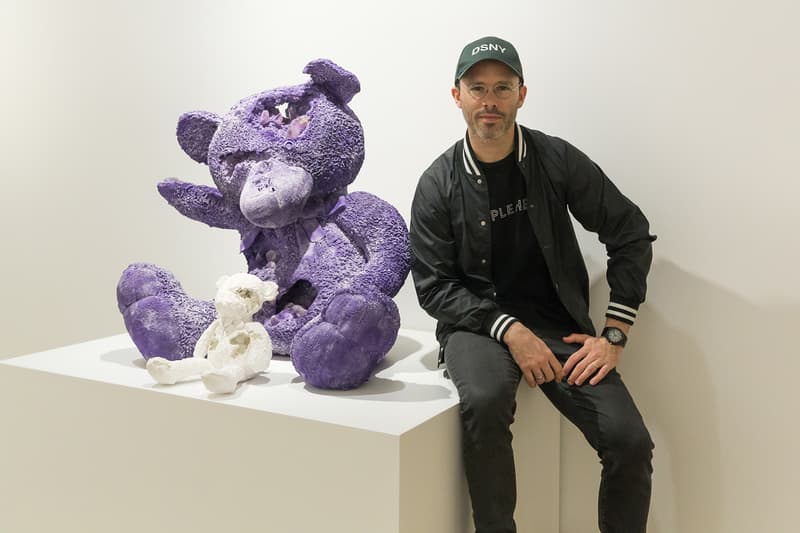 1 of 5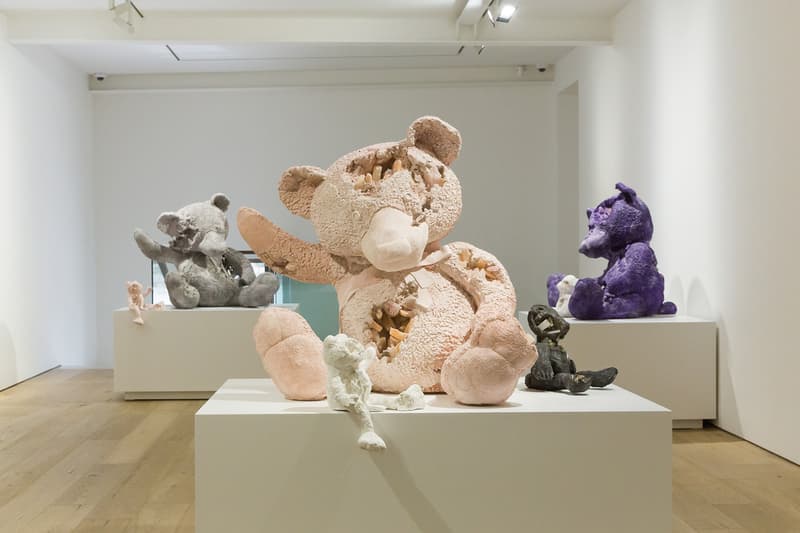 2 of 5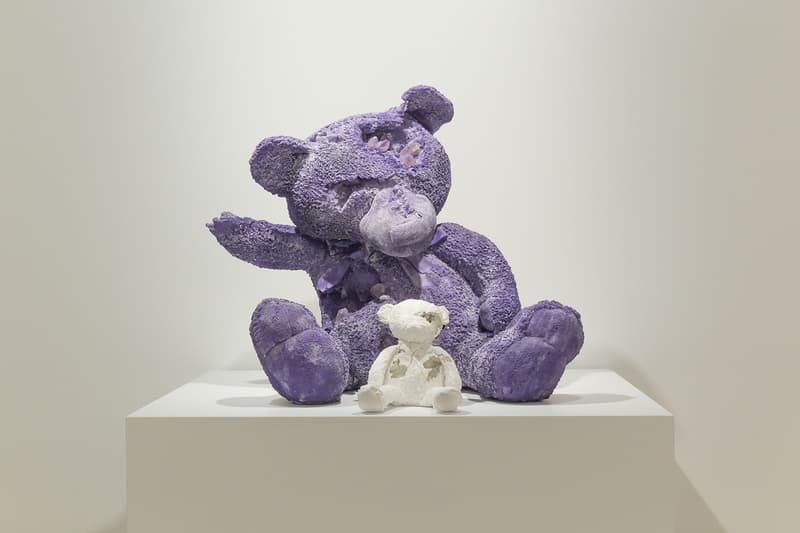 3 of 5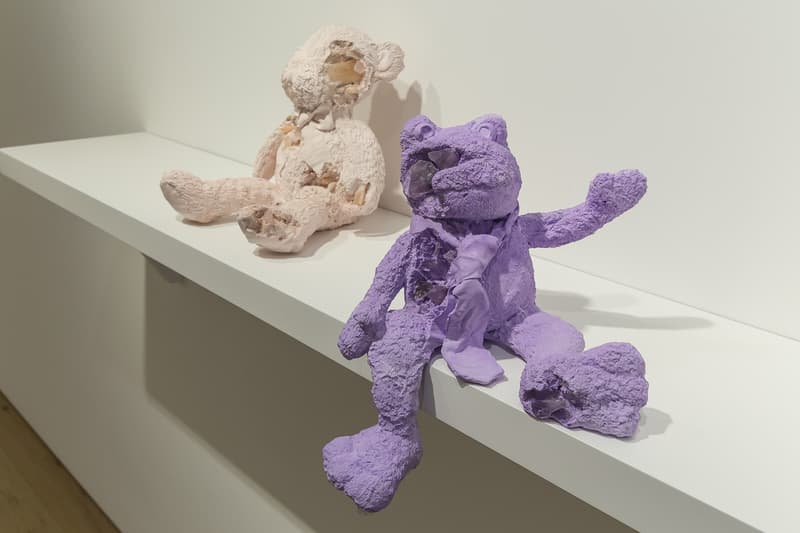 4 of 5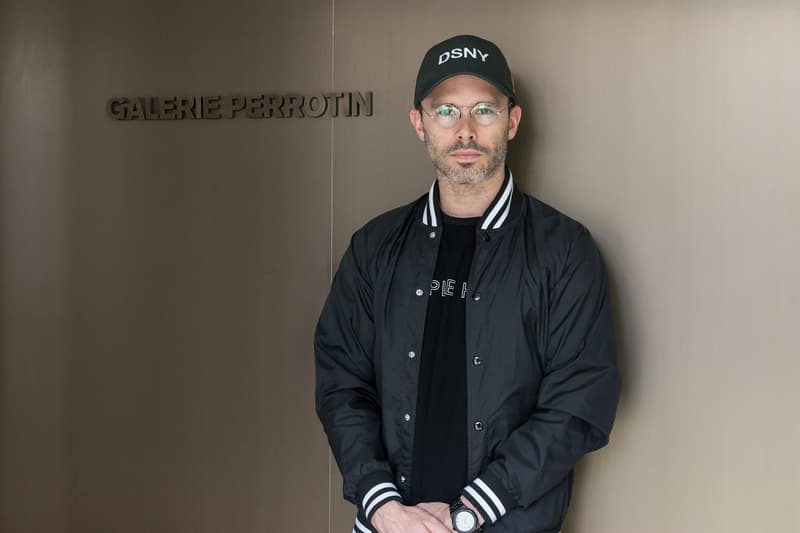 5 of 5
Daniel Arsham on "Crystal Toys," Heron Preston & Working with Ronnie Fieg for KITH
An exclusive interview for his Seoul debut.
---
Daniel Arsham is sitting on the floor in the corner of Galerie Perrotin, perhaps jet-lagged and tired from setting up his new exhibit. He had arrived an hour prior to our interview to make finishing touches to "Crystal Toys," his first solo show in Seoul. After years of trial and error in developing crystallized teddy bears, he chose the South Korean capital to showcase them publicly for the first time. "Exhibiting them in Korea first felt appropriate," he says. His new subject of childhood toys is a fresh turn from his recognizable Future Relic series, where he focused on technology, music and sports. In our exclusive interview, he sheds light on the rather unexpected reason for working with stuffed animals, as well as why he loves Heron Preston and KITH. Read on to find out.
What made you decide to come to Seoul?
I've worked with Emmanuel for a long time, and as the gallery has expanded to many locations, it was an obvious move for me to do a show here. My last show in Hong Kong was the end of 2014, then last year, I had a show in Tokyo, which was great. The response in general from Asia was good, so I wanted to come out to Korea.
Your relationship with Galerie Perrotin has been ongoing for 13 years. How has that been?
I met Emmanuel in 2001 in Miami. He was visiting for one of the first Art Basels, and he visited my studio. In 2003, he invited a group of artists from Miami to have an exhibition in Paris. He flew us all out — I was 22 then — so it was an amazing experience. The gallery was small at that time with only one location in Paris. The gallery has grown immensely as I have grown with it, and having the gallery expand to different locations brings my work to new audiences, which has been amazing.
What made you choose childhood toys as your subject?
This is the first time I've shown this group of work, and I have been developing these for the last couple of years. They fit into a larger body of work, which are fictional archeological objects. Things from our present have been reformed in materials that we associate with time, like crystals. The selection of the materials is as important as the objects themselves. The fact that they are made out of these materials rather than painted to look aged, is also important. I've been experimenting with these soft toys for a while, and a development of that technique has  taken a couple of years to perfect. Exhibiting them in Korea first felt appropriate. There is kind of an obsession here and in many places of Asia with childhood and with characters that are not so apparent in the States or in Europe.
What are you trying to say about childhood and innocence?
Certainly, anytime that you engage with an object that references childhood, there is an alternate, maybe stronger meaning. I hadn't approached that kind of work before I had children — I have two young children — so some of the items here maybe got inspired by my children. I don't try to put specific meaning on the work. Once I define the meaning specifically, it closes down all other potential meanings that an individual might put on the work.
How long does it take to create a crystal bear? Can you shed light on the process?
The process started years ago, in the experimentation of trying to cast forms that are soft. The technique that is used for the mold-making of these is very different from a camera, for instance. Part of it has to do with the mold-making process that relies on rigid form. If it doesn't have a rigid form, it collapses, so there is a whole process for creating the bears themselves, stiffening them, and positioning them how I want. There was a lot of trial and error. Nobody ever sees that, because it doesn't leave the studio. The works in the show were begun probably a year ago.
Is your studio like your own museum?
I do keep selections from different bodies of work, mostly because I forget about them, specifically how they were made, related to the material of the work. I can look back and be reminded of something.
How would you valuate each piece here?
Priceless (laughs). I think that certainly there is a personal value for me in experimentation, like what these works allow me to think about. Obviously, there is a monetary value that is placed on it by the gallery. And in the end, the works are sold, but in some ways they fund ideas. They allow me to travel around the world and bring various specific ideas to different places.
What do you think your sons will think about you and your work as they grow up?
Art in our house is very commonplace and everyday. They live with it. I didn't grow up with art like that. My mom always had posters from exhibitions, but it wasn't real work. My older son who is four, doesn't have an opinion yet, but I take him to see art exhibitions every Saturday. He says, "no touche pas," which means "don't touch" in French. He knows not to touch. He has a kind of understanding about the work. He understands that it's not necessarily my work, that we have work from other artists at home. And he understands that they are different from other objects. He has this very interesting notion that the creator of the work is the only one allowed to physically touch it, so when he is drawing, he doesn't want anyone else to touch them.
You've worked in the past on a film with James Franco. Are you working on any other films?
I'm working on a couple different films. I am working on a long-term feature project, and Future Relic is still a project. There is a whole unreleased section of Future Relic that Mahershala Ali, the actor in Moonlight, is actually in. There is another one that I am working on that is more secret. But coming soon-ish.
Anything interesting coming up with Snarkitecture?
We have a lot of new projects coming up with KITH. It is going to be interesting next year. We are working on a bunch of new large-scale architecture projects. Our team is growing to be able to handle all of the work we are doing with Ronnie. I am also working on a couple of other more personal projects with Ronnie on the arts side. Ronnie is someone that has a very particular, clear vision in fashion and street culture. It's something I certainly pay attention to, but I am on the outside of it. I am learning a lot from him about that, and I think he is paying a lot more attention to the art world.
What is it about you two that creates such a synergy?
I think that it's because we are so different. There are things that he knows about, and I have an interest in, but not the knowledge about, like Nike sneakers. He has a very particular talent in remembering everything about the last 20 years in that space of fashion. I also think that he is somebody who is interested in how certain different cultures can overlap.
Do you shop a lot at KITH?
Ronnie sends me almost everything he gets, so that's helpful. I get things from KITH for my children, too.
Where else do you shop?
Colette in Paris. I love UNITED ARROWS & SONS in Tokyo, corsocomo Milan — super typical, but these are places that I always stop by to see what they're up to. The hat I'm wearing is Heron Preston, which I got at Boon the Shop. Heron is more like an artist, similar to Virgil. They are like artists that accidentally fell into fashion.
What can you not travel without?
A lot of shoes, a lot of sneakers, and my camera, a Leica MP. I usually have three or four different lenses with me, which is really stupid, to be traveling with that much stuff.
Do you shoot wherever you go?
Yes. At some point, I will do a project around photography. It's been a hobby. The only place I've really shown it is on my Instagram. Maybe there is some other format that they could live in besides my Instagram.
What are your plans after Seoul?
I am preparing two exhibitions in the fall, as well as another solo exhibition in Paris with Emmanuel in November. There is an upcoming product that I am working on, which should come out sometime this summer, about the Miami storm. It has less to do with time and more with permanence, especially in architecture. We feel that architecture has a sort of resiliency — it's built to withstand time, and in fact, is quite fragile, as we are. The works manipulate architectural surfaces, where they alter architecture, much the same way a tornado or earthquake, destroys architecture in a violent way.
You deal a lot with the idea of permanence in your work, but HYPEBEAST is a publication that is perhaps the opposite of permanence. Do you have any thoughts on that?
I think it's a different way of digesting information. It's the era that we live in. I think that people may learn about something on Hypebeast or anywhere else and be prompted to go see it in person. If anything, some of the more temporary, impermanent ways of consuming artwork, like Instagram, have brought my work to the people. Just in the last couple of days, from being here, hundreds of people have DMed me or commented on my images of me being in Seoul, saying they will come to the exhibition.
Daniel Arsham's "Crystal Toys" exhibit in Seoul begins today and runs through July 8.
Galerie Perrotin Seoul
5 Palpan-gil, Jongno-gu
Seoul, South Korea