Take an Exclusive Peek Inside the PUMA Archive with Chief Archivist Helmut Fischer
A rare trip through the brand's historic vaults.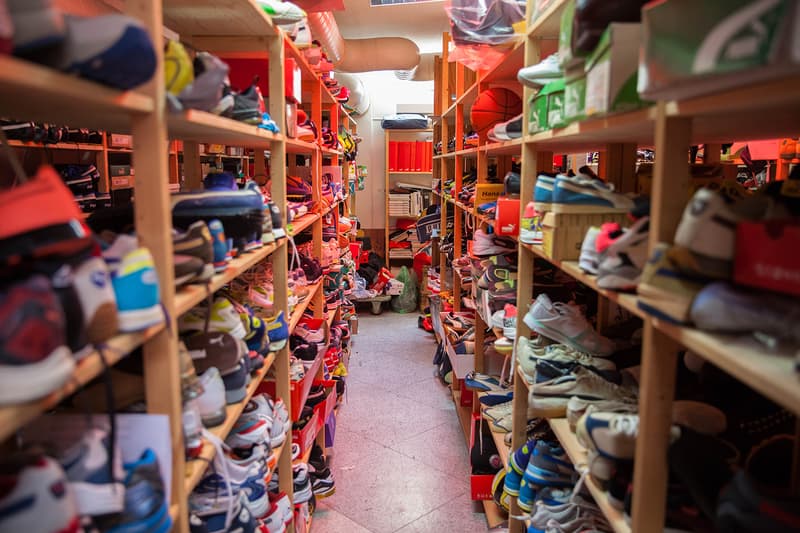 1 of 13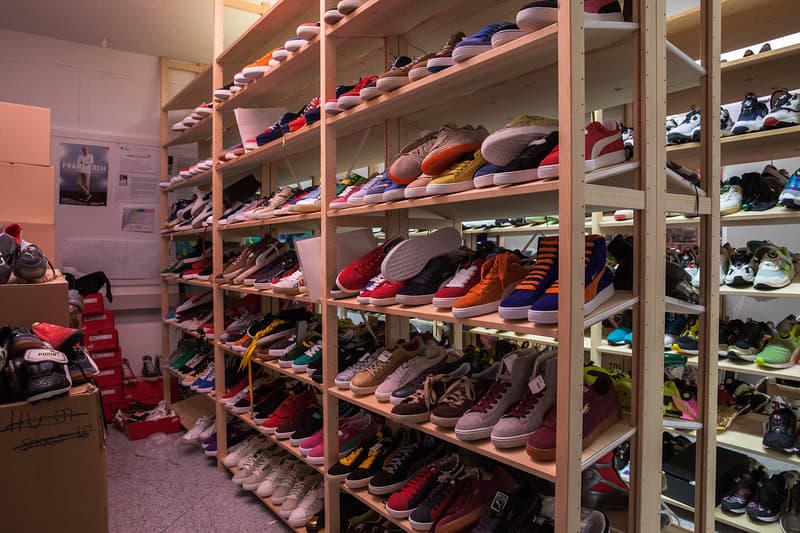 2 of 13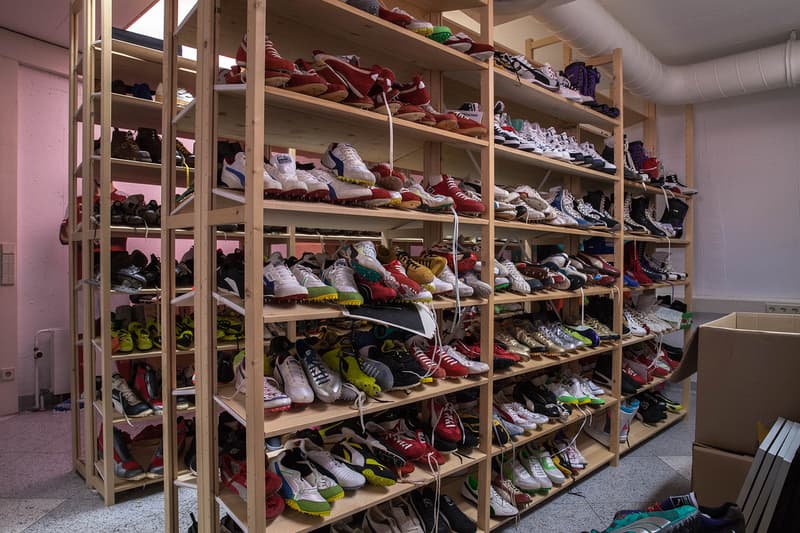 3 of 13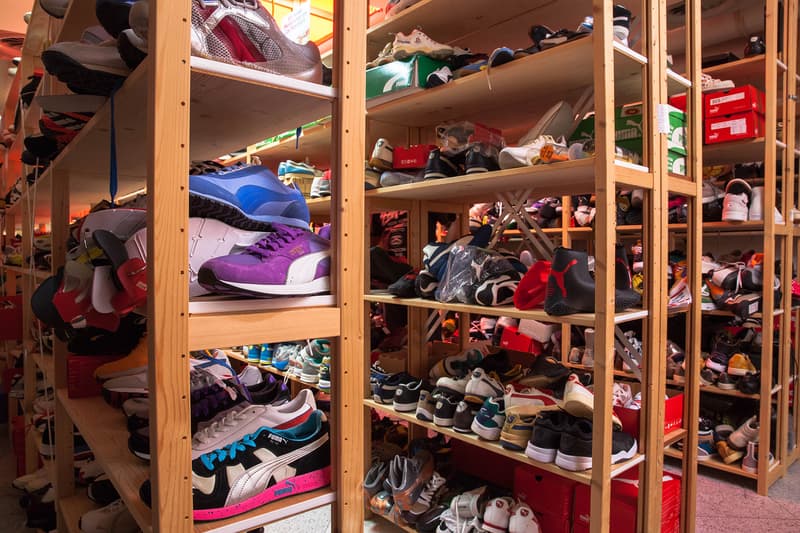 4 of 13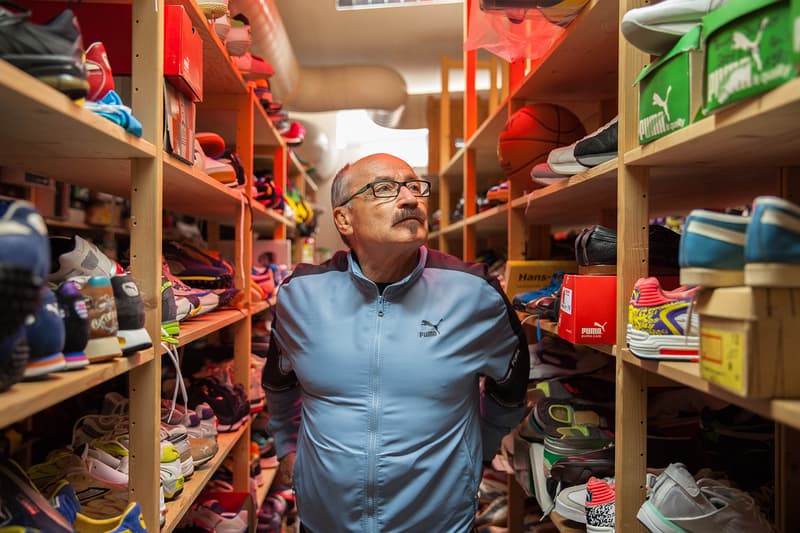 5 of 13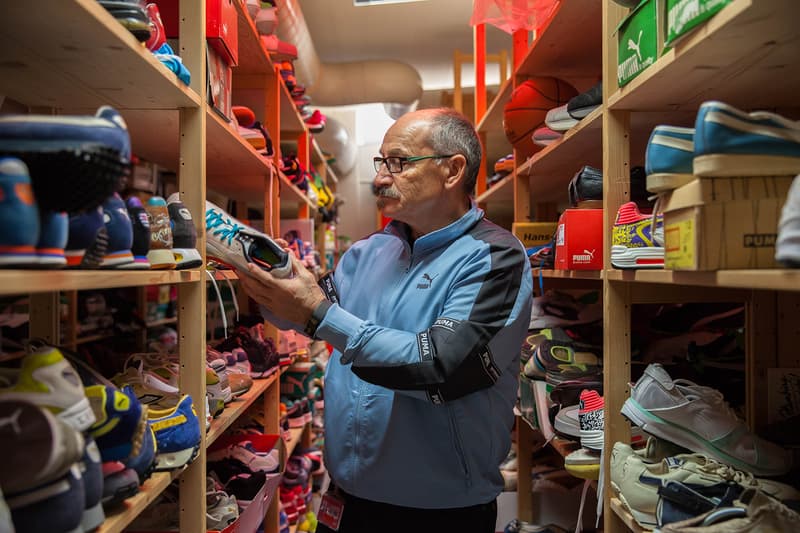 6 of 13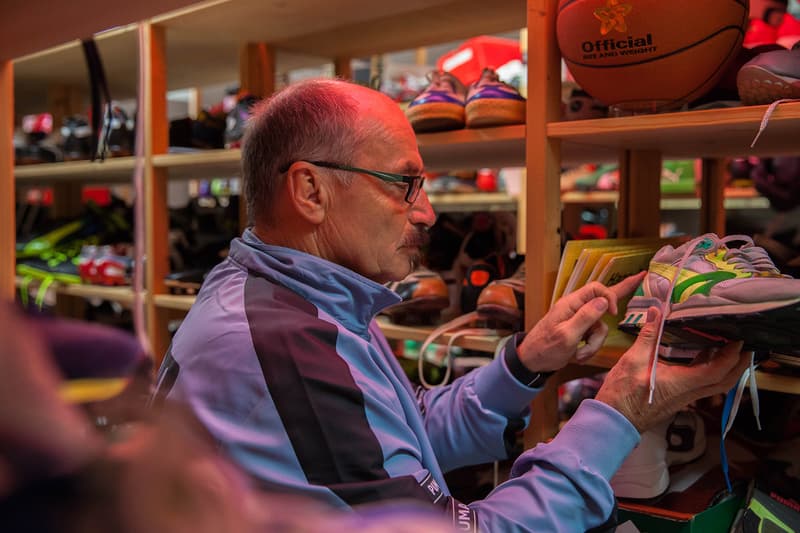 7 of 13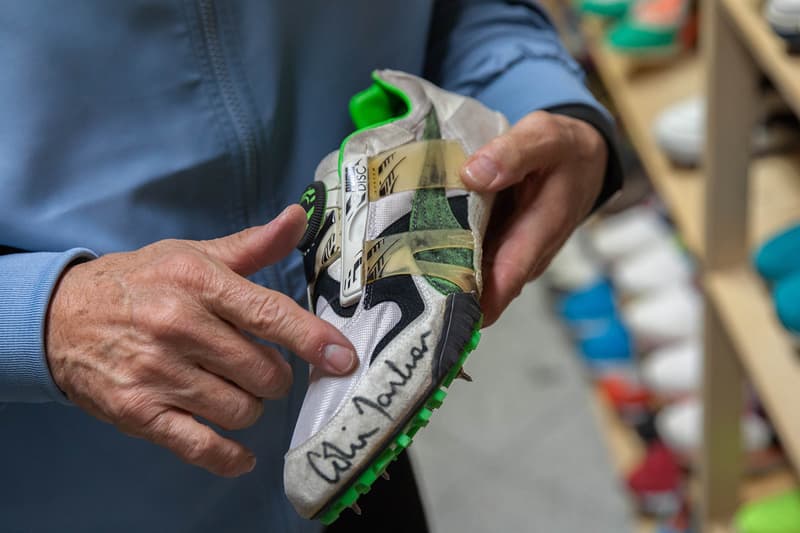 8 of 13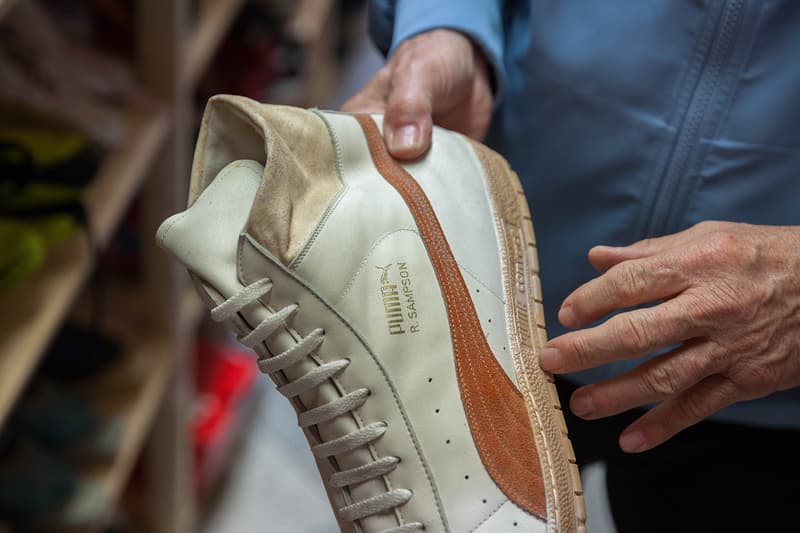 9 of 13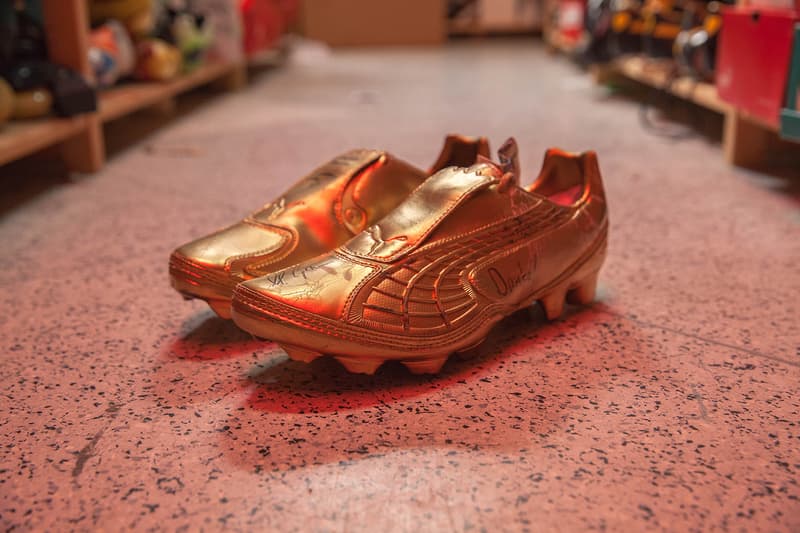 10 of 13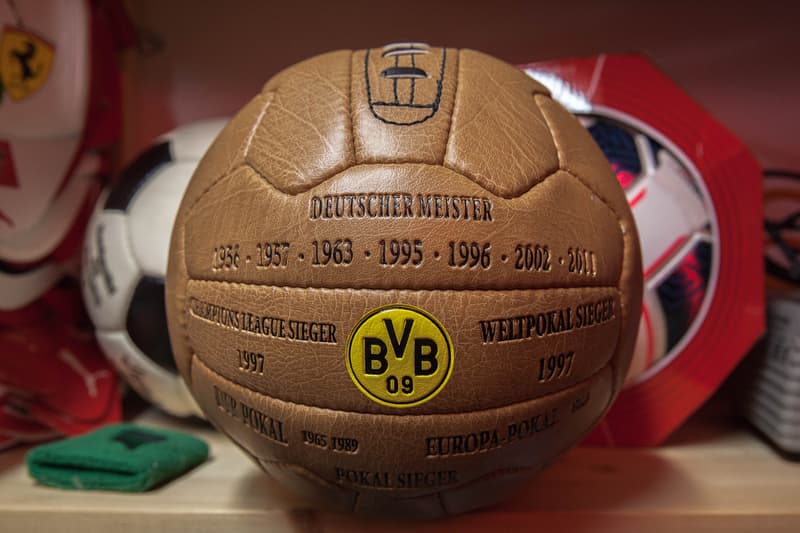 11 of 13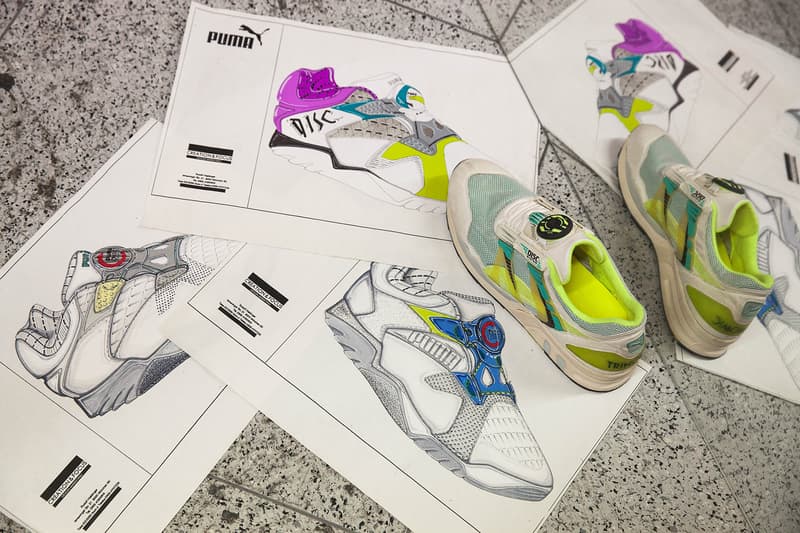 12 of 13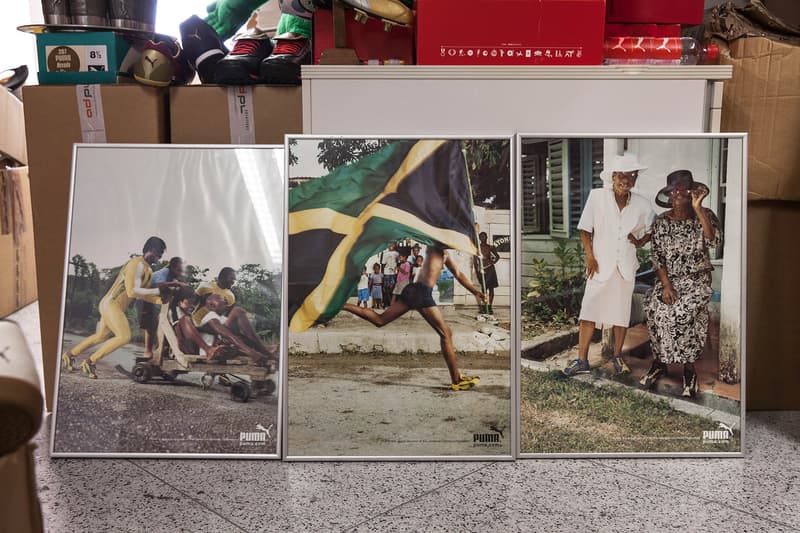 13 of 13
Walking into PUMA's headquarters – a huge, glass-panelled building nestled amongst the houses of the picturesque German town of Herzogenaurach – it quickly becomes apparent how cherished the brand's rich athletic history is. Plaques of sports heroes wearing the panther logo line the walls. Photos of soccer teams holding international trophies and athletes celebrating the breaking of a world record sit above the shoes that carried them across the finish line.
It is here, amongst these portraits of Maradonna, Linford Christie and Clyde Frazier that we're introduced to Helmut Fischer, otherwise known as 'Mr. PUMA.' Helmut has worked with the brand for the majority of his life, nearly forty years in fact, and he's seen PUMA help athletes from Usain Bolt to Boris Becker reach phenomenal levels of success.
Tucked away at the top floor of the building is Helmut's personal PUMA archive. A store room crammed with shelves upon shelves of almost every sport shoe the brand has ever produced. Sneakers bearing signatures – as well as the occasional "Thanks Helmut" – from some of the most celebrated sportspeople in history are stacked next to crates of old world cup kits, deflated soccer balls and surely what must be every-single iteration of shoebox PUMA has designed in the brand's 65 year history. Old models to the most recent versions sit side by side, from iconic trainers like the PUMA Fast Rider and Roma, (both of which are set for re-release later this year), to more conceptual, unnamed designs that never saw commercial release.
Although entire days could be spent rifling through the thousands of designs kept here, the reason PUMA has invited us is to take a tour through this vast collection and shine a light on the brand's rich sporting legacy and its history of innovation.
"Untitled" - 1950
Reminiscent of a modern day bowling shoe, Helmut presents PUMA's first training sneaker. "This was made in a time when they only really used leather for shoes, and what they later realised was that it wasn't really comfortable," he says. Despite the age and limited technology available at the time of this shoe's design, it's exciting to see how committed to sport performance PUMA were even in this early incarnation. The nostalgia associated with such an old, simple design is compounded by the fact it's surrounded by the decades of innovative designs that followed it. The idea that all the shoes around us can, to a lesser or greater degree, be traced back to this model is pretty startling and really drives home the scale of the brand's influence in the history of sport.
Wilhelm Bungert – 1962
The next model Helmut selects is an example of one of the brand's first forays into an athlete-helmed shoe. The eponymous 'Wilhelm Bungert,' came about when PUMA approached the German tennis star for help producing a sports sneaker together. "The sole is pretty thick," says Helmut, "it had a good cushioning effect and absorption, and was very flexible." The design of the sole, with its thin grooves that kept a steady grip during a match, also had other applications. "You wouldn't pick up the bits and pieces from the court. They wouldn't get stuck in there." Looking considerably more familiar and contemporary than the previous example, it's fascinating to see one of the earliest shoes that, visually at least, began to the blur the line between being strictly a sports trainer and a more wearable, lifestyle shoe.
Roma – 1968
Jumping forward a few years, Helmut digs out the Roma. "What you can also see here is that it has a double layer sole for shock absorption," Helmut says, highlighting the blue and white surfaces on the heel. "They tried to have hard and soft material in the sole to provide more comfort for the runner." This shoe was also one of the first shoes to utilze the brand's signature 'Form Stripe' logo for more than just branding. "The Form Stripe that you see here was invented by Rudolf Dassler in 1958, and he used that not only so that you can clearly see it's PUMA, but also because – since you have it on both sides – it stabilizes the shoe." explains Helmut. "So it's a technical feature but also a marketing and branding feature at the same time."
"Clyde" 1973
Next on the list is perhaps one of PUMA's most famous silhouettes. The Clyde, a collaboration between the brand and basketball legend Walt "Clyde" Frazier that unlike most basketball shoes, avoided a high-top ankle support design. "[Clyde] said that he'd like to have a shoe that was lo-cut and suede," says Helmut. We ask if this was the colorway it originally came in. "The color? Yes, this was it. Not in this size though," replies Helmut, chuckling. "I think he was a 49." To prove his point, he dives back into his collection to pull out a significantly larger shoe, bearing an authentic Clyde Frazier autograph. Seeing such a seminal trainer in the flesh, one that arguably defined its era in both a sporting sense and also a cultural one, is an incredible experience. Considering it was signed by the sporting icon himself, let's just say our sneakerhead bucket list just got a little bit shorter.
Fast Rider – 1978
"This was actually developed in the US and then came back to Europe, and the idea was to use it for a sport that didn't really exist back then: jogging," explains Helmut, holding a bright blue running sneaker with a distinctive studded rubber sole. Realising that modern runners no longer trained exclusively on the track or the field, but rather on the street, PUMA looked into how they could provide greater performance and protection than its competitors. "What they did was not just use this layer here" says Helmut, pointing to the heel, "but also put the shock absorption in the sole itself. That's why you've got this funny pattern." It's interesting to see a vintage Fast Rider because, despite being nearly 40 years old, it's still a surprisingly contemporary design. 
Ralph Sampson – 1983
In 1983 PUMA signed what was at the time, the largest shoe deal with an athlete in history; $500,000 USD a year for five years. However that wasn't the only noteworthy fact about this sneaker. "In the 80s they collaborated with basketball players and developed a new sole that was solely for indoor sports," says Helmut. The technology they developed came to be known as 'PUMA Contact.' The pair Helmut showed us was not only signed by Ralph Sampson himself, but also featured a custom ankle feature made for the Houston Rockets phenom himself. "Because [Sampson] had problems with his achilles tendon they put a soft part in here," explains Helmut. Much like our reaction to the Clydes, seeing an original Ralph Sampson, which has been both signed and worn by Ralph Sampson himself, is a pretty monumental moment for any trainer enthusiast.
PUMA Disc – 1991
"This was the first running shoe that didn't have laces," explains Helmut. "The technology here is a PUMA patent, so nobody else can use this exact technology. It's unique." The now iconic disc fitting system, that replaces laces with a wheel mechanism that tightens the shoe to a perfect fit, was a revolutionary concept when it was released. "It was basically a new idea. Bringing a slipper shoe and lace shoe together. You go in, turn it once and you're set." For a certain generation, the PUMA Disc was the epitome of daring, outlandish trainer design and as kids, we remember thinking that anyone with a pair of these was a pretty pioneering individual. Seeing the shoe in its sporting context is not only illuminating from a sneaker historian's point of view, but also highlights the depth to which sport and performance are ingrained in all PUMA shoes.
Jil Sander – 1998
One of the most headline grabbing collaborations of its day, the Jil Sander x PUMA shoes blurred the line between a sports shoe and a lifestyle shoe like never before. "What she did was basically replace the sole and make it a lifestyle shoe by combining a running sole with a football top," explains Helmut. The shoe was a runaway success, "[When it was released] they sold at 400 Deutsche Marks. And they were all sold, there was nothing left." Helmut connects aspects of the design of the Jil Sander to previous PUMA silhouettes. He describes it as "a combination of the Fast Runner, the Roma all mixed up into a lifestyle shoe." Having explored the archives and gained a better understanding of PUMA's role in sport's history, a collaboration like this makes a great deal of sense. With sports so ingrained in their DNA, it seems only natural for PUMA's first high fashion partnership to involve the reworking of such a performance-based trainer.
Mostro – 1999
Helmut then pulls out the Mostro, a sleek futuristic shoe that, as it turns out, he played an integral part in its creation. "I met a designer from Boston and I showed him a mid-80s surfing model and he turned that into the Mostro." Sadly, Helmet doesn't remember the designer's name. "I tend to forget all the names, there's so many of them," he says. Much like the Jil Sander trainer, this was another example of the omnipresent nature sports and sport-influenced design has in all of PUMA's ranges, even the more lifestyle skewing models.
Being allowed to explore the PUMA archive wasn't just fascinating from a sneakerhead's perspective – although admittedly that box gets well and truly ticked – it was also interesting to discover just how significant a role PUMA has played in the past century of sport. From the iconic photos in the lobby, to the relics of sporting legends found in Helmut's archive, it quickly becomes apparent the level of commitment PUMA has, and has alway had, to helping athletes achieve sporting excellence.
To get yourself a pair of PUMA Roma's or Fast Riders, sneaker shop size? has a decent offering on its web store. Check that out here.