RIP Glenn O'Brien: The End of the Downtown Rainbow
A New York City legend that men try so hard, with such woebegone results, to be today.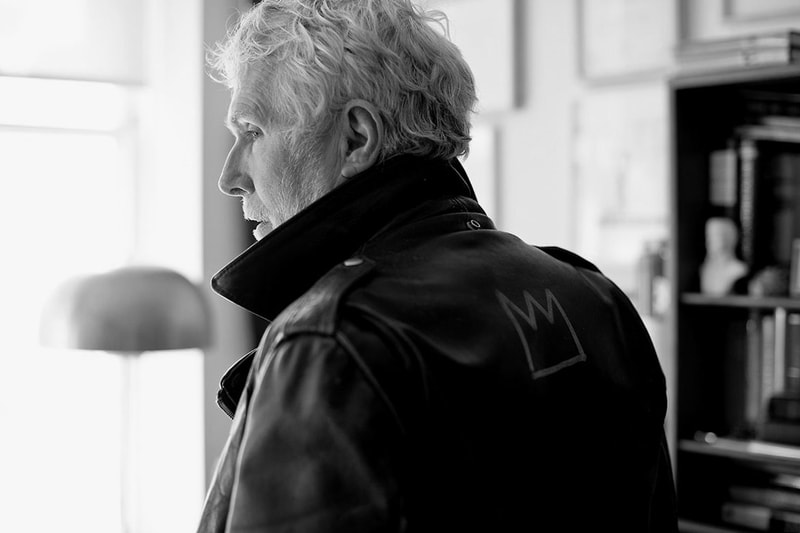 The last cool guy is gone.
Cool, in the beat sense of the word. Restrained. Ethereal. Right there, yet unattainable. Always approachable, but right out the door the minute you snag a seat at the table. It was no coincidence that his column in Interview was called "Glenn O'Brien's BEAT."
"Socialism begins with going out every night." — Glenn O'Brien
Born in Cleveland and educated at Washington DC's illustrious Georgetown University – Glenn O'Brien was the ultimate New Yorker, learning everything from the cobblestone-slicked streets of downtown Manhattan.
A short review of Mr. O'Brien's accomplishments include: Moving to New York in 1970 and immediately befriending Andy Warhol at The Factory; launching Interview for Mr. Warhol and editing the magazine for four years; collaborating on a film (New York Beat aka Downtown 81) with a young artist named Jean-Michel Basquiat; inventing the term "Editor-At-Large" while avoiding his duty as Editor-In-Chief of High Times in a combination of drug-fueled paranoia and laziness; hosting TV Party, the most important public-access cable show of all time; becoming Creative Director for Barneys New York's advertising department; writing a play called DRUGS with friend Cookie Mueller; editing Madonna's SEX book; contributing to ArtForum with a critical advertising column called "Like Art"; dominating the pages of Details and then GQ as The Style Guy; working as Creative Director for Island Records for two years; collaborating with Richard Prince on a book and piece of performance art in which he dressed up as a priest and held confessional; writing brilliant blog posts about the death of New York City's summer hotspot, The Hamptons; launching a new digital TV show — Tea at the Beatrice — while in his 60s, and being very early on Supreme.
"People who are dressing to try and simulate youth… they're not aging gracefully. They're being dragged screaming into maturity." — Glenn O'Brien
A few threads of Mr. O'Brien's personality are woven across all of his endeavors. His aesthetic is defined by wit, elegance and a keen sense of no-bullshit realism. Although often heralded for his sacrosanct sense of style, his pizazz for the English language is something to live in awe of. Take, for example, the manifesto of his public-access TV show, TV PARTY – the "television show that's a cocktail party, but which also is a political party." First published in BOMB magazine in 1981, it includes refrains such as:
"TV PARTY believes that SOCIAL affinity groups will provide the foundation for any effective political action. SOCIAL DREAD is what keeps citizens out of existing political organizations. Existing political organizations such as the political parties do not have the inclination or ability to truly PARTY, indicating the negative character of their functions…" and "GOVERNMENT consists of GOING THROUGH CHANNELS. We can change the government simply by CHANGING THE CHANNEL. CONTINENTAL PROGRAMMING is the enemy of culture, which is always local. A national American culture is as impossible as it is undesirable. The attempt to create such a culture by the CONTINENTAL AND GLOBAL COMMUNICATIONS MONOPOLIES is the last and most reprehensible phase of imperialism, a technique termed 'Global Absorption' by National Security Guru Zbigniew Brezinski. It is responsible for destroying whatever fledgling cultures existed on this continent at the turn of the century. It is responsible for SHOPPING CENTER ARCHITECTURE and TRAFFIC COP as CULTURE HERO."
In the era when Anthony Bourdain can open an Asian night market-inspired yuppie emporium on Manhattan's previously-seedy Pier 57 and Vetements can charge $920 for a Snoop Dogg tee shirt – it can seem hard to believe that mixing and matching high and low cultural artifacts was ever considered disruptive. It was, however, and Mr. O'Brien championed it like few before him (besides, maybe, his mentor Andy Warhol). During one of the few times I met Glenn O'Brien, he went out of his way to call attention to a double-breasted Dries Van Noten jacket that he was donning. "I bought it on Yoox," he confided in me. "On sale. I didn't like the lining so I had it torn out and replaced with a fine cotton jersey." He implored me to touch it. He was courteous, kind and completely unpretentious. Obscure high-fashion haberdashery – lined in reliable soft old tee shirts.
When Glenn died on April 7 th , 2017 – friend and New York Magazine art critic Jerry Saltz declared it "the end of the downtown rainbow."
Mr. O'Brien was a visionary who always stayed true to himself, yet mounted and rode the lumbering behemoth of modern capitalism right to the oasis that quenched his own creative thirst. In the process, he also acquired an excessive amount of Hermés ties. He hosted guests including Chris Stein and Debbie Harry, David Byrne, Mick Jones, Robert Mapplethorpe, Iggy Pop and Jean-Michel Basquiat on his TV show. He defined a scene, but was not a socialite. He wrote plays but was not a thespian. He epitomized style but was not a designer. He reviewed art, but was not a critic. He was the business-minded, art-directing, golden-tongued, sharply-dressed, ever-popular voice of reason and champion of beauty – a New York City legend that men try so hard, with such woebegone results, to be today.
He was Downtown, Grown-Up.
"I remember Nixon's second inauguration. I threw rocks, got tear gassed. I was sure that Nixon would be the last president. Wow, was I early!" — Glenn O'Brien
On the 30th anniversary of his mentor Andy Warhol's final breath, Glenn opined ominously on Instagram:
"Who's opinion will I care about now?"