A$AP Ant on Growing Marino Infantry and Setting His Sights on a Nike SB Collaboration
Plus balancing his rap career and love for skate culture.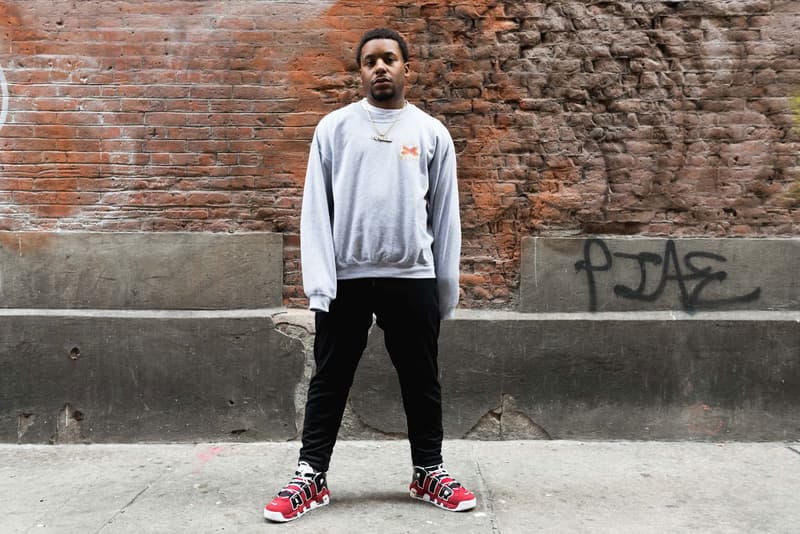 1 of 3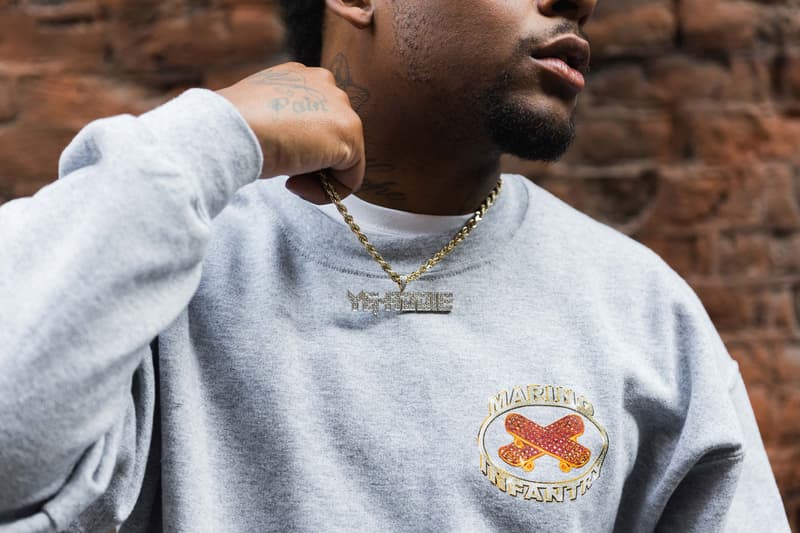 2 of 3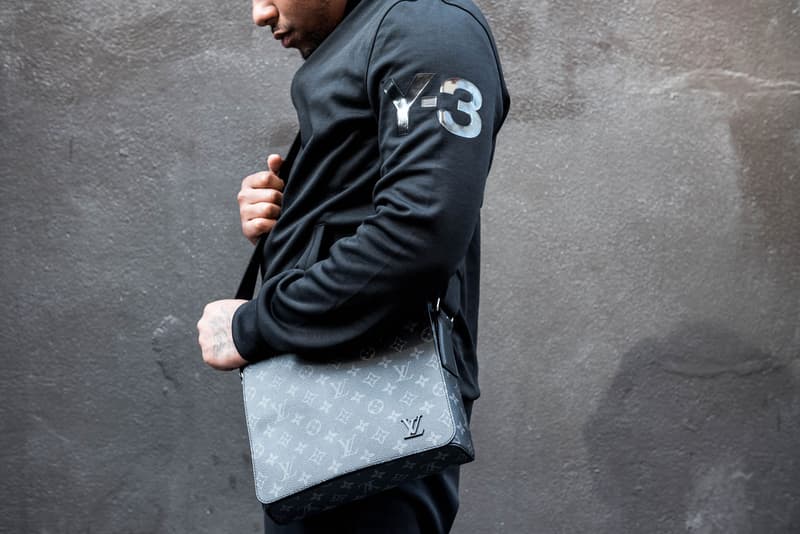 3 of 3
To say skatewear brand Marino Infantry is on the rise is an understatement — in its recent releases that included a VLONE collab and a colorful Easter-themed range, A$AP Ant's burgeoning label sold out these offerings in less than a day. The brand is hardly a new kid on the block as it's been around for about more than 10 years now —  Marino's earlier pieces can be seen in A$AP Rocky's 2011 "Peso" music video, one of Lord Pretty Flacko's earliest rap vids. The journey to now hasn't been smooth for Ant's imprint either. He and a former partner split because of creative differences and the line also had to be put on hiatus. But with anything creative, whether music or fashion, timing is of the essence and the man, also known as YG Addie, revamped Marino Infantry with a more focused vision. "It's all in God's hands now," he says.
As part of A$AP Mob, A$AP Ant is already renowned for his music whether it's with the group or solo endeavors, but his passions extend beyond the mic and stage. A love for skateboarding culture in his youth lead him to start Marino Infantry which was initially called Marino Gang. Besides being inspired by early skate vids, friends who skated, and the general skateboarding community of his neighborhood, Addie was also influenced by Pharrell Williams and the N.E.R.D. artist's ICECREAM brand. The Mob rapper credits Williams for being a pioneer in packaging the worlds of skate, fashion and hip-hop together for the mainstream to digest. His goal for Marino Infantry follows the same blueprint albeit in a more cautious and tactical way. As some of you who pay attention to the streetwear industry might already know, ICECREAM has moved out of the spotlight and its skate team which had Terry Kennedy and Jimmy Gorecki are no longer major players in the world of skateboarding.
We recently sat down with A$AP Ant to talk about Marino Infantry, his music and possible brand collabs down the line. He also gives his insights on the recent Supreme x Louis Vuitton collab and where his brand stands amongst today's more established skatewear labels.
How do you balance music and fashion?
It's crazy, I be forgetting I rap. I was out in Miami for Art Basel and we had this little Cozy Boy/A$AP party and I saw people performin' — plus, I just came from the VLONE pop-up with the Marino release and then it hit me — man I'm a rapper, why am I not performing on that stage right now? But still, when I see myself making money, at the end of the day I still gotta rap. In the music, it's really more all me. With Marino, I got a team of people — web designer, etc. They all do different things.
Earlier on, your brand was named Marino Gang, then you changed it to Marino Infantry. Why the name change?
We had our release party at 3 Great Jones Street (New York) at this store called Memes back when I was 16-17 years old. The success we have now is perfect timing. It's all in God's hands now. With Marino switching names, I switched it because I felt the word "Gang" was over saturated — everybody labeled everything "Gang." One day, I listened to Mobb Deep's Infamy and wanted to use a word along those lines. Then "Infantry" popped up in my mind and that's when it all came together.
The Marino Infantry skate team has riders like Mellamo Curtis, Mason Padilla and Dontae Benjamin. How do you go on about selecting skaters as a non-traditional skatewear brand? What's the process?
I do that all myself. At the end of 2015 was when I was shaping up Marino's skate team. Dontae is from Baltimore so I knew him from a friend — everyone's (team members) basically a friend. All the skate kids have some type of respect for me because they've said "you're adding something fresher to the culture." I've heard concerns that skateboarding is run by old people — "There's no new flavor, no new culture. No one's pushing the envelope." I'd love for my skaters to do X Games and Street League competitions, Red Bull, Mountain Dew. I want Marino Infantry worn doing the X Games. I'm trying to break that barrier.
You mentioned Pharrell Williams's ICECREAM brand and skate team was an inspiration for you.
I've been a fan of ICECREAM and ICECREAM's skate team since I was young. I still got the first pair of ICECREAMs– not the limited edition but the ones that hit the stores. They're a big part of skate culture, especially when it first started and when Pharrell was in the height of streetwear in 2006-2007. I think the brand suffered when Reebok and Pharrell decided to part ways. It's a lesson that you're business has to be right. You can have the clothes and the designs, but if your business ain't right, you can't succeed.
I'm getting lots of orders and sometimes I even have my mom help me send orders out.
Being independent right now is good for you in terms of business then. 
I have a team right now that helps me run this thing. I'm getting lots of orders and sometimes I even have my mom help me send orders out. The only big issue right now is that people be typing the wrong address and Marino shirts come back to me.
How do you feel when people complain about the price point?
I don't really try to make the price too high. Hoodies are only $100 USD now and I'm not really trying to make Marino too much of a luxury skate brand. With the price, I just want it to be a little bit limited — a little bit hard to get. You gotta grind hard to get it. Are you really going to grind for this hoodie? Plus right now I'm working with manufacturers to up the quality of Marino.
How did your line being stocked at NUBIAN in Japan come about? It was the first time your collection was sold in stores out in Japan.
They actually hit me up and said they wanted to carry Marino. My boy came up to me and said "NUBIAN in Japan want to carry your clothes." Plus I been out there when another spot was carrying my Coke and White Bitches merch and my Marino camo merch since like four years ago. So it was just boutiques in-the-know but I wanted to stay true to NUBIAN though because I wanted to make Marino as limited as possible for now.
Supreme is obviously on another level in terms of streetwear today and other brands have flourished and declined. Where does Marino fit into that equation of elite skatewear brands, past and present?
Marino would fit more or less with Stüssy because Stüssy is still super relevant. They're also in boutiques that people never would've thought they'd find in. I honestly want Marino to be in our own space — like not far north of let's say the DC brand. Like a DC/Stüssy, a brand that will always be relevant in the skate community. Rob Dyrdek is one of my idols and I also envision Marino having its Fantasy Factory. Dyrdek is a pioneer and he started Street League and he's a true inspiration for me.
I wouldn't mind Marino at Barneys New York or something like that, but I do still want it to be available at the small skate shops.
Would you want your brand stocked at the local skate shop vs. the high-end retailer? Maybe both?
It's a balance with that. I wouldn't mind Marino at Barneys New York or something like that, but I do still want it to be available at the small skate shops. I was just out in New Orleans and me and my boy checked out a small shop out there and a place like that would be great for Marino. But I'd have my sights at Barneys NYC too.
With wanting to be at Barneys, does that mean you'll evolve from sweats and hoodies and go full cut-and-sew in the future?
I wouldn't want to rush into something like that. With cut-and-sew, I would do like customized hoodies though. I'd do higher quality coaches jackets, beanies, etc. But I don't want to rush into anything just yet. I think we're getting through a moment where everyone wants to be a high fashion brand but it's not that easy though. I would say maybe in three years we'd go full cut-and-sew, but not right now. I want to possibly take the next step to plaids and maybe have some baggy denim for skaters.
Personalities like Metro Boomin', Playboi Carti and even Odell Beckham Jr. have been seen wearing your stuff. How do you feel about the brand getting more love now?
I've been doing Marino since I was 16 and sometimes I feel like "damn, this sh*t is moving too quick for me!" But I realize, this is what's supposed to happen. The time is now! I knew Metro Boomin' way back in the day, he used to send me beats — three or four years now. OBJ was off of the Marino x VLONE. Recently, I seen 2 Chainz with outfits that his stylist got and he had the Marino x VLONE piece too. Plus Lil Yachty wore my stuff too. It's like this though — I will only send select people my clothes. Only people who I will send clothes to are my boy Lucki from Chicago — I love his music — Maxwell Cream, my boy k$upreme and Lil Yachty. That's pretty much it. Lucki is the epitome of what Marino represents. Besides skate-wise, rapper-wise Lucki has his own lane and that's what Marino is.
That's when I really first started collecting sneakers so definitely Nike SB. I have to get to Nike SB. That's the closest thing I could get to Jordan anyways.
Skate and footwear always go together. So in your vision, what would be the ultimate sneaker collaboration for Marino Infantry?
Gotta be Nike SB. I really got into sneakers when Nike SBs were at the height — the SB DUNKLEs, the Pee Wee Hermans, the Marvin the Martian Dunks. That's when I really first started collecting sneakers so definitely Nike SB. I have to get to Nike SB. That's the closest thing I could get to Jordan anyways. All day. Five years ago, I wouldn't think it would be a possibility. But things are building up and I think I'm getting there to make this collab happen.
What's different now compared three to five years ago for something (Nike SB collab) like this to happen?
Honestly, back in the day, you wouldn't imagine VLONE x Nike happening in a year. Something like that would take three years. Now another instance is OFF-WHITE and Moncler. Since everything is pop culture nowadays, brands are starting to realize that they need these tastemaker kids to move forward and function. I honestly want a collaboration with Under Armour too. If Gosha can do the Kappa thing, I want to do a collab with Under Armour.
How about in the luxury designer realm? We've seen Supreme x Louis Vuitton. If Marino Infantry were to collab with a luxury brand, who would it be with?
I haven't really thought about it much but I do like Dior, YSL and Gucci. To be a little different, I was about to say Acne too, lowkey. I love how Acne sweatshirts feel and I can definitely imagine a nice Marino print on a grey Acne T-shirt.
On the music front, who in the A$AP Mob are you closest to and what are some future plans for your music?
I don't want to cross brand Marino with my rap career so those are two different things. I just want to do more music and possibly re-release my merchandise. Be on the lookout for Cozy Tapes 2 and do more traveling and performing. Newer content. As for the Mob, I'm closest to Twelvyy. We just had a clothing collaboration recently, his brand is called Last Year Being Broke. Me and Twelvyy got mad music together.
We all know the Mob will always have love for Yams. If Yams were around today, how do you think he would respond to your music and fashion career now?
He'd be loving it. He be like, "Bro, you doing your thing. I'm f*cking with it!" Yams was the first one to believe in Marino and he's the reason why I'm A$AP. I met Yams and Rocky at a 40 Oz Bounce in Washington Heights and it was one of the first to get shut down like that before it got political. I was 16 years old and Rocky was a rapper and I was an aspiring kid who a clothing brand and we wanted to cross-brand the music and the clothing. I came back up here for a summer when "Purple Swag" came out and that just took off. Respect to Flacko too because I did a freestyle and he was just like, "You should rap." So without him encouraging me to be a rapper, I wouldn't have really done the music thing, so I always got love for them.
So what's in the future for Marino Infantry?
Marino brand is growing, slowly though. I just want to use better fabrics and be in a position where I can fly all my skaters out to Texas, maybe and do a guerrilla Marino skate video. I want to do collection books. I just want kids who skate to look at Marino Infantry and one day say Marino changed my life.
Marino Infantry will be dropping new products soon. Stay tuned as we announce the lookbook and release in the coming week.