What Do Actual Skateboarders Think About the Alexander Wang x adidas Originals Skate Shoe?
"We need to define 'skate shoe' and 'skate style.'"
1 of 3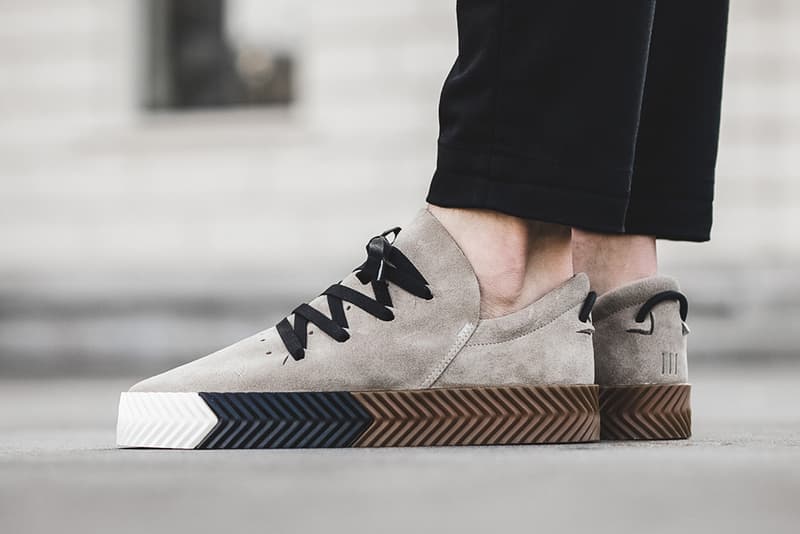 2 of 3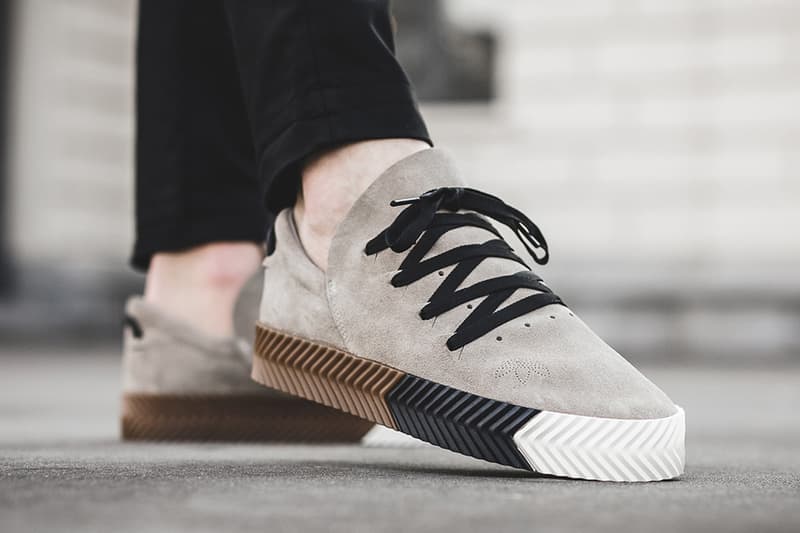 3 of 3
From Riccardo Tisci's love affair with basketball to Raf Simons and Fred Perry applying tennis-related sensibilities into their collaborative collection, high-end luxury fashion and sportswear styling continue to converge with one another creating a dynamic flare all its own. Not new by any stretch of the imagination, the relationship, though complex, looks only to strengthen with time. As both realms continue to evolve, new frontiers emerge with other arenas looking to unify.
While the world still reels from the collaborative juggernaut that is Supreme x Louis Vuitton, Alexander Wang is but the latest design maverick to try his hand at skate culture appropriation. Having tinkered with this specific parallel before, the NYC-based designer applied skate-related motifs such as exaggerated silhouettes, wallet chains, half-cab-styled runners and beanies all throughout his 2017 spring/summer collection.
Notoriously picky, some superstitious even, skateboarders carry a reputation of standing pat with what they choose to use. From selecting hi-tops or low-tops to cupsole vs. vulcanized and board sticker placement to brand preference, it all comes down to individual rider preference. So, when news first broke of the newly dropped Alexander Wang x adidas Originals Skate Shoe Collection, we wanted the industry inside to what actual skateboarders thought of the lineup. With that said, we turned to Vans Hong Kong and 8FIVE2 rider, also co-owner of Victoria Skateboards Piet Guilfoyle, established skater Jimmy "Sweatpants" Gorecki (owner of Jamestown Skate Products and formerly of Zoo York and Pharrell's Ice Cream skate team), Mark Nardelli (founder of longstanding NYC imprint 5Boro), and last but not least skate bible Jenkem Magazine editor Alexis Castro.
1 of 3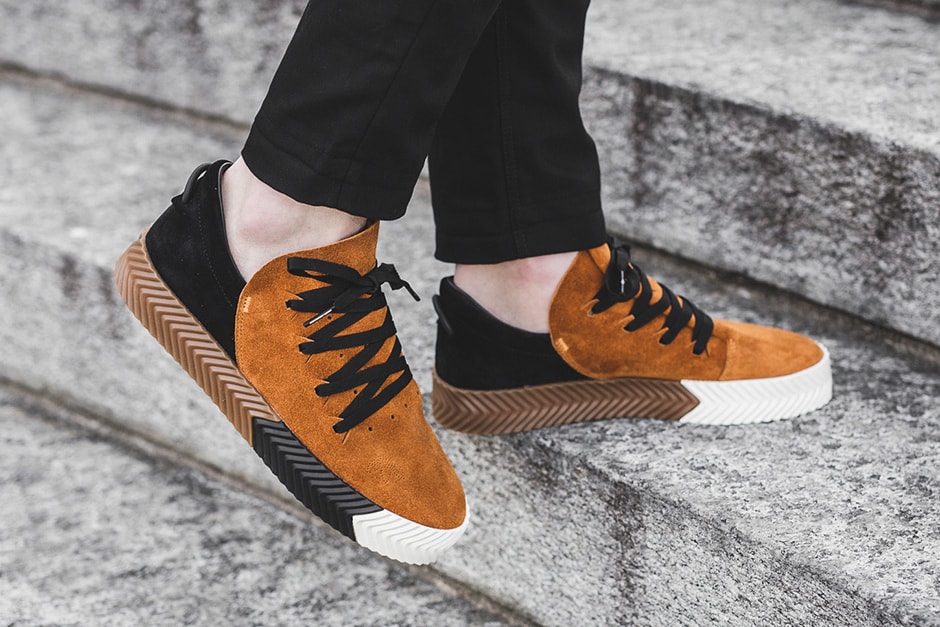 2 of 3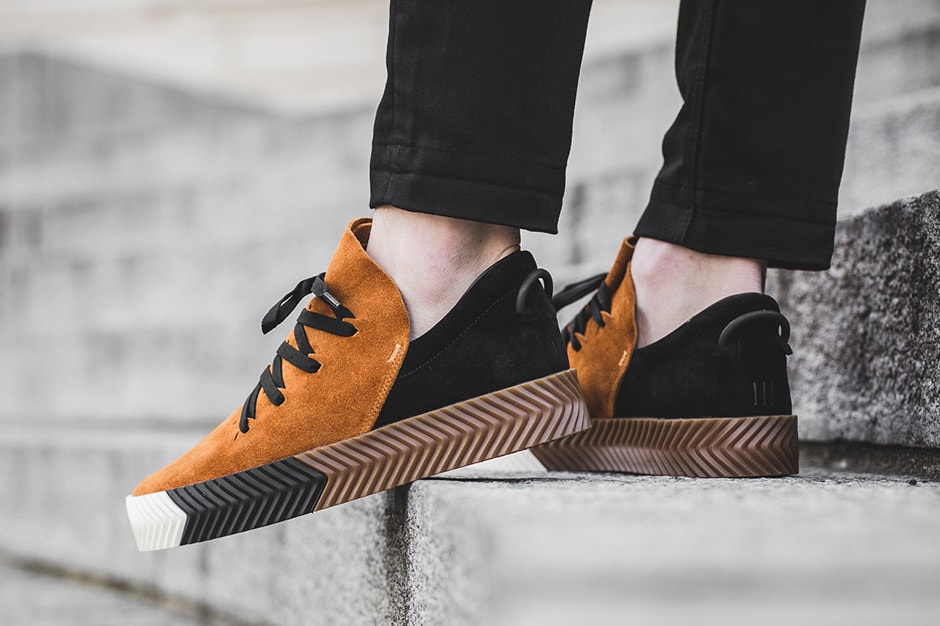 3 of 3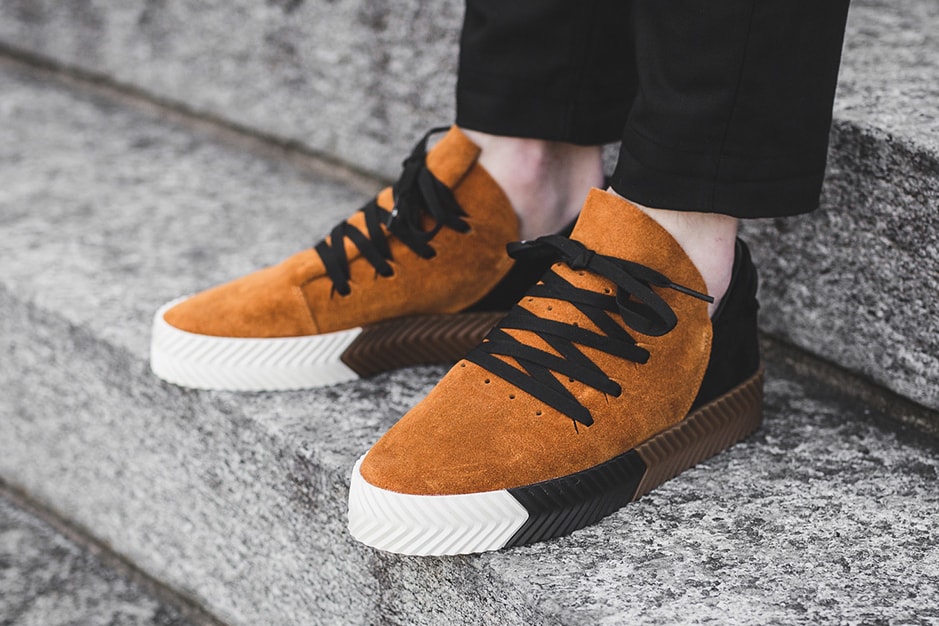 What's your first impression of the Alexander Wang x adidas Originals Skate shoe?
Piet Guilfoyle (Vans/8FIVE2): We need to define 'skate shoe' and 'skate style' to avoid the term getting thrown around like this. Also, more importantly, doesn't adidas have a legit skate division backed by some of the world's finest athletes? I wonder how they feel about this and if they had any say in it, or if they even knew it was going to be labeled a skate-influenced shoe. As a first impression I asked myself, "I wonder which skate shops these will be available at?"
Jimmy "Sweatpants" Gorecki (Zoo York/Ice Cream): Beautiful shoe, unfortunately it doesn't look like it has a single skatable component.
Mark Nardelli (5BORO NYC): Uhmm why would they go out of their way to call it a skate shoe?
Alexis Castro (Jenkem Magazine): I'm not the biggest fan of the design overall, but there are some little details that I think are somewhat cool. The ripple-y outsole is a cool touch and for skating it would probably add some durability and life to the shoe. Maybe it's a bit over-exaggerated, but it works. I also like that it's a different approach to a slip-on shoe or a shoe with an inner boot system, but, I'd have to be convinced of its stability and functionality as a "skate shoe". It seems like a shoe that would be hard for me to wear as an everyday go-to.
Do these shoes remind you of any past models you're familiar with?
Piet Guilfoyle: It kind of looks like a Supra Cuba with that one piece vamp and laces. But that's about it.
Jimmy "Sweatpants" Gorecki: Nike's earlier interpretations of a skate shoe. Pre SB.
Mark Nardelli: Maybe Airwalks from back in the day with lace savers, but they're not trying to save the laces here.
Alexis Castro: It kind of reminds me of the Supra Cuba just with a few more lace loops.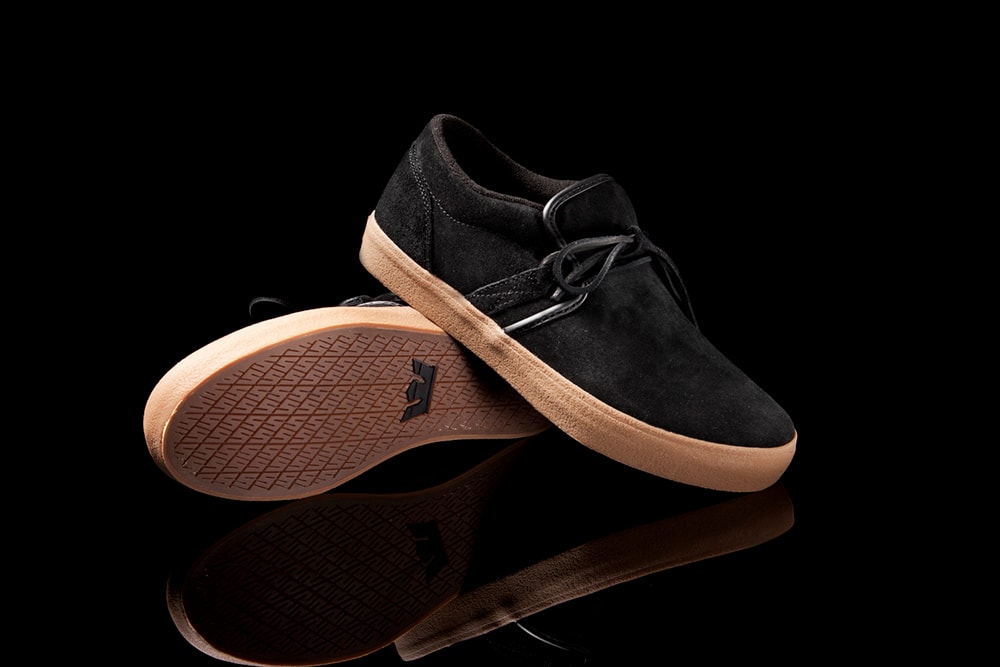 Do you think the shoe's build is functional to skateboarding?
Piet Guilfoyle: Probably not, it looks like its got a pretty tall sole — like a platform shoe. The herringbone grip pattern on the sole will most likely make it harder to skate in. The upper looks really soft and flimsy, while the sole looks like its very rigid, which is the opposite of what you need in a skate shoe. Perfect for rolling your ankles though. These shoes have laces and a funky little heel pull tab to help you put them on. That's a plus!
Jimmy "Sweatpants" Gorecki: Naw. Outsole is similar to that of a creeper and the lace holes are far too low on the exterior side of the foot that all tricks are controlled from. Will definitely rip through a lot of laces.
Mark Nardelli: There are some elements. For example, the front of the shoe making its way towards the heel is all one piece of material. That obnoxious tread though is making me feel like they should be more for ravers. Do ravers still exist?
Alexis Castro: To be fully honest, no. The ankle cutout seems too low to offer any sort of protection or stability against a rolled ankle or a board coming around and smacking you. The lace loops are placed in such a way that the laces would probably rip after just a few ollie's. I'd have to touch the suede upper, but it seems like it's really thin and would rip after a few sessions. The details that I could see being beneficial for skating would be the durability of the outsole and the fact that there's no tongue that will shift around while you're pushing.
Do you think high fashion's appropriation of skate culture promotes or defames the sport? Why?
Piet Guilfoyle: Its a double-edged sword. Most of the times (like this case for example) it can turn out really corny, which obviously sucks to see. Who knows to what extent examples like this shits on the essence and business of skateboarding. But, I like to focus on the positives. It's great that skateboarding can excite people so much and be a source of inspiration for fashion. Nothing has changed really, skateboarding has always been developing its own tastes and will continue to do so. People can believe whatever they want about anything. If they believe this is a skate shoe or that buying clothing and accessories from skate brands makes them cool or whatever, that helps my friends, family and peers keep a job doing what they love. So fuck yeah, don't stop buying our shit.
Jimmy "Sweatpants" Gorecki: The world understands now skateboarding and skateboarders are the coolest. We're giving life support to high fashion brands now.
Mark Nardelli: I like the mingling and crossover of skateboarding to fashion as is music to the arts. That's sick.
Alexis Castro: I think it's back and forth for me. If it wasn't for Dover Street Market, some of my favorite brands like Palace or Bianca Chandon might not be as successful as they are today, but at the same time, I hate to hear Thrasher hoodies or HUF socks be called "off-duty model staples." I think if anyone in fashion is trying to incorporate skating into their campaigns they should at least try to reach out to people who are actively in the culture, or they're going to make both themselves and skateboarding look bad. If you're a big house like Dior, you should be willing to spend some extra money to make sure the layout of your "skate park runway" is laid out in a way that's actually skatable and not just a neon death trap.
Would you wear them to skate?
Piet Guilfoyle: Not a chance.
Jimmy "Sweatpants" Gorecki: Defiantly.
Mark Nardelli: Yes. Hahah I mean no. Not a style or design that I would want to see myself skating in.
Alexis Castro: Maybe once or until they rip, just to try them out. I like to skate in a bunch of different shoes, which is probably not the norm. Skaters tend to stick to what they know and what they feel works for them. I'm more of a general sneakerhead though. So maybe one day I'll skate in adidas Sambas, the next I'll skate in Jordan 1s, then Vans Authentics, then HUF Sutters… For me, it really all depends on what I think will look good or what will work for the kind of stuff I'll be skating that day.
What to Read Next
An accompanying dark red pair will also be dropping.
---
The Round Two frontman 5-0 grinds, busts flip tricks and more in the new silhouette.
---
The FW19 range, dubbed "Club Leisure," features kicks, outerwear, apparel and bags.
---
---
Drop 2 arriving this week.
---
Plus the 2017 spring tee offerings.
---
The gangland drama gets a new recruit.
---
---
---
Built on diverse visual language.
---
But the previous supplier is skeptical that Apple will be able to do so without breaching intellectual property laws.
---
---
More ▾
Adblock Detected.
We charge advertisers instead of our readers. If you enjoy our content, please add us to your adblocker's whitelist. We'd really appreciated it.