Pierre-Emerick Aubameyang Talks Usain Bolt, Tough Defenders and DMX
The Borussia Dortmund's star reveals how he's become one of the world's top strikers.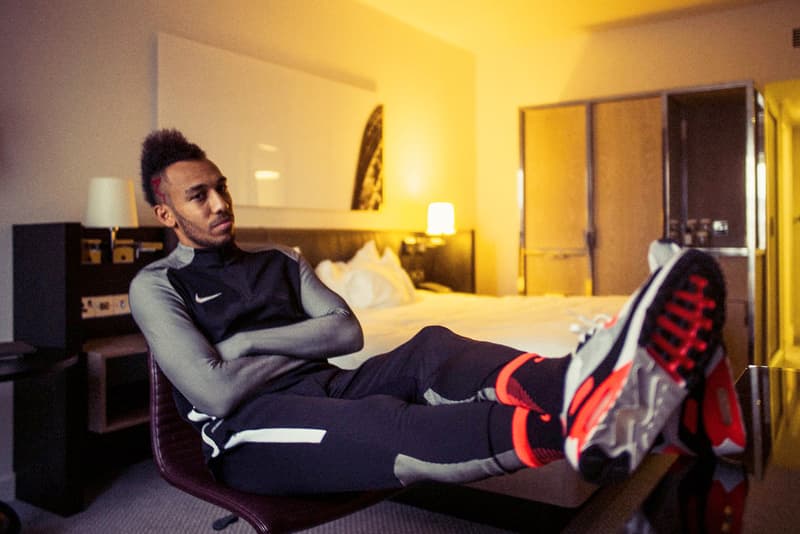 One of the world's deadliest strikers, Pierre-Emerick Aubameyang, has bagged 29 goals for Borussia Dortmund in all competitions so far this season — including a hat-trick in last week's Champions League clash — and his red-hot form has placed him on the wish list of Europe's elite clubs. The 2015 African Player of the Year is renowned for his pace and ability to punish teams on the break, and with Dortmund going strong in both the Bundesliga and the Champions League there's every possibility of picking up some silverware before the season ends.
Aubameyang was recently in London as part of Nike's Strike Night event — which saw him compete against the likes of Marcus Rashford, Christan Benteke, Mauro Icardi and eventual winner, Andre Silva, for the title of best finisher — to promote the release of the Nike Hypervenom 3. Ahead of the event, the striker spoke to us about what it takes to compete at the highest level.
What are the skills it takes to become a top striker?
The only thing I can tell you as a striker is the importance of putting in work in front of the goal. At the end of every training session, I take a bunch of footballs and a goalkeeper and I put in extra time practicing shooting. When I train, I also work a lot on my sprints and strengthening my legs.
Speaking of sprints, do you still plan to challenge Usain Bolt?
We will see — they say he will come to Dortmund soon and I hope to run against him. I know I will lose but I don't care; I have to try!
Is there a goal that stands out among the many you've scored?
Last year against Tottenham Hotspur in the Europa League I scored a great goal — I turned and shot and it felt like it happened in slow motion.
Who's been the toughest defender you've played against?
Bayern Munich's Jerome Boateng and Thiago Silva of Paris Saint Germain have been the hardest players I've played against. They are both fast as well as strong, so they don't make it easy!
What do you pack for an away day?
Whether it's on holiday or after training, music is always the most important thing for me.
What are you listening to now?
Right now I'm listening to the French artist MHD who mixes rap with Afrobeat. I like him a lot and sometimes catch up with him — he's a good guy. For training I like to listen to Michael Jackson or DMX — they have two different energies that work for me.
Who were the footballers you admired when you were younger?
The Brazilian striker Ronaldo had everything — he was fast and scored a lot of goals and I think he really changed something in football during his career. I was watching him when I was young and also had the chance to train with him while I was at AC Milan — it was a really special experience.