Raf Simons' Calvin Klein Headquarters Will Be Designed by Modern Artist Sterling Ruby
The close friends continue to marry fashion with art.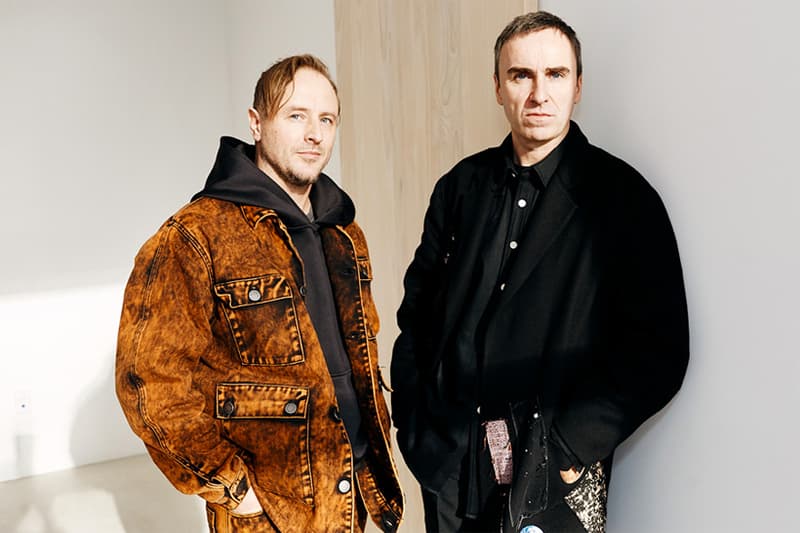 Renowned fashion designer Raf Simons and art world's bad boy Sterling Ruby have been friends for quite a while and have collaborated on various projects throughout their careers. In 2008, Ruby designed Simons' Tokyo store interior; in 2009, Simons used Ruby's bleached denim to create a collection of jeans and jackets; in 2012, Ruby's paintings appeared on Simons' debut Dior couture show collection; and in 2014 the duo sealed the deal by collaborating on a Raf Simons Sterling Ruby collection of jackets inspired by Ruby's patriotic collages. This year marks the beginning of Simons' reign at Calvin Klein, and the Belgian designer is working with the American artist once again to design the interior of the CK headquarters.
Sterling Ruby described the interior design in an interview with Surface magazine:
"It's a collage-oriented mix of hand-painted walls, poured concrete floors, pedestals and risers, fabricated tables, and one component I brought in as a historical nod to America: Bertoia chairs [...] This is essentially Raf's and my version of what this big American fashion house should look like now. I think it's a vision of youth, of reconfiguring American fashion but also American corporate art and corporate culture—and, in a way, sex."
As for Raf, here's what he had to say:
"I had the feeling that Calvin became more and more fragmented. We're putting these ingredients back together: New York City. America. Calvin Klein. Sterling and I have a lot in common when it comes to thinking about clothes, space, environment, and attitude, so I thought it could be amazing to work with him on different spaces that redefine how I see the company evolving."
You can read the full article here.