Alexander Wang Talks About the Color Black, Balenciaga and Amazon
"I think everyone has their own interpretation about whether black feels inclusive or exclusive."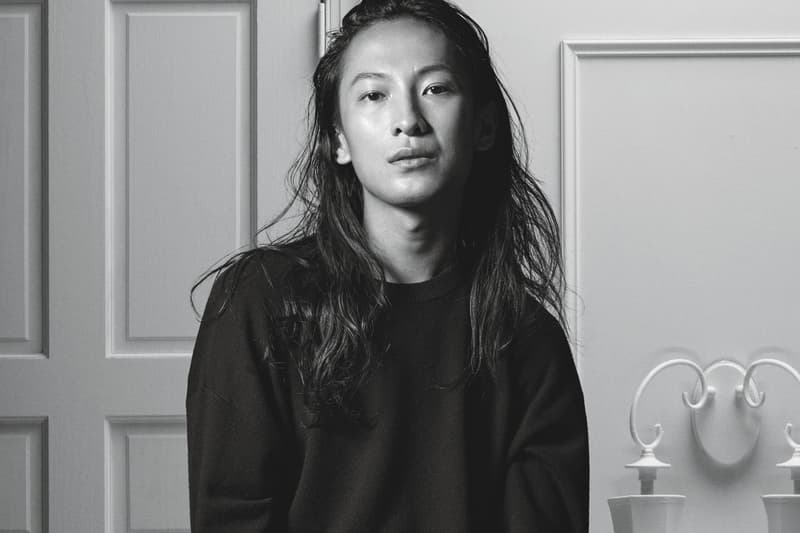 Alexander Wang is having a very busy 2017. Fresh off news of another adidas Originals collab, a fresh 2017 spring lookbook, and a "No After Party" capsule, Thom Bettridge from SSENSE sat down with Wang. Talking about the color black, his inspirations and future plans, the tech giant Amazon interestingly comes up in the conversation. Wang also describes his take on the color black, a popular choice for apparel internationally. Check out some select excerpts below and read the full interview here.
On the color black.

Obviously, the idea of an all-black uniform is not something I invented, but rather something that a lot of designers have had in their language that has a lot of different cultural meanings. For me, I don't know if it's about comfort or attitude, but I'm naturally attracted to something with a bit of an edge, or something that feels dangerous or ominous. Even in my lifestyle.

What feels dangerous to you in your personal life?

Nightlife. Maybe that's why I gravitate towards the night. Everything always seems a bit more mysterious, a little bit more dangerous at night. It triggers my curiosity. And maybe that's why I like going out and discovering neat parties, and characters, and people. A lot more happens at night than it does during the day.

What are your thoughts on what's going on at Balenciaga now?

I think Demna [Gvasalia] is doing an excellent job. It's so funny, I actually met Demna before he took on that job. He was someone I was meeting with to hire as one of my design directors. And I remember he was super talented. I loved his look, and he had a super fresh perspective. We were always very friendly, and when I found out he got the job I was really excited for him and I texted him. I was supposed to go to the show, but I didn't end up being able to make it to Paris. He's doing a great job, one that I feel he's really enjoying. I had a great time there as well.

On how the color black connects different parts of Wang's career.

For me, coming from California, there's this side of me that grew up in sweats, t-shirts, and very banal everyday athletic wear. So I guess when I moved to New York, I wanted to take that and elevate it. If I wanted to wear a sweatshirt, I wanted to wear the black version of that to kind of dress it up. There's not some huge, cerebral idea behind it, and I think everyone has their own interpretation about whether black feels inclusive or exclusive. I actually think it's something stereotypically New York. The New Yorker wears all black. But for me, the question was: How do I take these things I like and put them through a filter that puts it in a category of its own.

On luxury.

This idea of "luxury" always stifles me. And it's not something I can necessarily associate with. I think more in terms of: Does it look well-made? Does it look expensive? Does it look high-quality? That's my checklist as opposed to: Does it look like luxury? Even when I started working at Balenciaga, being able to play with a different price point allowed me to really push the creative process and the layers of craftsmanship to a different level. But when someone asks me what the most "luxurious" thing is, it doesn't have to be the most expensive thing. It could also be a t-shirt that you got at a concert that was super rare and no one else has.

On the future.

I'm definitely interested in building more of a lifestyle brand. I've always remarked that Ralph Lauren is someone I feel incredibly inspired by because it's not just clothes, shoes, bags, etc. You enter his world, and you can see it and you can feel it without even a logo. And that's something. We can be a brand that's known beyond a bag or a shoe or a collection. As we move forward we know, especially in the fashion industry, we are at a bit of a crossroads where we're looking to our left and our right, and thinking, "What's going to be the next big thing?" No one really needs anything anymore. And if you need something you go to H&M, or Zara, or Uniqlo—you know what I mean? A big chunk of this industry has been taken up by these few big players. So what you create has to be very specific and very special and very unique—whether it's very "luxurious" quote unquote, or niche. You can't just be a brand that services everything to everyone anymore. I think that's really put a lot of designers and brands into this kind of holding place about where they want to go next. We still are primarily wholesale-driven, which is important in terms of positioning and having a critical mass of people being able to see and experience your clothes. Obviously, the big opportunity is digital. I feel that today there still is not a single lifestyle brand that operates like a tech company. There's a lot of fashion brands doing technical things, but actually operating like a tech company is something very different. Having the functionality, the speed, and the service. We now have a huge opportunity to really experiment in that space.

What does it mean to be a lifestyle brand that operates like a tech company?

It's mostly the back-end, the infrastructure, the platforming, the logistics. If you think about what Amazon is—yes, they have fashion brands that they sell—but imagine a creative director today for a brand like Amazon. What would that look like? Obviously, that's happening right now in a lot of other spaces, like beauty. But is there a lifestyle brand that's selling a whole range of things direct-to-consumer like that? So, that's where my focus is.

If Amazon offered you a job as its creative director, would you take it?

No comment.