No Vacancy Inn: Stories in Transit
Tremaine Emory and Acyde Odunlami talk to HYPEBEAST Magazine about creating a club culture in the Internet Age.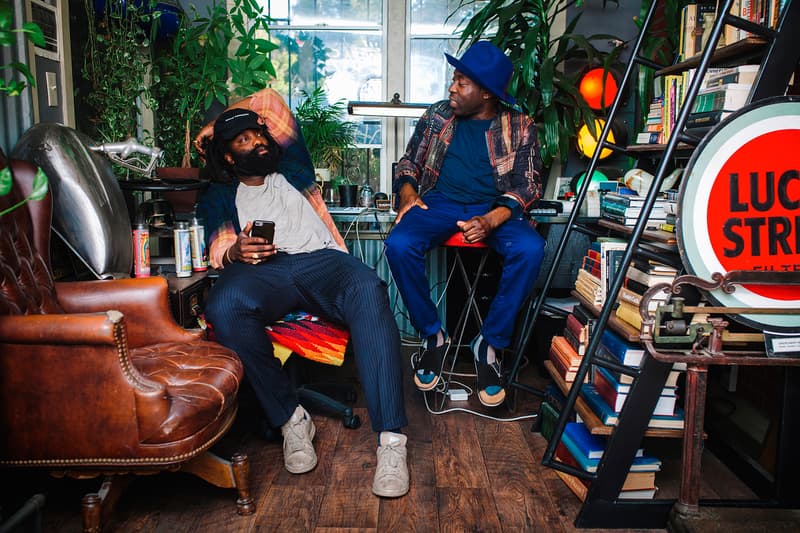 "No Vacancy Inn is an interchangeable place," stressed Tremaine Emory as he played with his dreads flowing from beneath his Moran Bondaroff cap. He tilted back in his chair in a disheveled room at the Bloomsbury Hotel – a place frequented by London tourists, and on this occasion, the setting of another Vacancy Inn transit session. Emory was joined by his partner, Acyde Odunlami. "It's not even about whether the conversations make it to SoundCloud – No Vacancy Inn could happen anywhere," chimed Acyde in a thick London accent, who was equally well-dressed with a No Vacancy Inn tee to match a vintage silk button-up. There's no doubt the two have a penchant for fashion. Recognizable logos flit from various hems, yet their ensembles are less about bragging than about paying tribute to subcultures and their own creative projects. Everything is considered.
"I was at my friend Rocky's place with A$AP Nast, Alex 'Gucci' Goldberg and Q Blood. It was like a clubhouse in which we were discussing how we could bring New York back. That's No Vacancy Inn: it was at Rocky's apartment, right now it's in Bloomsbury; tonight it's a party at the Ace Hotel." Tremaine took a second to pause as he took in the surroundings he's all too familiar with. "That's why I call it a hotel with wheels. It's not just a slogan, it's a lifestyle – always being in transit."
Established by the two friends from opposite sides of the pond, No Vacancy Inn was launched after the pair had hosted various club nights and radio shows together. Bonding over a shared affinity for cigarillo, Miles Davis and Yves Saint Laurent, the duo became the "go-to guys" for the city's most sought-after parties, which took place in East London dive bars and SoHo green rooms. "Club culture is all that No Vacancy is about. When Tremaine and I grew up, clubs were the only places where you would hear a record before the Internet Age. That's how I met all the Supreme kids in the '90s. I didn't meet them by emails or on Instagram. Club aren't just clubs, they are social places where the hot new rapper or the hot new designer can meet," reminisced Acyde.
It's not just a slogan, it's a lifestyle – always being in transit."
As strong believers of creating rather than just observing, the duo's roles as nightlife impresarios have sprouted other creative offshoots. With the aim to inspire as they too have been by cultural manuals like The Face and i-D magazine, or cultural meccas like London's BlueNote and New York's Union, No Vacancy Inn is a modern-age adaptation of the duo's influences and they're not rushing anything. "Money has never been the forefront of anything I do," explained Tremaine. "It's an important aspect to live in the world but there's also my dignity. I always play the long game." Despite their network of hip-hop stars and A-list creatives, it seems that fame is low on their agenda. "Success and fame don't come overnight, and you shouldn't be in a hurry to try to make yourself something, because it goes faster than it comes." Acyde nodded in agreement, "I know a lot of famous people and they're not any happier than me. It's even more important these days to learn from others, take the time to study a craft, and walk the walk; the rest will come in due course."
The collective wisdom and genuineness has garnered support from pivotal platforms including a T-shirt release with Dover Street Market, a pop-up with Tom Sachs 'Boombox Retrospective' at the Brooklyn Museum, a radio show series with Know Wave, and parties on Boiler Room with the likes of Virgil Abloh, Heron Preston and Theophilus London. Flirting between online and offline mediums, No Vacancy merges physical cornerstones with the digital world in its podcast series. "We're part of a generation of people living on the Internet. Social network is not social: going to parties and building on a vibe is social," opined Tremaine. In an era when conversations are often bypassed and physical experiences are replaced by fleeting digital snapshots, No Vacancy Inn offers a perspective that make us pause and listen.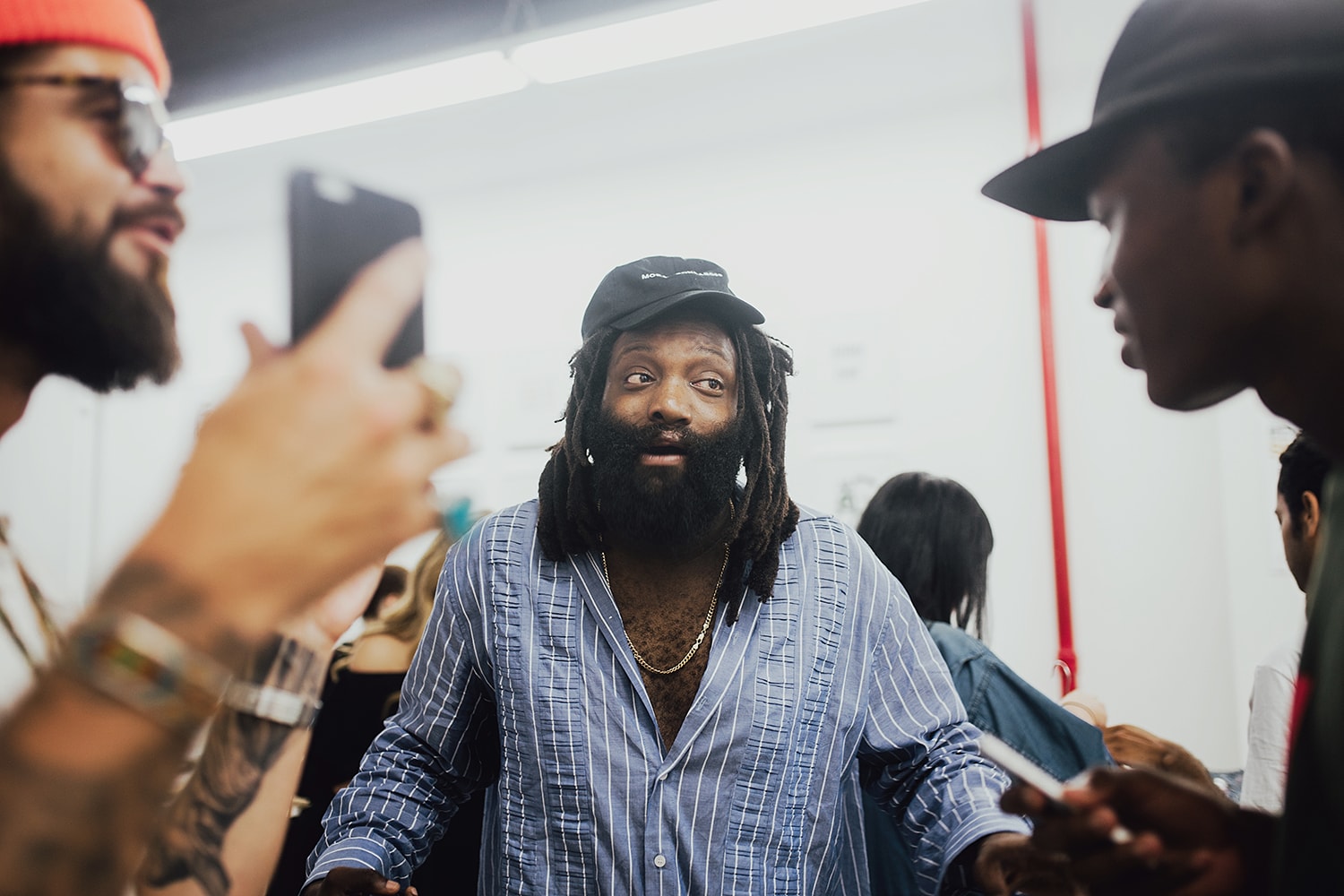 How would you describe No Vacancy Inn to the onlooker?
Tremaine: No Vacancy Inn is an ethereal hotel. Think like the Hotel Chelsea in the '70s and '80s, on wheels. Hotel Chelsea has a cast of characters with some mainstays; me and Acyde are the mainstays. Then you have people who live in and out of the hotel, like Virgil Abloh or Fraser Cooke. Fraser made a mix for us, and in that sense stayed at the No Vacancy Inn. We also did mixes with Tom Sachs and Brodinsky. So it's not all about me and Acyde. It's about a community of people who intercept and make things happen.
How did you come up with this metaphor?
Tremaine: Hotels and nightlife – a lot of creative things come out of it. Like Andy Warhol's Factory, or Rick Rubin and Russell Simmons in their NYU dorm room. That's a type of hotel, they created Def Jam out of there. Just two or more people meeting and figuring things out. This is what happens in a hotel. We're in a hotel room now. No Vacancy Inn is a way to find meaning in a transit life: in each session we let people connect. It's about community building.
Could you explain the transformation from parties to radio? How do both coexist in a way that makes sense to the brand?
Acyde: I have an obsession with not being a spectator of culture. For example, you go shopping and you get upset because you can't find a zip-up fleece. You can give up, go out of your way to find a thrift shop that has it, or make it yourself. You are no longer a person who just watches, you're participating. For me, being a music person, having grown up in club culture with the older guys in the '80s and '90s, we would just make things happen. I have always wanted to do that naturally, to instigate rather than just party.
Tremaine: Inadvertently, that became what we do. Rather than just throwing club nights, our events became social experiments, presentations and focus groups. That moved on to Know Wave, and we began to ask how we could take it further. There were only 80 people in the room one evening when we hosted a listening party for Kanye. How could we present that to 8,000 kids around the world? Know Wave was a really good start, and we moved on to No Vacancy Inn. Surprisingly, there isn't a lot of clear documentation of the people behind what's going on in culture.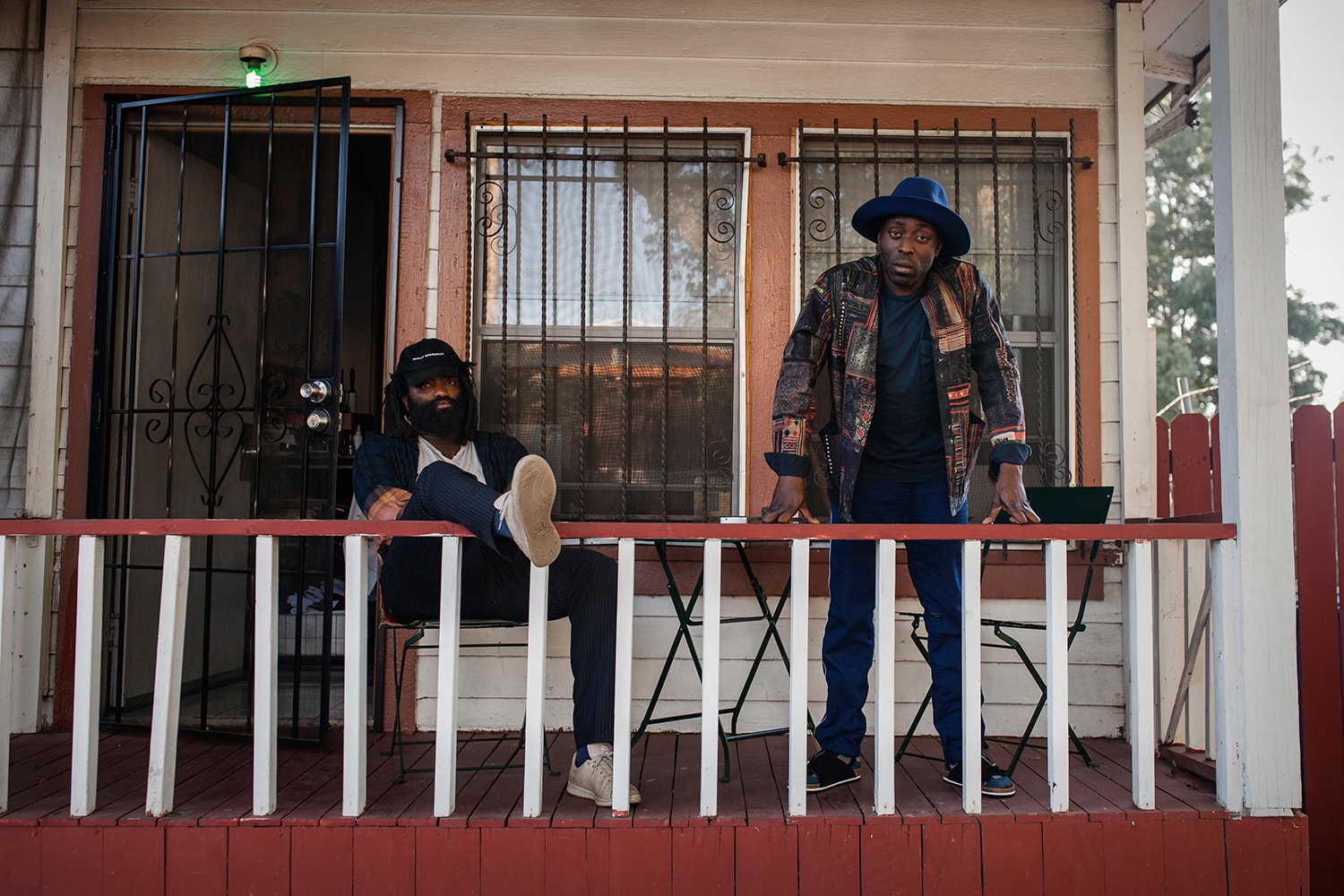 In the digital age, why is it even more important now to connect in real life?
Acyde: When we interview Luka Sabbat, Joey Badass and Dev Hynes in Palm Springs or the OG International Stussy Tribe guys in Tokyo, we really want to talk and get deeper than what's often perceived via photos on someone's Instagram. You can tweet 124 characters, but on No Vacancy Inn we can touch on a number of topics. We don't write down questions for our interviews – it's just real conversation.
With an emphasis on experience and inspiration via physical interaction, what mainstays paved the way for you guys?
Tremaine: Kids ask me crazy fucking questions, like "how do you get Supreme to follow you on Instagram because they only follow 70 people?" First of all, if you're focused on who Supreme follows, you're crazy; but the reason why they do is because I hung out at Union every day. I met my boy Ricky Siaz (who was the designer at Supreme at the time) on his first day in New York. I used to buy Angelo Baque's shirts from Union so I have known him since day one. My boy used to date Shaniqwa Jarvis, who is Angelo's best friend. I remember Mary Ann who ran Union put me up for a job for Stussy, but my schedule kept conflicting so I ended up getting a job at Marc Jacobs. These are all real friendships and interactions that make you. Kids have to find their Union or their Blue Note or wherever they cut their teeth, hang out there as much as they can, and build with people. Be a good person and shit will start to happen if you live long enough and work hard enough.
Are you trying to bridge the gap between high culture and subculture?
Tremaine: You could say that. An example is Tom Sachs. Neither Acyde nor I were famous, but Tom reached out to us to collaborate on the Bodega. It's like an outfit: you might pair your YSL jacket with beat up Levi's if you have the means, or you might have a beat-up Levi's jacket that might look better than a YSL jacket. It's about not getting caught up in titles, and paying attention to characteristics.
Acyde: Everyone we talked to or we tried to present through are people who have achieved a certain level. If you want to play the game, you have to know why you are talking to them. Even a 19-year-old like Luka Sabbat is advanced in his knowledge of fashion because he was born into it. His dad was a tailor and his mom worked for John Galliano. In 10 years' time he'll be above everybody else: he's had a head start. Lono is another great example. He founded Foxy Brown before Puffy took her. He was putting on parties with Diddy and Andre Arroyo in New York. He took Stussy to Japan, and was there at the birth of Chicago house. For anyone who has got a bit of heart and feel like they should be relevant, know your level and just keep moving. Get busy.
This story was featured as part of HYPEBEAST Magazine Issue 16: The Projection Issue. Find out more online here.