Meet Yung Hurn, Vetements's Favorite Austrian Internet Rapper
"I personally just hate when German-speaking people rap in English. It's not authentic."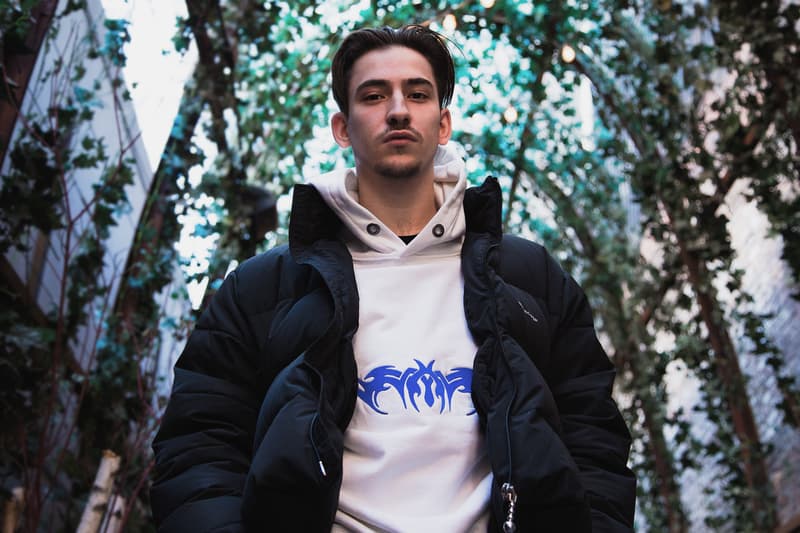 Renowned for its illustrious fine art landscape, opera theaters and classical music luminaries, Vienna, Austria isn't the first place you think of when it comes to counter-cultural Internet artists. Spawned in the depths of YouTube, Austrian rap sensation Yung Hurn is one the most eccentric stars to come out of the German-speaking country in recent memory.
Marked by self-ironic lyrics, spacey production and genre-shifting style, Hurn, now a Berlin resident, has amassed a substantial following spanning both URL and IRL, pinning him as the region's most polarizing and influential millennial voices.
During a brief visit in New York City, we caught up with Yung Hurn to hear more about Austria's fledgling rap scene, why he chooses to only rap in German and how he came to perform at Vetements's Spring/Summer 2018 presentation during Paris Fashion Week.
When and how did you first start rapping?
Some years ago I was just fooling around and free styling over some beats with a homie. After a while I started to upload songs on Soundcloud and somehow more and more people kept listening to my music.
Who are some of your favorite rap musicians, both contemporary and old?
I like a lot of artists but at the moment I listen to a lot Three 6 Mafia and old Outkast.
How would you describe Austria's rap scene? 
Some artists are really special and have unique style that you would not find anywhere else. But it's really underground. The ones who actually earn good money with music live in Germany.
In an effort to reach a larger audience, many international artists will start releasing songs in English. You stated that you don't plan on doing that – can you explain why?
I personally just hate when German-speaking people rap in English. It's not authentic.
You have a pretty unique sense of fashion. How would you describe it? What are some of your favorite brands right now?
My all time favourite brand is Wendy & Jim from Vienna.
You've caught the attention of a few big names in the fashion industry lately — 032c, Demna Gvasalia, HYPEBEAST. How did your encounter with Demna happen?
Vetements reached out at me and said that they wanted to work together on their show, so Demna just invited me to they're new office in Zürich and a month later I played with my Band (Love Hotel Band) in Paris at his show.
Do you see yourself becoming more involved with fashion?
I think so, yes.
What big career goals do you have for 2018?
I just want to see the people around me happy.
For more interviews on international rap stars, check out our feature on Korean artist BewhY.