Tel Aviv Builds Tallest Lego Tower In Memory of an Eight-Year-Old Boy
A record-breaking group effort.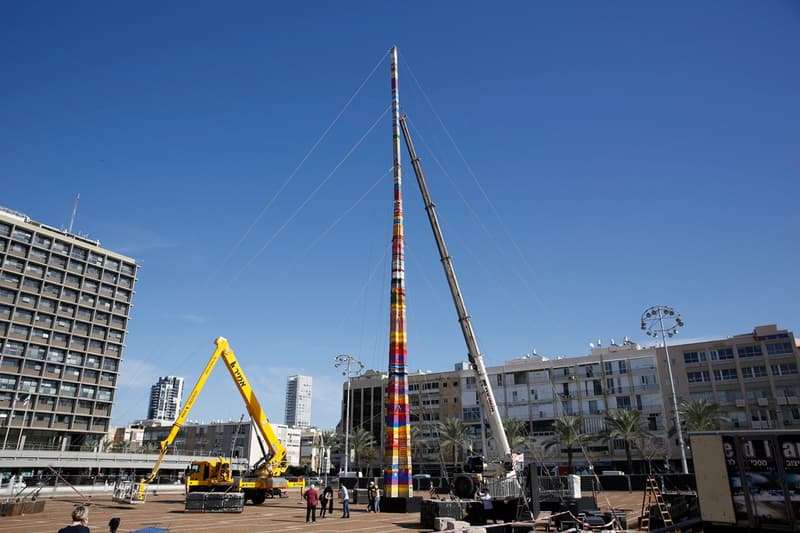 In Tel Aliv, a community congregated to build a Guinness World Record winning Lego tower in memoriam of one its young residents.
At eight years Omer Sayag, a Tel Aliv resident, was stricken with cancer. As the disease progressed, his immune system became compromised causing the young boy to become homebound, thus isolating him from his peers. In his solace, Omer found a love for Legos and spent his time building intricate models — even completing a replica of the Taj Mahal.
After his passing, Sayag's kindergarten teachers reached out to the Young Engineers to devise a way to remember the child and his wildly creative mind through his favorite building blocks. With a difficult road ahead, the creators were able to carol celebrities, community locals, and municipality officials to come together to complete the noble task. Once done, the record-breaking and eponymously named "Omer Tower" stood 118-ft.
In other design news, Arkitip re-releases its rare Supreme fingerboards.
Thousands of people teamed up to build a huge Lego tower for an 8-year-old boy who died from cancer. pic.twitter.com/40ZdzjUMaO

— NBC News (@NBCNews) December 27, 2017
Israel's Tel Aviv set to break Guinness World Record for highest #Lego toy tower pic.twitter.com/gMymQB1xek

— China News 中国新闻网 (@Echinanews) December 27, 2017
Tel Aviv's Omer Tower may claim the title of world's tallest Lego tower pic.twitter.com/oodJY6vxfl

— Newsweek (@Newsweek) December 28, 2017