10 Product Drops You Don't Want to Miss This Week
For those post-holiday wish lists and to ring in the New Year right.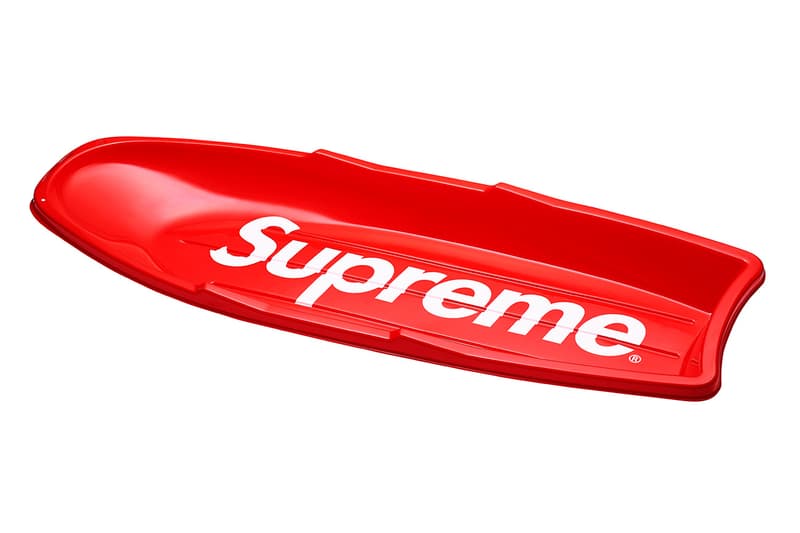 Christmas may have come and gone in a flash, but the hottest items still continue to drop. Below are a few more items to add to that post-holiday wish list or for that "new you" come 2018.
The biggest items to look forward to this week comes way of streetwear heavyweight Supreme and its latest weekly drop which includes the highly-anticipated sled and money paperweight. Other labels dropping heat this week are BAPE, M+RC NOIR and Vetements. In terms of collaborations, NASA teams up with PacSun, Fear of God with JAY-Z, F.C.Real Bristol with WTAPS and BE@RBRICK with JAM HOME MADE. Check out the handful of forthcoming products dropping in stores soon:
032c x KM20 Exclusive T-shirt Capsule
Moscow-based retailer KM20 continues with its long line of exclusive collaborations, this time teaming up with Berlin magazine and brand 032c. The exclusive capsule features a white short sleeve T-shirt — which features the first ever cover of 032c above KM20's address — and a black long sleeve. The long sleeve features the names of KM20 and 032c's home cities in Cyrillic text, as well as a portrait of KM20 founder Olga Karput in 032c's "SUCK MY DICK" tee. The 032c x KM20 Exclusive T-shirt Capsule is available now at KM20's new megastore and web store.
BAPE's Double Shark Hoodie
Since its introduction, BAPE's Shark Hoodie has become a highly-coveted piece, even becoming somewhat of a cult item within streetwear circles. More often than not, many fanatics of the Shark hoodie have gone on to flex by wearing multiple layers of this well-recognizable piece of clothing. Japanese magnate BAPE has now decided to recreate this layered look by releasing the Double Shark Hoodie, which features two iconic Shark faces on one body. Coming in three colorways of black, red and navy, BAPE's Double Shark Hoodie is available now at BAPE stores around the world and online retailing for ¥37,000 JPY (approximately $328 USD).
Fear of God's JAY-Z 4:44 Collection
Jerry Lorenzo's popular brand Fear of God has teamed up with JAY-Z on a 4:44 collection taking inspiration from the GRAMMY-nominated album. The graphic range includes a chain-embellished black leather jacket, distressed denim vest, hoodie, two long-sleeve shirts, T-shirt, sleeve-less tee, bandana and wristband. Each piece dons FoG and JAY-Z's respective logos in gothic font as well as Biblical excerpts from John 4:44, "a prophet is without honor in his own country." The collection ranges from $44 USD-$3,500 USD and is available now via Fear of God's online shop and the House of God Maxfield Los Angeles pop-up shop.
M+RC Noir Fall/Winter 2017 Drop Two
French streetwear label M+RC Noir is ready to unveil the second wave of its seasonal Fall/Winter 2017 lineup. Full of activewear-influenced staples, the collection includes lightweight outerwear, hoodies, half-zip pullovers, windbreakers, track pants and accessories, which takes on a predominantly core black color base, with accentuating hues of green, orange and red also surfacing throughout. M+RC Noir's Fall/Winter 2017 Drop Two is available now online.
NASA x PacSun Capsule Collection
After recently teaming up with rapper Lil Yachty on an exclusive capsule playing on Lil Yachty's Lil Boat namesake, California-based retailer PacSun has now joined forces with the Buzz Aldrin Foundation for a NASA collection. Filled with hoodies, both long- and short-sleeved tees and a jacket, each item features the iconic red, white and blue colors of America along with NASA's logo and the American flag. Noteworthy items include the star-speckled tee and bomber jacket with patches, inspired by the MA-1 flight jacket worn by the U.S. Air Force and Navy pilots. The six-piece NASA x PacSun Capsule Collection is available now in stores and online.
Vetements Spring/Summer 2018 First Drop
Vetements recently released the first drop for its highly-anticipated, collaboration-filled Spring/Summer 2018 collection. A list of powerhouse collaborations with Alpha Industries, Levi's, Umbro, Reebok, Carhartt and DHL are also found throughout the collection. Some standout pieces from Vetements' Spring/Summer 2018 first drop include an oversized Reversible Hooded Bomber Jacket, DHL Crease Print shirt, and a reworked Patchwork Panel T-shirt. Priced between $157 and $2,554 USD, pieces from the Vetements Spring/Summer 2018 first drop are available now at retailers like MR PORTER and MATCHESFASHION.
Supreme Week 19 Items
According to Supreme Hustle, the items dropping for week 19 include the Supreme sled and money paperweight. A few colorful hoodies, hats and scarfs have also been added to the mix. The Supreme week 19 items hit online, NY, Brooklyn, LA, London and Paris stores on Thursday, December 28. Japan will see its release on Saturday, December 30.
BE@RBRICK x JAM HOME MADE 20th Anniversary Feather Necklace Collection
To celebrate its 20th anniversary, Japanese accessories label JAM HOME MADE has teamed up with Medicom Toy on a series of BE@RBRICK feather necklaces and a collectable BE@RBRICK. The necklaces feature JAM HOME MADE's popular NAKED FEATHER design with a BE@RBRICK head atop and comes in two sizes and three finishes of silver, silver/gold and gold. For the collaborative BE@RBRICK, the toy is designed with a tonal black front and an all-white back with checkerboard trim on the sides. Both the BE@RBRICK feather necklace and BE@RBRICK will be available on January 1, 2018 online at JAM HOME MADE's web store and ZOZOTOWN. The small feather necklace will retail for ¥22,000 JPY ($194 USD) and the medium feather necklace for ¥32,000 JPY ($283 USD), while the BE@RBRICK will be set at ¥20,000 JPY ($177 USD).
WTAPS x F.C.Real Bristol Fall/Winter 2017 Collaboration
F.C.Real Bristol has teamed up with Japanese imprint WTAPS for a collaborative Fall/Winter 2017 range. Full of its usual football-inspired pieces, the collection includes bold zebra and cheetah prints on a range of track jackets, pants, drawstring bags and a rubber duck. The WTAPS x F.C.R.B. Fall/Winter 2017 collection will be available January 2, 2018. The leopard print gear will release at SOPH. online store and the zebra version will launch at WTAPS's retailers.
BAPE's "Year of the Dog" Collection
2018 is just around the corner with Lunar New Year celebrations to follow in February. To commemorate the upcoming holiday, Japanese magnate BAPE is once again dropping its Chinese zodiac designs to celebrate the "Year of the Dog." The collection features the label's iconic APE head motif alongside a dog spread across black, red and white tees and crewnecks. The capsule will also include apparel decorated with BAPE's sidekick Baby Milo dressed like dog on hoodies and tees in both adult and kids sizing. The items will land in BAPE retailers and online on Saturday, January 6.