LeBron James and Lonzo Ball's "Secret" Conversation Blew up Social Media
After facing each other for the first time.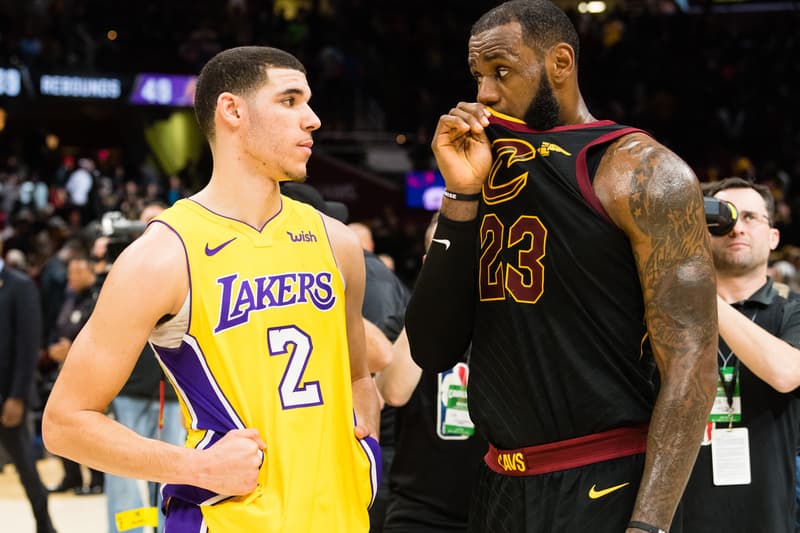 On Thursday night, LeBron James and Lonzo Ball faced each other for the first time on the court as the Cleveland Cavaliers defeated the Los Angeles Lakers 121-112. After the game, both James and Ball shared a moment — albeit a bit odd as both James and Ball were covering their mouths with their jerseys — which social media instantly took notice of. The cryptic messages shared between the two basketball stars soon sparked a bunch of hilarious memes, which can be seen below.
Though at first it was unknown what the two had shared with each other, as it turns out, there's an audio of the encounter. The transcript was then posted by Reddit user and was later confirmed by ESPN:
"Find your zone and just stay f*cking locked in. The media is going to ask you what I told you right now. Tell them nothing. Just be aggressive every single day. It's white noise to you. That's all it is. All right? Let's go."
After peeping the memes below, check out our exclusive interview with LaVar Ball.
.@KingJames ? and @ZO2_ share a moment after the game. pic.twitter.com/l0bP9qcwGv

— NBA on TNT (@NBAonTNT) December 15, 2017
"So, what freeways in LA should I avoid next year?"

"All of them" pic.twitter.com/VLg8A6C3F3

— Hector (@iamHectorDiaz) December 15, 2017
LEBRON: don't talk just listen,I promise you I will be on the lakers and ain't no one gonna stop us.

LONZO: BET. pic.twitter.com/ox5IPLTsIg

— LeBronzo (@fishermenmike) December 15, 2017
— Jasmine (@JasmineLWatkins) December 15, 2017
"you ever say the earth is flat or any of that other fake deep nonsense and i swear im not coming next year" pic.twitter.com/AZpb2z0Vvn

— Whitney Medworth (@its_whitney) December 15, 2017
"If your dad tells me to stay in my lane one time next year I'm going to Dion Waiters your ass" pic.twitter.com/fEsiBQ0kcI

— Daman Rangoola (@damanr) December 15, 2017
"For real, am I getting these ZO2s I ordered by Christmas?" pic.twitter.com/hG0gBbUii0

— Thomas Duffy (@TJDhoops) December 15, 2017
"Aye man, I ordered my shoes in August and they still ain't shipped yet." pic.twitter.com/dnpvI7c8E7

— Silver Screen & Roll (@LakersSBN) December 15, 2017
LeBron and Lonzo plotting to team up with LaMelo in Lithuania next season pic.twitter.com/1z4aVyYVbv

— Full Court Prez (@fullcourtprez) December 15, 2017
We've all seen this before.. We all know what happened next. pic.twitter.com/c5kvmLGdJD

— nick??? (@DAngeloRusseII) December 15, 2017
.@ZO2_: "Hey LeBron, what's up?"@KingJames: "Just stand here and let me spread free agency rumors." pic.twitter.com/R1uMgMLXyH

— Jeff Eisenband (@JeffEisenband) December 15, 2017
LeBron James on his post-game chat with Lonzo Ball: "None of y'all business."

— Serena Winters (@SerenaWinters) December 15, 2017