Elon Musk Shows off Photos of Tesla Roadster That SpaceX's Rocket Will Send Past Mars
The car will be playing David Bowie's "Space Oddity" during launch.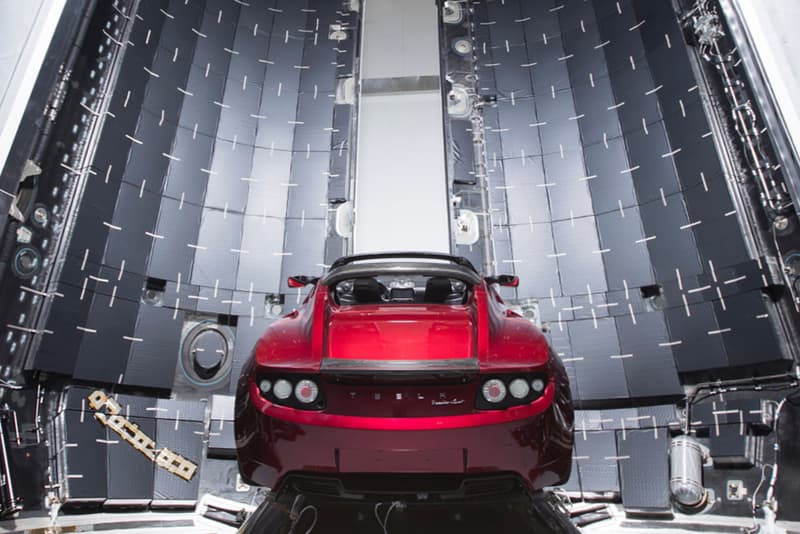 Elon Musk has released photos of the Tesla Roadster that SpaceX will send beyond Mars. A few weeks ago, Musk announced that he plans to send the car to space atop a Falcon Heavy rocket — a successor to the Falcon 9 that SpaceX has been working on for years. The photos, posted to Instagram, showed the Roadster placed between two halves of the rocket. The photos were posted just a few hours after another photo leaked on Reddit.
This will be the first flight of the Falcon Heavy. Virtually three boosters strapped together, it is the most powerful rocket in the world. However, Musk admits that the first flight could end or begin with an explosion. So instead of putting people or valuable payloads on its first flight, the SpaceX founder chose to send a Tesla Roadster to space. "Concrete" or "steel bricks" — conventional dummy payloads — is too "boring," he wrote on Instagram.
"Payload will be my midnight cherry Tesla Roadster playing 'Space Oddity,'" Musk shared via Twitter on December 1. "Destination is Mars orbit. Will be in deep space for a billion years or so if it doesn't blow up on ascent."
Check out photos of the Tesla Roadster in the Falcon Heavy below.