Virgil, Heron and Demna Talk "Disruption" And "Cool"
The streetwear trio topped off the day at Vogue's Forces of Fashion conference.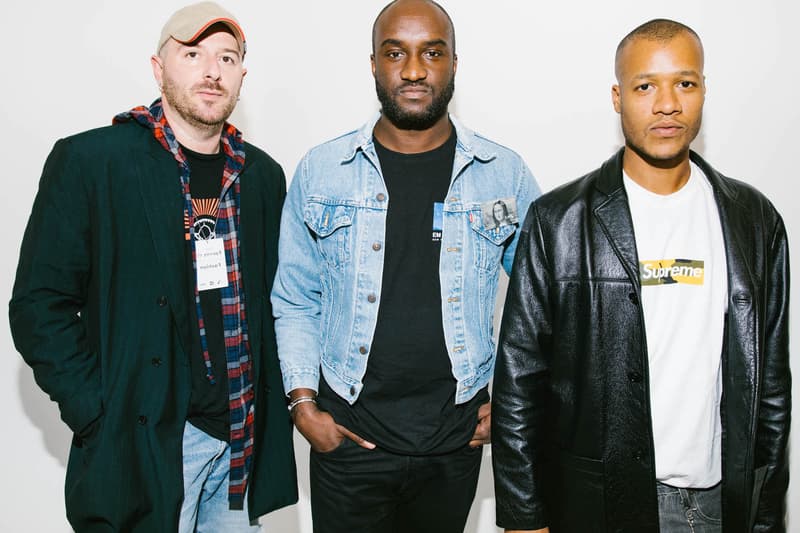 Vogue's inaugural Forces of Fashion kicked off on October 12 in New York City's Milk Studios. The full-day event weaved in and out of intimate conversations with leaders in the fashion industry, ranging from Dries Van Noten and Michael Kors to Victoria Beckham and John Galliano. Ending the program were back-to-back panel discussions with Virgil Abloh, Heron Preston, Demna Gvasalia and finally, Rihanna.
During Abloh and Preston's discussion, the duo faced the challenge of defining the word 'cool.' "It's one of those chargey words. Once you deem something cool it's too populous to stay cool. But we need words to describe things," Abloh said. The Off-White™ founder eventually landed on defining the word through the use of his now signature quotation marks. "That's how I would refer to 'cool'—in quotes," he said while signaling to air quotes with his fingers.
"Heron's shirt is cool — but that's 15, 20 years of skate culture put into this box logo."
Both Abloh and Preston agreed that 'cool' is tied to a sense of community, including one that forged their relationship in New York. "You know, Heron's shirt is cool, but that's 15, 20 years of skate culture put into this box logo," Abloh said, pointing to Preston's Supreme Brooklyn box Logo T-shirt.
Meanwhile, making a pertinent point throughout the day was the generational shift toward sustainability and environmental awareness, kicking off with Stella McCartney's panel on her completely vegan eponymous brand, to Preston speaking about his sustainable collections. "I thought, what is the wicked issue I want to apply my design to," said Preston — eventually leading to his collaboration with the Department of Sanitation.
"We're adopting fashion movements but shedding light on stories to tell of many people. That's the optimistic side. I'm painfully optimistic. But I get inspired to think about how many of these stories there are," said Abloh, following up on how Preston became passionate about including environmental awareness into his design.
Preston and Abloh's conversation ended with reflection on how they've dealt with cracking the industry without formal design background, and entering the game as outsiders. "If there was a mic in my studio, the only thing I reference is that the industry might not think I'm a designer because I didn't come from that background. But instead of using it as a negative I use it as pure motivation," Abloh said. "The uphill battle of entering the fashion industry was so steep that we just ignored it. And we ended up here," he concluded sharply.
Later, Gvasalia would too have to grapple with his own charged word, as the Georgian designer is often credited with largely disrupting the fashion industry in the past two years. "Disruptor is one of those kind of words like cool. We didn't really plan to disrupt anything, we just wanted to do it our way," Gvasalia said.
"I didn't want to be perceived just as the guy who does hoodies and ripped jeans."
Gvaslia also spoke to the importance of optimism, which came out of the day as a common thread, starting early on with Instagram Co-Founder Kevin Systrom, who spoke to Instagram's responsibility to act as a positive and optimistic force. Later, following Abloh's optimistic outlook, Gvasalia shared his own perspective: "I'm desperately optimistic, I feel we are living in this time that not only needs optimism, but we are obliged to be optimistic," he said.
When asked why Gvasalia took on the role of creative director at Balenciaga, the designer of the moment said, "I didn't want to be perceived just as the guy who does hoodies and ripped jeans. When I was approached by Balenciaga, I realized it was one of the only houses where I could discover myself and offer something to the house."
And on continuing and building his legacy, Gvasalia acknowledged the importance of the opinions of youth. "[I] consider much more the opinion of the younger people. This is the future and they're so informed, they're so into it that it can't be bad."
To watch the full video of Preston and Abloh's conversation, head here.