Maurizio Cattelan & Thom Browne Team Up On Special Scarves for colette
Cashmere and cotton options.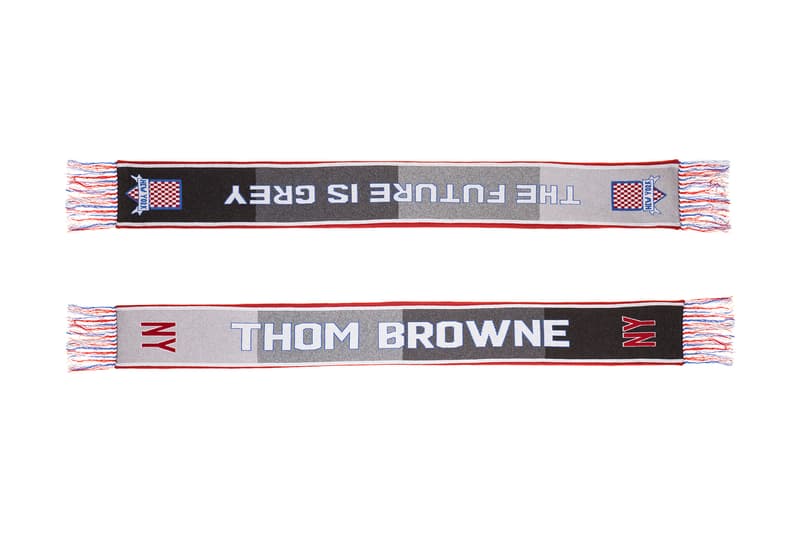 Throughout the month of October, Thom Browne has set up shop at colette as part of the Parisian retailer's ongoing designer takeover project. The NY-based designer is purveying an array of new and archival menswear, womenswear, accessories, as well as home goods to boot. Included in the extensive offering is a limited edition scarf made in collaboration with artist Maurizio Cattelan. Inspired by traditional soccer scarves, the cold-season accessory boasts "Thom Browne" lettering on one side alongside "The Future Is Grey" text on the other portion. Collectively, the collaborative piece arrives in two distinct textiles: cotton and cashmere.
"We were in Paris for five days and during that time Thom was a bit annoyed that the French were more interested in me and my scarf than him and his office outfit. And then he said 'Wow, you can dress like a girl and still get girls? Hand me that scarf!" Cattelan expressed. "I've always appreciated Maurizio's art and humor. I love when he dresses like a girl and that the French like his scarf better than mine," Thom responded.
Last year, Cattelan made art headlines for his polarizing 18k gold toilet simply titled America at the Guggenheim Museum in New York City. He is known for his satirical sculptures — one in particular is his La Nona Ora (The Ninth Hour) sculpture that portrays life-sized effigy of Pope John Paul II struck down by a meteor.
Take a look at the limited edition scarf above and purchase both pieces at colette's official website. The cotton variant is priced at approximately $69 USD while the cashmere version will set you back about $1,240 USD.
Also, in case you missed out on seeing Cattelan's gold toilet in person, check out the video below to get an up-close look at it.
colette
213 Rue Saint Honore
Paris, France 75001