The Los Angeles Lakers Will Lock Arms During National Anthem All-Season Long
"If you do nothing, then it kind of goes away and if it goes away, then nothing changes."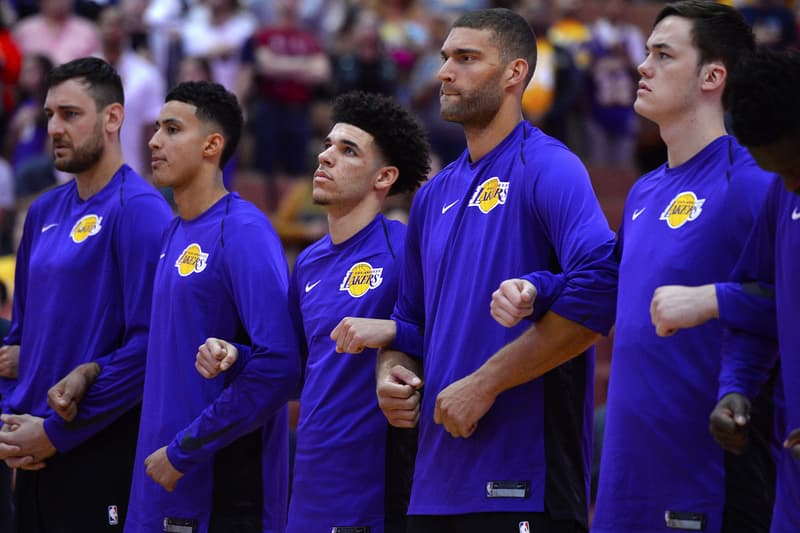 It was only last week when Donald Trump shocked the sports world with his verbal attacks on both the NFL and NBA. During his speech at the campaign rally for "Big" Luther Strange in Huntsville, Alabama, Trump attacked the NFL players who refused to stand during the national anthem out of protest to racism and police violence stating, "Wouldn't you love to see one of these NFL owners, when someone disrespects our flags to say, 'Get that son of a bitch off the field right now! Out. He's fired! He's fired!'"
Now the national anthem demonstrations that have taken place in the NFL will carry over to the NBA with the Los Angeles Lakers planning to lock arms as a sign of unity during the national anthem throughout the upcoming 2017/18 season.
"We are in this together," Lakers head coach Luke Walton told ESPN before his team played a pre-season game against the Minnesota Timberwolves. "I think they chose to show that we are united in this and that obviously, they have a ton of respect … well I will let them speak for themselves but I have a ton of respect for the country, the flag, the military." Walton went on to state, "By locking arms, I feel like we are showing that there are issues in this country and it is a chance for us to raise awareness and still make it a talking point. If you do nothing, then it kind of goes away and if it goes away, then nothing changes."
On September 29, the NBA sent out a memo to all 30 teams reinforcing the long standing rule that players are required to stand for the singing of the national anthem. The memo also advised players to remain in the locker room in lieu of kneeling during the national anthem.
The political discussion also extended to the NBA when Trump rescinded the offer for the Golden State Warriors to visit the White House. LeBron James then had some harsh words for the president referring to Trump as "U bum."
Leave your thoughts in the comments below and be sure to catch up on how the sports world responded to Trump's attacks on the NBA and NFL.