Lil B & Post Malone Go off on Each Other on Twitter
Over a few racially fuelled remarks.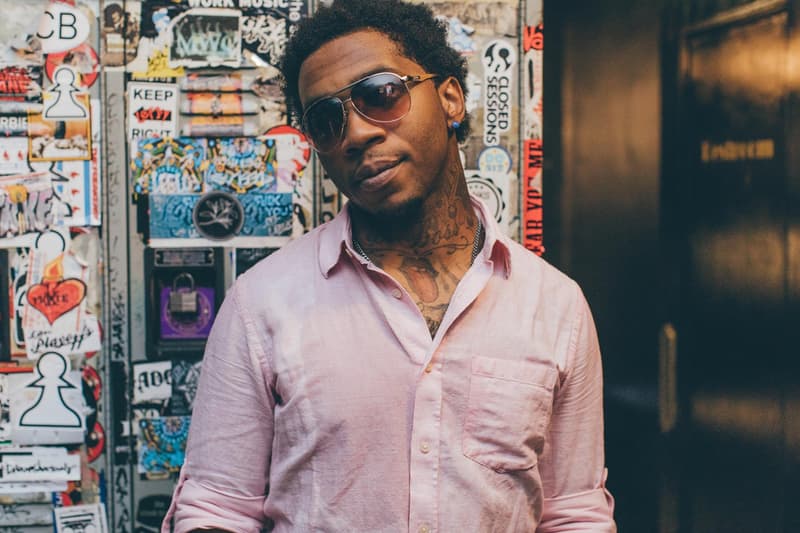 Over the last month or so, Lil B has been going off on Facebook and Twitter about a variety of topics, making claims so controversial that even many longtime fans are having difficulty to accept. Topics range from gun ownership to interracial relationships and more.
In a series of pro-black tweets that address mental health, Lil B started to give props to white artists like Beastie Boys, Eminem and Mac Miller. However, the Bay Area native decided to call out Miley Cyrus and Post Malone, claiming that they appropriated black culture. He says that Post Malone is "slowly turning into a white dude" and in a few years will turn "full country" and "hate blacks."
Post Malone, however, gave Lil B the benefit of the doubt, believing that the person who tweeted him was not the Based God but a hacker. "This is not Lil B nerd," Post writes. "Die." Lil B, who took offense to the comment, claims that he is in fact the rapper himself. This led to a barrage of now-deleted insults. Read them below.
Dark skin black men you are not ugly! Stop saying that! It's wack and a lie!!! Not all dark skin men feel that way but I herd a few – Lil B

— Lil B THE BASEDGOD (@LILBTHEBASEDGOD) October 6, 2017
There is a special kind of anxiety and mental health issue that does not have a name but Can experienced from being black in America – Lil B

— Lil B THE BASEDGOD (@LILBTHEBASEDGOD) October 6, 2017
The worst thing you do is dismiss a black persons mental health issues due to the effects of slavery sexual assault and unjust laws – Lil B

— Lil B THE BASEDGOD (@LILBTHEBASEDGOD) October 6, 2017
Beastie boys seemed authentic !!! And pushed the culture forward!!!!!!! I love y'all brothers! White skin red heart we family – Lil B

— Lil B THE BASEDGOD (@LILBTHEBASEDGOD) October 6, 2017
Shouts out to Mac miller also he is a red heart human brother who may feel as if he is white on the outside ! He's a real one love! – Lil B

— Lil B THE BASEDGOD (@LILBTHEBASEDGOD) October 6, 2017
Only person who was white and seemed to keep it real to everyone is Eminem !!!! He a older white dude now but he legit ! Love u – Lil B

— Lil B THE BASEDGOD (@LILBTHEBASEDGOD) October 6, 2017
Even Miley Cyrus was like fuck this black peole shit I'm tapping in with my white country family! Started crying about rap lol – Lil B

— Lil B THE BASEDGOD (@LILBTHEBASEDGOD) October 6, 2017
Post Malone is slowly turning into a white dude! Lol he's pushing, it give it a few years he gon be full country and hate blacks lol – Lil B

— Lil B THE BASEDGOD (@LILBTHEBASEDGOD) October 6, 2017
this is not lil b nerd. Die

— Beerbongs & Bentleys (@PostMalone) October 6, 2017
Hey hey hey this is Lil B and I love u to but got u – Lil B

— Lil B THE BASEDGOD (@LILBTHEBASEDGOD) October 6, 2017
This is Lil B and fuck post Malone u ain't hip hop bitch u don't even rap keep sucking platinum rich dick fake ass Rick Rubin – Lil B

— Lil B THE BASEDGOD (@LILBTHEBASEDGOD) October 6, 2017
Post Malone just mad cuz I no he make country western music not hip hop it's ok brother! We support u anyway!!! U platinum! Good job – Lil B

— Lil B THE BASEDGOD (@LILBTHEBASEDGOD) October 6, 2017
Somebody go tell French toast Malone that he is mean and husky and he better not try and bear hug me cuz ima run from his nene ass – Lil B

— Lil B THE BASEDGOD (@LILBTHEBASEDGOD) October 6, 2017
French toast Post Malone makes fake hip hop country music in his booty shorts in his mansion barefoot with giblet feet … ewwww – Lil B

— Lil B THE BASEDGOD (@LILBTHEBASEDGOD) October 6, 2017
Y'all going to French toast post show? Who post Malone? French toast post! Fuck ya bro he's fire! And hottest artist out!!! – Lil B

— Lil B THE BASEDGOD (@LILBTHEBASEDGOD) October 6, 2017
Dammit now I can't get a French toast post Malone feature in 2017 and he runs the industry! Damn man! I need a hit record! – Lil B

— Lil B THE BASEDGOD (@LILBTHEBASEDGOD) October 6, 2017