James Jebbia Hopes Supreme's Brooklyn Location Makes It Easier to Shop for the Brand
He wants us to "understand" why Supreme always has lines.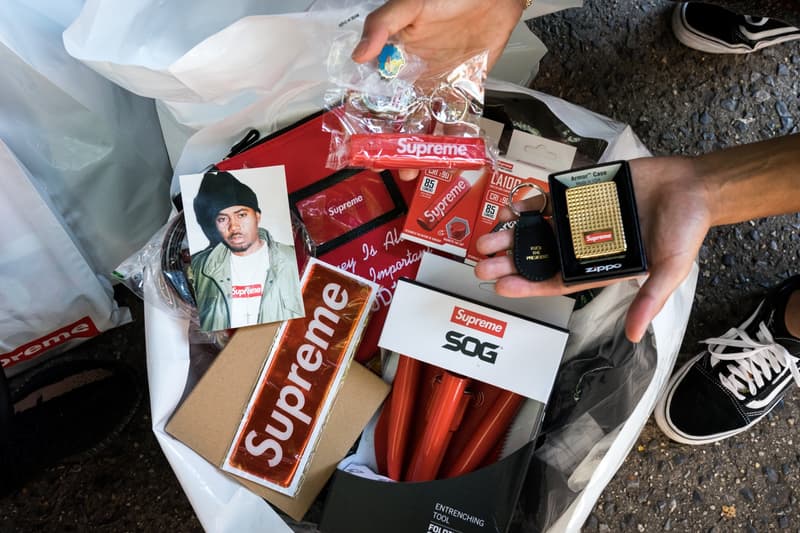 The promotional campaign for Supreme's new Brooklyn store is in full effect; following the grand opening and private launch party, James Jebbia speaks to GQ about his brand's latest location, long lines and more.
"I wish people would understand why we have a line," Jebbia tells Jake Woolf. "Because we don't have many shops, we aren't sold anywhere [but our own shops], and we have good stuff…but it shouldn't be so difficult for people to come into our shops. We just want to have a space that, on a Monday or Tuesday or Wednesday, people can just come to and walk in and check out our stuff."
Jebbia also opens up about the specific decision to open up the new Supreme Brooklyn shop, explaining the process for the first time. "We looked in other neighborhoods, but to be perfectly honest, Williamsburg was no more money than Bushwick," Jebbia shares. "People say, 'Oh, Williamsburg is already over,' but we don't really care. When we opened in Paris, we opened in the Marais. And when we opened in London, it was in Soho. These aren't, like, edgy places. These are places where people—and young people—hang out. We don't like to be in places where people don't go."
Elsewhere, Jebbia explains to Supreme's followers the reasoning behind not opening up more company stores. "We're here for the long haul. A big shop in Manhattan would feel like we were betraying our roots. And we're not just going to open a bunch of stores. We only open a new store when we do it right. The people we work with are super important, and we only do it when we feel it's right."
You can read James Jebbia's entire GQ feature now. Next up, we can also expect Supreme to release a line inspired by Akira.
Earlier this week, the anticipated Supreme and Stone Island collaboration also took over the shelves of the brand's London shop.