New Chargers Logo Gets Roasted So Hard the Team Changed It Again
Nowhere to go but up.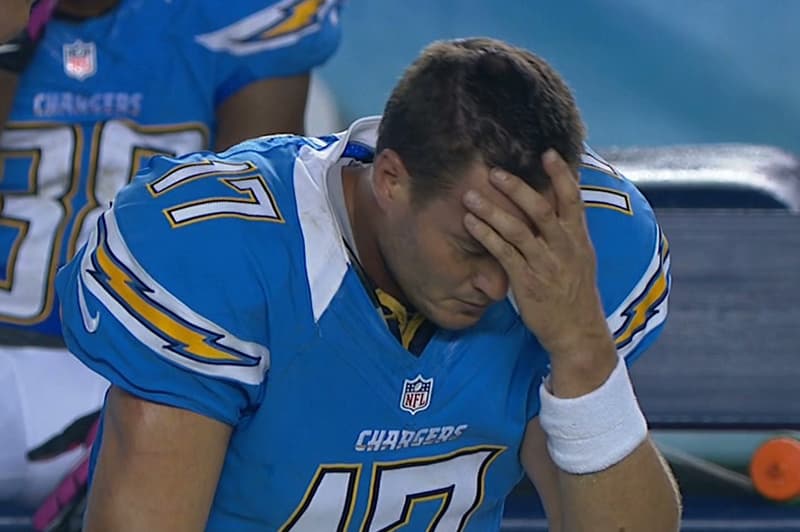 Looks like there is nowhere to go but up for the Chargers. The San Diego Chargers officially became the Los Angeles Chargers since announcing their move from San Diego to Los Angeles on Thursday. When that happened, the team changed the avatars on its social media platforms to a dark blue and white "LA" logo that was roasted by many — due to the fact it is very similar to that of the Los Angeles Dodgers.
Then on Friday, the team once again changed the colors of the logo to a powder blue and gold colorway, before finally switching back to the Chargers' old logo with "Los Angeles" placed above. Reports surfaced stating the first two logos were never "official," they were just shared for "marketing purposes." Chargers President of Business Operations A.G. Spanos provided a statement to Mike Florio of Pro Football Talk, in which he admitted the team's mistake:
"The logo that was revealed on Thursday was meant to help launch our brand into the market and supplement — not replace — our official team marks. Clearly, we miscalculated how the logo would be received, and we've taken it out of the rotation. If we make a mistake, we own it, learn from it, and move on without looking back. If the ultimate outcome of this episode is something really special that L.A. fans help create and truly love, that's a win."
— Ashley Burns (@MayorBurnsy) January 12, 2017
Wow cool it looks like the @Dodgers have released a new logo too pic.twitter.com/3Y6gptzXxB

— Pete Blackburn (@PeteBlackburn) January 12, 2017
Based on the quality of their new logo, the Chargers literally decided to move to L.A. last night.

— ProFootballTalk (@ProFootballTalk) January 12, 2017
Dodgers: " hey if you are gonna use my logo change it up a bit so teacher doesn't recognize it "
Chargers "no problems I got this" pic.twitter.com/sdSQFILKlf

— Benson (@blukose15) January 12, 2017
Too easy smh @NFL @Chargers pic.twitter.com/FTylXnfS0c

— matt (@shotime40) January 12, 2017
new logo. hope this is cool, @dallascowboys pic.twitter.com/cCBPHjqWxP

— Dallas Stars (@DallasStars) January 12, 2017
Oh yes, this is much better. pic.twitter.com/9OHCGIOQYf

— Karisa Maxwell (@KarisaMaxwell) January 13, 2017
I guess the Spanos family got sick and tired of all the other sports teams bashing on the LA logo pic.twitter.com/wMqluEFA3O

— LA Offseason(@ChargersLegion) January 14, 2017